Students, staff, and faculty who land on the Faculty of Science or Student Health & Wellness websites this week will be met with an entirely new and improved website experience, thanks to a project led by Information Technology Services (ITS) that has been several years in the making.

The Joint Web Project was initiated well over a year before the inception of the dal.ca Web Renewal Project (login required). At the time, several internal units, including the Faculty of Science, Student Health & Wellness, and the Faculty of Graduate studies, had recognized the importance of offering their stakeholders a better, more useable website, and had already invested time and resources into better understanding their audiences and developing a strategy for modifying their sitemap and content.

Unfortunately, their eagerness to rebuild their sites was met with the technical limitations of dal.ca's current content management system (AEM Classic) that would soon to be phased out. It seemed like a waste to try and realise their plans using an antiquated tool.  

Thankfully, this challenge also presented an opportunity for both the ITS Web Team and the units to trial the latest version of dal.ca's content management system, AEM Touch UI, with each site representing a different test case for web authoring in this new environment. As a result, the Joint Web Project was formed in early 2020 to bring these distinct units together as part of a collaborative team, that with the support of ITS and Communications, Marketing & Creative Services (CMC), would explore the potential of this new web landscape.
Taking the leap

While it was unchartered territory for all involved, it was a risk worth taking in the eyes of senior leaders.

"We recognize the value of a website that is both compelling and engaging, user friendly and interactive," says Chris Moore, dean of the Faculty of Science. "Being a part of the Joint Web Project has delivered a tool that will enable us to attract the best students, staff, and faculty to Dal Science."

"We are so happy and proud to see these sites come full circle and be live on the Dal.ca domain," says Heather Fraser, director of Enterprise Application Services in ITS. "We've experienced tremendous collaboration and team work to get where we are now and can't wait to show off the results to the world. Hard work and dedication have paid off, and we are ready for the reveal!"

Building the bridge between dal.ca and myDal

The project leveraged another ITS web initiative, the myDal 2.0 Project (login required), which offers a dedicated space for faculty, staff, and current students to find relevant internal-facing or operational information. Each Joint Web Project stakeholder partner embarked on the myDal site development process to determine the intranet solution that was best for them.

"Our website is the passage through which thousands of prospective students make first contact with Dalhousie and a key place for our students, faculty and staff to turn for information and support," says Marty Leonard, dean of the Faculty of Graduate Studies. "This process has given us the chance to look at how we digitally serve our communities. We look forward to making ongoing improvements as the Dal.ca project progresses and our ITS and CMC teams build on what they have learned through this pilot."

Steering sites in the right direction

The three Joint Web Project partners were committed to putting their users first. The outcomes for each were steered by multiple rounds of engagement, consultation and testing with students, faculty, and staff and guided by research and expertise from the professional web and UX (user experience) consultants they engaged prior to joining the project.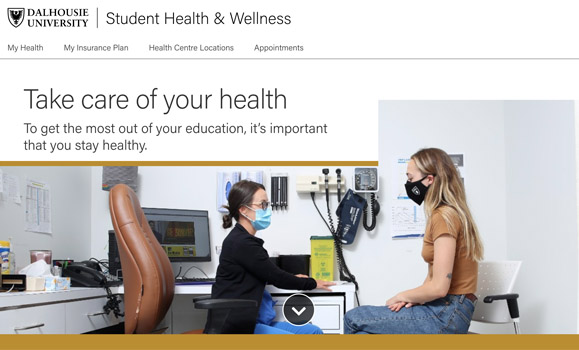 "Since the fall of 2020, Dalhousie has been aligning our work with the National Standard for Mental Health and Wellbeing of Post-Secondary Students, a framework developed by the Mental Health Commission of Canada that assists post-secondary institutions in supporting the mental health and well-being of students," says Verity Turpin, Vice Provost, Student Affairs (acting). "An important part of our work has been the development and launch of our new Student Health & Wellness website. This innovative, user-friendly website is a vital tool in delivering health information to our community. We look forward to continuing this work and improving access to health resources and services for all students."

Testing the Touch UI waters

What visitors will see when they click through these new sites is an exciting step forward in the evolution of dal.ca. The pilot websites are utilizing a limited set of Touch UI functions and features, and an interim design that is exclusive to them, since an all-new design is currently being produced by Domain7 for the dal.ca renewal project. This lays the groundwork for dal.ca Web Renewal Project partners, CMC and ITS, to test and evaluate them, and better understand which front- and back-end aspects should be adopted or iterated on for the upcoming rebuild of dal.ca. Pilot sites will be later modified to adopt the dal.ca Web Renewal Project design once the new system is up and running and relaunched during an early phase of deployment.

"Joint Web Project websites represent a unique learning and development opportunity for everyone involved," says Matt Proctor, assistant vice-president, Communications, Marketing & Creative Services. "Lessons learned will be applied to the transition to Touch UI that hundreds of websites will be participating in over the next two years."

Making it click with site visitors
The Faculty of Science and Student Health & Wellness dal.ca and myDal sites are now live and ready for the Dal community to explore. The Faculty of Graduate Studies site is nearing completion and will be launched this Fall.

Tell us what you think – complete this short feedback survey to share your thoughts on the pilot websites that have been launched so that we can continue to make them better for our users.