When Perri R. Tutelman was 16 years old, she was a volunteer supporting families and youth facing life-threatening illnesses at the Canuck Place Children's Hospice in Vancouver.
Now a graduate student in Dal's Faculty of Science, Perri has been awarded the inaugural Research Impact Canada (RIC) award based on her research in the understanding of pain in survivors of childhood cancer.

The award acknowledges research projects that follow engaged scholarship principles that lead to increased awareness of audiences beyond academia or changes in stakeholder actions, practices, guidelines, or policies. Perri was the only awardee outside of Ontario.

She joined the lab of Christine Chambers, her supervisor, at a time when it was transitioning to an engaged scholarship model. Seeing that a significant portion of research never gets implemented into practice, Perri wanted to ensure that her research doesn't become part of the problem.

Perri's work contains several patient partners who are engaged as co-investigators in her work.

"The patient co-investigators contribute to all aspects of the work, from the initial grant-writing stage to the development of study materials, methodology, analysis, and dissemination (e.g., as co author and co-presenters)" says Perri.
Engaged research

Perri's research centres on children who have survived cancer and now face new challenges such as chronic pain.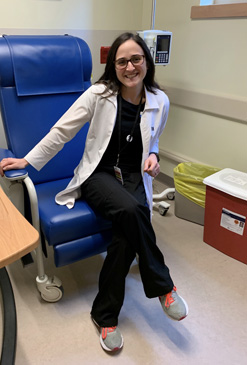 "The reasons for this are not well understood, but are likely a combination of biological (e.g., alterations in neural processing) and psychological (e.g., thoughts and feelings about cancer and pain) factors," says Perri.

Patient co-investigators on Perri's research have contributed at each stage, providing feedback, which is then integrated and used to produce new iterations of her work which is higher quality and more relevant. One of the patient partners is Julia MacLeod, shown left, who was treated for lymphoma as a teenager at the IWK and is now on oncology nurse with NSHA. Julia is the first patient partner to be on a student dissertation committee at Dalhousie.

Dr. Chambers encouraged Perri to apply for the RIC award given that her doctoral research conducts engaged scholarship principles.

"Her research on pain in cancer survivors has truly embodied all best and emerging practices in engaged scholarship and has already had enormous impact. This approach to research relies heavily on development relationships, identifying strategic relationships with other stakeholders, and Perri has excelled in all of these" says Dr. Chambers.
What's next

Receiving the RIC award reaffirms Perris commitment to following the principles of engaged scholarship throughout the next stages of her career. "My long-term goal is to become a clinician-scientist where I can build a research program focused on conducting research informed by the principles of engaged scholarship and then translate the findings to the clinical care of children and families" says Perri.

"I was thrilled and truly honoured. As a graduate student, it is one thing to have the opportunity and privilege to conduct research in an area you are passionate about. It is another to know that your work has had actual impact on society (something we all strive for), and to be recognized for that impact" she says.

Perri's research and work in pain and pediatric oncology has informed policy decision making at the international level. Her published paper in the Clinical Journal of Pain, was used as evidence to bring awareness to the burden of cancer related chronic pain in children and was cited by the WHO in their recently released guideline on the management of chronic pain in children.

Perri's doctoral research project was supported by an NSHRF Catalyst Grant and is currently supported by an IWK Graduate Studentship.

"I'm grateful to the numerous other members of the research team for being part of this work" Perri finishes.