What would seem to many people to be just be a plain old rock turned out to be the fossil discovery of a lifetime for Dalhousie biology instructor Jennifer Frail-Gauthier.
On a field trip to a beach near the Annapolis Valley last week with her coastal ecology course, Dr. Frail-Gauthier was combing through rocks on the beach when something stuck out.
"When looking down over thousands of rocks over Blue Beach, a small fossil with a black oval caught my eye. I thought it might have been a large fish scale, but when I picked it up, it was the same on the other side. So I knew it was something important," she says.
With the help of Blue Beach Museum curator and fossil expert, Chris Mansky, that specimen was identified as the inside of a skull. And more importantly, the fossil was from a tetrapod, what Dr. Frail-Gauthier calls Blue Beach's 'holy grail.'
Manksy, who has scoured Blue Beach for fossils for the last 25 years, has only ever found one other tetrapod skull. These rare fossils provide scientists with evidence for a key evolutionary link.
Blue Beach — located in Hantsport, Nova Scotia — represents the geological era known as 'Romers Gap.' The gap refers to the lack of fossil records from around 350 million years ago.
"During this time, tetrapods (4-limbed animals with fingers and toes) moved onto land, but we have no solid fossil evidence for it," says Dr. Frail-Gauthier. Tetrapod fossils like she discovered on Blue Beach provide a clue to the link between life in water and life on land.
Blue Beach, shown below, is just one of a few sites worldwide that these kinds of tetrapod fossils have been discovered.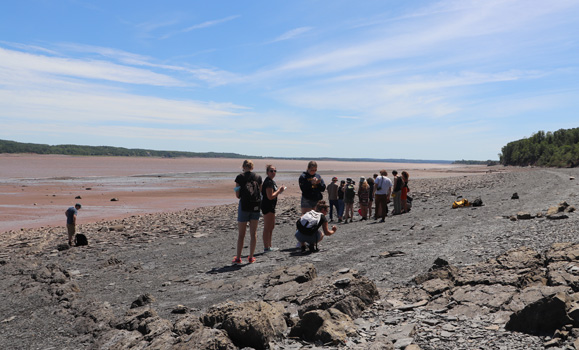 Students explore Blue Beach last week. (Brahian Gutierrez Lodono photo)
"Excitement in the air"

Brahian Gutierrez Lodono, a student in the SEASIDE course, says this rare find was surreal moment.
"It really was a moment where you could feel the excitement in the air, especially when everyone was there because they love coastal ecology,' says Brahian.
"I think almost anyone would've put it back thinking it was just a rock," he says. Luckily, Dr. Frail-Gauthier recognized she had something extraordinary right in the palm of her hand.
Her coastal ecology course is part of Dalhousie's SEASIDE program, which offers students immersive, hands-on learning in the fields of biology, marine biology and oceanography during the summer term. The trip to Blue Beach is just one of the coastal ecology course's field trips to sites of scientific interest.
Dr. Frail-Gauthier hopes that this kind of experience at Blue Beach will get students just as excited about the field as she is.
"To be a part of a scientific discovery while on a field trip for a class is a chance of a lifetime" says Dr. Frail-Gauthier. "Discoveries always await. That's what makes science exciting and never a stagnant experience."