A new ice age is coming for Dalhousie.
After nearly a decade without an arena complex on campus, the university has announced that a new arena and community recreation facility is currently in development. The Board of Governors voted to approve the new Dalhousie Event Centre on Halifax's Studley Campus at its Tuesday (June 22) meeting.
Set to be built behind LeMarchant Place, on the same location as the former Memorial Arena, the Dalhousie Event Centre will feature an NHL-sized ice sheet with an alternate floor surface, a new state-of-the-art home for the Dalhousie Physiotherapy Clinic, and event spaces with catering capabilities. The complex is targeted for an opening date in the fall of 2023.
The news was shared with the Dal community in an email memo from Tim Maloney, executive director of Athletics & Recreation at Dalhousie.
"I am most appreciative of the Board of Governors support of this important initiative that will have a lasting impact on our campus and broader community," said Maloney in the memo. "The Dalhousie Event Centre will be a home for Tigers of all stripes and the addition of a multi-use facility will offer significant potential for those valued members of our greater Halifax community as well."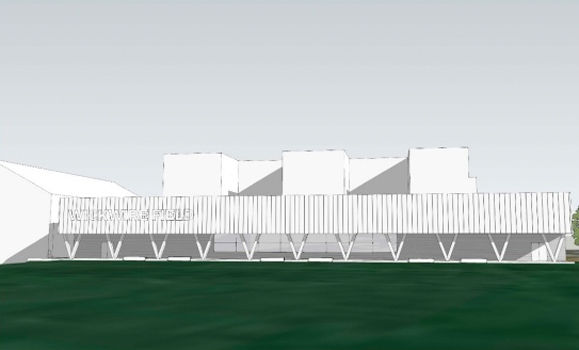 Initial artist rendering of the new Dalhousie Event Centre as viewed from the centre of the neighbouring Wickwire Field.

Given that all of Dalhousie's ice-related athletics and recreation activities have been based out the Halifax Forum since the Memorial Arena was demolished in 2012, it's little surprise that there's been a significant decline in both program participation and offerings for students. These activities are expected to receive a major boost from the new facility, adding an additional dimension to Dal's overall student experience.
"Health and wellness is a vital priority for Dalhousie and this new centre will provide a tremendous opportunity to not only promote and enhance student well-being but also for all members of our community," said Maloney.
The Dalhousie Physiotherapy Clinic will also move from Dalplex into a larger and more dynamic space. The expansion will substantially enhance patient experience and provide more opportunities for increased experiential learning for students while supporting various research initiatives. The facility's proximity to the Dalhousie Student Health and Wellness Centre in the neighbouring LeMarchant Place will also make it a convenient location for students, faculty, staff and the community to access care.
With Board approval, the Dalhousie Event Centre project will continue to move through the development phase. Design plans will be developed in the coming months to be issued for an external design-build competition. (The visual renderings provided are interim placeholders until that process is undertaken.) The budget for the project has not yet been set.
More information will be shared on the project website in the coming months, including opportunities for engagement and a public showcase of plans.