This article is part of a series focusing on the grads of the Dalhousie Class of 2021. Visit our Class of 2021 virtual space to share in the excitement with our newest graduates.
Mohammad ­– Moe – Alshateel (DDS'21) arrived in Calgary from his home in Kuwait, aged 18, on Christmas Eve in the middle of snowstorm, with plans to become a doctor. This summer, he will fly home from Halifax, aged 28, a dentist.
During his 10 years in Canada, Moe has undergone a process of alchemy that has not only redirected his career ambitions, but transformed him, too.
"The person who went to Calgary in 2012 is not the same person who came to Halifax in 2014, is not the same person who got into dentistry in 2017, and is definitely not the same person who graduated in 2021," he says. "I think – I hope – I have grown up to be better than I was."
From Kuwait to Canada

Moe explains that he is one of the "lucky people" who came to Canada on a scholarship from Kuwait. But not everything went as planned. After high school, Moe hoped to study medicine in either the U.S. or the U.K., but he was matched with the University of Calgary where he started the Bachelor of Health Sciences program.
Unfortunately, the program wasn't a good fit for Moe. "I told the folks who are in charge of the program that I didn't think it was what I wanted. They suggested studying dentistry at Dalhousie. So that's how I ended up in Halifax in 2014 — also at Christmas time."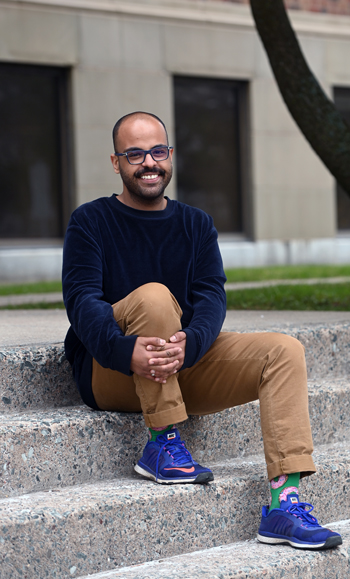 He finished off a BSc in chemistry at Dalhousie before applying to study dentistry, meeting one of his dentistry classmates, Ammar Yassin, during a couple of his chemistry classes. "I actually persuaded him to apply for dentistry, too." says Moe.
Before officially arriving in the Dentistry Building as a dental student, Moe volunteered as an interpreter in the Government Assisted Programs (GAP) clinic, which treats new immigrants and refugees to Nova Scotia.
"Through knowing another language I was able to be the bridge between the patients and the dental hygienists who were treating them, explaining treatments and procedures," says Moe. "Now that I'm on the other side, as someone who treats patients, I feel what an honour and a privilege it was to be one of the few people in the clinic speaking to those patients and helping them feel more comfortable."
Learning the language of dentistry

"It's crazy to think the four years have passed so quickly," says Moe. What started with a call to his mother to tell her he had been accepted dentistry program quickly transitioned to drilling on a block in the sim lab. "I keep reminding myself now that no matter how bad things go in clinic, I started by drilling on that block."
The skills and techniques that seemed difficult at first did — as the instructors said it would —come with practice, as well as developing the mindset of being a professional.  "Now here I am talking with patients and doing restorations," he says.
Moe credits dentistry with teaching him how to talk to people and put them at their ease —although occasionally he encounters a patient who is resistant to his charms.
"A 93-year-old patient once told me I talk too much. 'Why don't you just work?' she asked me. I said 'Okay, sure' and put in the rubber dam. I kept talking and humming along with the music and she just stopped responding. After I finished the restoration and thanked her for coming in, the dental assistant told me that she was complimenting me at the front desk. 'I didn't know dentists could be happy and humming and singing,' she said. "I'll take it," Moe says with his trademark grin.
Moe admits that he can talk a lot, particularly when he feels awkward. But he has learned the value of listening, not only to patients, but to instructors. "With every interaction, you pick up a little tip, another way of doing something, like using a different instrument or angling it another way to deal with a particular situation. I have learned so much this way and it is awesome."
Always ready to volunteer

A big part of Moe's student experience at Dal has been volunteering, first with Dal Out, the farmers' market, and the Faculty of Dentistry GAP clinic.
"It's all about interacting with other people for me, whether it's helping someone to feel comfortable or selling them a vegetable," he says. "The ability to connect with folks is just satisfying. I would do it for the hugs — back when we could hug each other."
When he became a dentistry student, the volunteering didn't stop. He continued to volunteer in the GAP clinic, as an interpreter during his first and second years, then he took on responsibility for scheduling the students, as well as caring for patients in years three and four.
Moe says that when he first started volunteering in the GAP clinic, he didn't know about "dentistry stuff," like fluoride varnish and caries. But through listening, watching, and translating, he became familiar with the terminology and the procedures.
Moe struggles to remember all the volunteering activities he has participated in, but his Impact Award win in 2020 fills in some of the blanks: student representative on the Dentistry Alumni Committee, student communications representative in the Faculty, Multicultural Food Day, one of the social reps for his class.
He says his volunteering just all "mooshes together." It's hard to separate one activity from another. By way of an explanation, Moe says that there is an Arabic expression that literally translates to "you do good and you throw it in the sea," which means don't expect anything back.
"I believe that what goes around comes around. You treat people the way you want to be treated. What you get back is deserved," he says.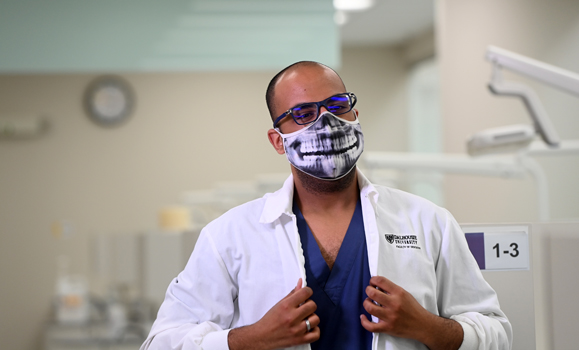 Above, Moe wears a mask illustrated with a radiograph of his own teeth.
A journey back home

Even though Moe describes himself as "really very shy," everyone in the Faculty of Dentistry knows him. He has made many friends from all over the world — from Maine, Utah, and Colorado, to Malaysia and New Zealand — and been able to tour the Cabot Trail and Newfoundland with classmates, Maggie McCarvill and Jared Crane.
While he is excited to see how Kuwait has changed in the last 10 years and to reconnect with his family, he describes the return home as bittersweet. "Canada is an amazing place and I love the environment that Dal has created. I feel like I found my chosen family away from home."
In the back of his head Moe says he has an idea that he will eventually return to Nova Scotia to study for a Master of Education so that he can teach and pass on the tips and tricks his instructors shared with him.
"It's not selfish to keep what you know to yourself, it's just better shared," says Moe. "Part of you lives on with someone else. You have an influence on people around you that you don't always realize, whether it's as a dentist or instructor, or as a human being."