Butterflies, bees, birds and other creatures will soon have a new place to graze at Dalhousie with the addition of a pollinator garden to the campus landscape, an attraction that should also serve as an appealing destination for human visitors.
The green space, located on the north side of the Henry Hicks Building on Studley Campus, was produced by the Dalhousie Art Gallery (DAG) in collaboration with members of the Indigenous Advisory Council (IAC) as a tribute to the late Mike MacDonald — a queer Mi'kmaq artist who was known for his butterfly garden creations.
Designed by guest curator Frances Dorsey, in consultation with Mi'kmaq artist and scholar Michelle Syllliboy, the garden centres around an ancient Mi'kmaq glyph (a symbol or readable character) that means "Listen to us."
A small ground-breaking ceremony (adhering to current COVID-19 safety guidelines) was held at the installation site last Wednesday.
Dorsey made the first cut in the garden, receiving assistance from Theresa Rajack-Talley, Dal's vice-provost of equity and inclusion, and Catherine Martin, Dal's director of Indigenous Community Engagement, in planting a yarrow — a hardy flowering perennial.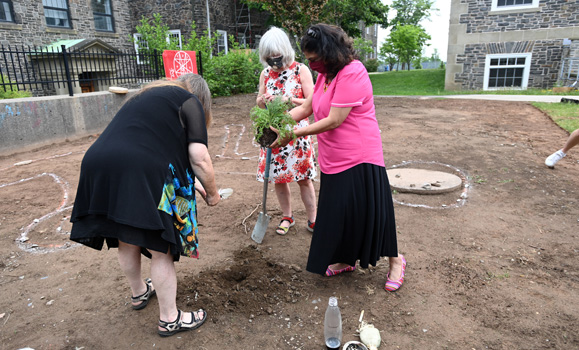 Above, left to right, Martin, Dorsey and Rajack-Talley prepare the yarrow for planting.
A tribute


Martin also led a smudging at the site and shared a song as part of the event.
While mostly celebratory in spirit, the ceremony also honoured the 215 children found in unmarked burial sites at the former Kamloops Indian Residential School in British Columbia in late May.
"I need to sing. That will bring all those who are supposed to be with us together, especially the children that have led us to find them in B.C. and all the other children. I'm thinking that this will become a very significant memorial to all of the children," she said.
Martin and Michele Graveline, advisor with Dal's Indigenous Student Centre, collaborated on the project as representatives from IAC.



Above, Martin sings in the garden.
Through growth, a place to dwell

Like any new garden, Dal's green space will take time to develop.
Seeds were sown and plants added to the space following last week's ground-breaking. Over time, the garden will grow to include a robust mix of plants and shrubs that will attract creatures both big and small.
Many of the plants and shrubs to be featured hold significance to Indigenous peoples, while others were introduced to Mi'kma'ki by European settlers. Part of the plot will eventually evolve into a medicine garden with resources used in Indigenous healing and spiritual practice.
The site will also serve as a place of learning for students.
"At all stages of its development, this site will be a place for we humans to stop, look, smell, listen, touch, taste (the berries when juicy and ripe), think, and meditate about how we are intertwined with plants and animals, the birds and the bees, the pollen and the stars," said Peter Dykhuis, director/curator at DAG, in comments based on conversations with Dorsey and Martin.

Once COVID-19 rules ease, the hope is to organize a future event in the garden space that's open to the Dal community and broader public.
An affiliated exhibition titled Plant Kingdom by Dorsey, the pollinator project's curator, will be held at the Dalhousie Art Gallery early next year.