This article is part of a series focusing on the grads of the Dalhousie Class of 2021. Visit our Class of 2021 virtual space to share in the excitement with our newest graduates.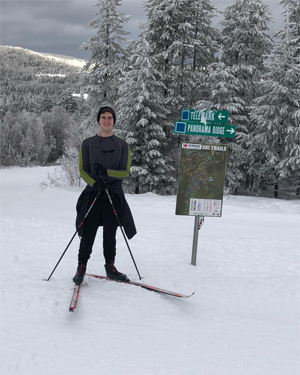 As Jack deGooyer graduates from Dal's Faculty of Engineering with a specialty in electrical engineering, he does so with many memories. We caught up with Jack who shared some of his experiences about his co-op terms (one with electric vehicle maker Tesla), competitions, scholarships, mentors and friends, as well as his hopes for what the next chapter might hold.

What are some of the highlights from your time at Dalhousie?

The largest stand-out moment was probably around my third-year design project [a robotics competition] for electrical engineers. It was the day before we let our robots out on the course, and we didn't sleep the night before, everyone was in the lab. The most memorable moment was at 6 a.m. we were all exhausted and we decided to go for a walk. We walked down to the waterfront, sat silently and we just watched the sunrise together. The water was calm, it was quiet, I could tell we were all thinking the same thing… none of us knew what was going to happen the next day in the competition. It was a very good bonding experience and one of the most memorable. Coincidentally, the next day our robot broke badly, and we had to re-do a lot of work to fix things. I know this is going to be a memory that always comes back to me.

What's the most exciting thing about graduating?

Feeling prepared— I feel a lot more prepared for things. Now that I'm at work, things are starting to fall into place and make sense. There is a self-confidence boost when you don't feel lost in technical meetings and have a grasp on things.

Who or what influenced you the most during your studies?

From the professor side Jeff Dahn, Jean-Francois Bousquet, Yuan Ma. Those professors went above and beyond. They all gave me positions to work part-time/full-time in their laboratories and that had a huge impact on my studies. When I was applying for my first co-op all of my experiences could relay with them, and I wouldn't be where I am if it wasn't for them.

Karyn Hemsworth, from Student Engagement, helped me find my footing with leadership roles at Dal. Most importantly, the friends that I made at Dalhousie were the most phenomenal people I think I might ever meet in my entire life. When you graduate with your best friend being a Rhodes Scholar, friends working around the world, working at the top companies and institutions that really is amazing.

During your time at Dal, you received a Schulich Leader Scholarship. Is there anything you would like to share about the impact that had?

Besides giving me financial stability throughout my undergraduate degree it allowed me to meet with the other Scholars and have a built-in mentorship system during my years at Dal. Having a mentor in their fourth or fifth year, when I first showed up, helped me establish myself and encouraged me to take on leadership roles in my first few years at Dalhousie. That was one of the biggest things— the scholarship is one piece with all the financial help it provided, but additionally, the ability to meet all of the other Schulich Leaders was very valuable.

You had some unique co-op experiences; How did those impact your education, and what did you learn there that you'll apply after graduation?

I had a co-op with Tesla — where I am still currently working as an intern — that was supposed to take me to California. With the global pandemic that didn't happen, and California came to me virtually. The co-op at Tesla worked me very hard and I got to see what it was like to work in a fast-paced environment. It was a tough job with more responsibilities than I've ever had in a position. Working there prepared me now for working post-graduation and I've developed a lot as a person.

The other internship, that I also give a lot of credit to was a 4-month internship at TRIUMF, which is a particle accelerator connected to UBC. My supervisor there Kenji Kojima, who received a top co-op employer award in 2020, really helped me with establishing my ability to think critically and scientifically when it comes to creating design and processes. He was instrumental in my decision to pursue my master's in quantum information.
Overall, co-op provided me with a lot of self-confidence and the feeling that I'm capable of making change.

Now that you have graduated, What's next for you?

I will be doing a Master's of Applied Science at the University of Waterloo focusing on photo sources and detectors with applications towards quantum computing. At Waterloo I'm proud to be receiving every entrance scholarship offered; Engineering Excellence Fellowship, the Dean's Entrance Award, the NSERC CGS-M, President Graduate Scholarship and I was offered the Queen Elisabeth II Graduate Scholarship. Quantum computers are where the future is heading. We might have, in 50 years, something very wild. I see it as a way to try to have a positive impact on the world.