During Alumni Days in late May, Dalhousie hosted a special class reunion to mark a significant milestone. Classmates from the class of 1961 who graduated from Arts and Social Sciences, Dentistry, Engineering, Management and Science gathered over Zoom to share their memories of Dalhousie and Halifax in the late 1950s and early 1960s.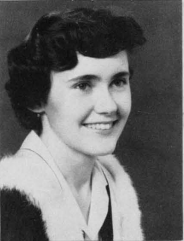 The reunion was sparked by Carol Bradley (BA, '61) who realized earlier this year that it was the 60th anniversary of her graduation and decided she wanted to see some of her old classmates.
Bradley, shown left in her grad yearbook.

"The friends I made there have remained friends throughout life," she says. "After a year of [the COVID-19 pandemic], I was sick of COVID controlling my life, and finding that many people were connecting with folks they hadn't seen for a long time."

Carol sadly missed out on celebrating her 80th birthday with family as they'd planned and had become quite used to using Zoom this year. "I knew there were a lot of us fairly healthy, quite active, 80ish-year-old folks out there, needing celebration — 80 is the new 65?," she says jokingly.
Sharing memories

This reunion allowed folks to reconnect with each other. Carol and the others who lived in Shirreff Hall had many fond memories of pranks from the Engineering students, including going to bed one evening and waking up in the morning to find a fully assembled Volkswagen Bug on the second floor of the building!

Memories were shared of classes in old military barracks around Studley Campus, French Casino on Gottingen Street (the only restaurant in the city where you could have a glass of wine with dinner), and Diana Sweets being a popular place to go.

The reunion allowed the current deans and leaders from their Faculties to share updates on how campus and the programs have changed over the last 60 years. The alumni particularly enjoyed a video created with help from the Dalhousie Archives showing their graduation photos from 1961 and photos of campus in the 60s and what campus currently looks like.'

The idea of a Zoom reunion would have been unusual even a few years ago, but as campus has changed with new buildings, so do reunions and gatherings with health restrictions in place due to a global pandemic.

In attendance were Maura Payne (Arts), Allison Petrie (Arts), Judith MacKenzie (Arts), Carol Bradley (Arts & Science), Greg Booth (Dentistry), Stan Buell (Engineering), Verdon Conrad (Engineering), Edison Trask (Engineering), Brian Stanley (Management), Doug Hergett (Management), and Don Gillis (Science).