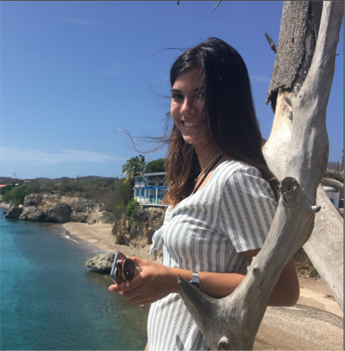 Valentina Ceballos, an honours student majoring in Marine Biology, has been awarded The Rob Stewart Award in Marine Conservation. The award is named in honour of the legacy of Rob Stewart, a Canadian photographer, film maker and conservationist best known for his documentary films Sharkwater and Sharkwater Extinction.

The Rob Stewart Award is given annually to a student based on their academic performance, research summary, and cover letter that shows how their work carries on Stewart's legacy.

Stewart, who drowned off the coast of Florida while scuba diving on a shoot for Sharkwater Extinction, was the chief photographer for the Canadian Wildlife Federations magazines. After witnessing illegal long-line fishing while on assignment, he sought to bring awareness to issues concerning marine life. He went on to make award-winning documentary films garnering attention to marine conservation and shark finning.
Creating change through film

Stewart's debut film, Sharkwater, delves into the personalities of sharks and the industry that is driving them to extinction. The film went on to have the largest opening weekend of any Canadian documentary film, winning 35 awards at various film festivals across the world including the People's Choice Award at the Atlantic Film Festival and best documentary at the Genesis Awards. His follow-up film, Revolution, follows Stewart's journey in seeking solutions to the growing climate change crises.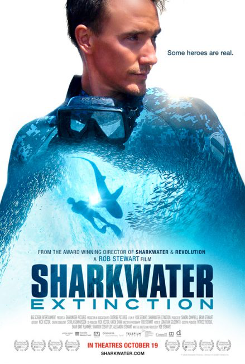 Honouring Stewart's tireless efforts in marine conservation, Gordon (BSc'85) and Lynda Phippen, with support from Dal researcher Boris Worm, created the annual research award at Dal for a student pursuing studies in Marine Conservation.

"We felt compelled to try to do something to help honour Rob's legacy and the relationship he had with researchers like Boris Worm and Chris Harvey-Clark at Dalhousie who supported the science behind the message of his iconic films," says Gordon.

"We have been thrilled to meet young researchers like Isabelle Hurley and this year's winner, Valentina Ceballos, doing her research on highly endangered North Atlantic right whales," says Gordon. "We're sure Rob would be equally thrilled to know that his work and his passion for preserving the oceans and all life on our planet, lives on."
Student impact

Ceballos knew of Stewart through his documentaries and noticed a correlation between her interests in marine conservations and his. "People like Rob care so much about animals in the ocean, ecosystems and making sure that our future is sustainable that we can live with these animals."

Ceballos's research centres on the development of a simulation called whale movement and detection model. The simulation itself compares the visual and acoustic platforms currently being used to detect North Atlantic right whales.

She is supervised by Chris Taggart and PhD student, Hansen Johnson, from the Department of Oceanography, who research focuses on the conversation for right whales. Ceballos's research allows us to determine if one platform detects whales more reliably than the others in certain situations, such as whale numbers (how many whales are present in an area), platform transit number (how many times a platform transits over an area), and survey zones (the size of the area itself) are all variables that affect how efficient a platform is at detecting a whale.

Plans for the future

With a keen interest to continue her work in marine conservation, Valentina's experience at Dal has been very encouraging.

"It taught me that there are people out there that really care. It is hard to influence change, with management and decision makers — it's a very complicated structure. There are a lot of barriers in this type of conservation work, but it gives me hope." Ceballos says.

This summer, Ceballos will continue her research on the North Atlantic right whale and plans to graduate this fall.

"I'm very excited about what's going to happen with this research and to keep adding more to it. I am very honoured to have received this award," says Ceballos.
In celebration of World Oceans Day, the Faculty of Science is hosting a virtual panel discussion later this month with four ocean experts from across the Dalhousie community.