When Rita Orji was admitted to study computer science at Nnamdi Azikiwe University in her home country, Nigeria, she had never used a computer. Now, she's one of only four recipients to be honoured with a top award for early career computer science researchers.

The Outstanding Early Career Researcher Award is a national award that recognizes top young faculty members in Canadian computer science departments, schools and faculties who are within the first ten years of their career beyond the completion of their PhD. CS-Can|Info-Can is the national, non-profit society dedicated to representing all aspects of computer science and the interests of the discipline across Canada.

Dr. Orji is the first faculty member from an institution in Atlantic Canada to receive this award.
High impact research

"I am thrilled to receive this prestigious and very competitive award. I feel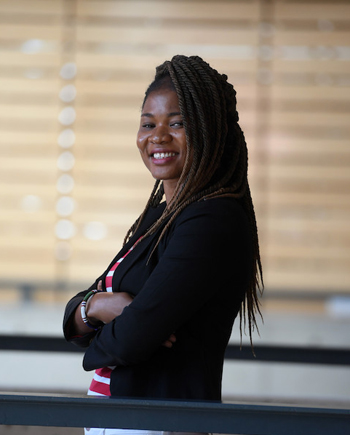 honored and humbled," says Dr. Orji, an associate professor in the Faculty of Computer Science. "I had some moments of sober reflection when I received the news of winning the award. Reflecting on the hurdles and the sacrifices and supports I received from various individuals and communities along this journey — family, colleagues, students, friends, etc. I thank the Faculty of Computer Science and Dalhousie University for their support.

"It feels special to be recognized for doing what I love — working on high-impact research that contributes to making the world a better place by solving societal problems. The award is yet another confirmation of the impact and value of the research we conduct at the Persuasive Computing Lab that I direct. It encourages us to do more."
Promoting social wellness

Within her research area of Persuasive Technology, Dr. Orji investigates how to design and evaluate interactive systems such as games and apps to promote social wellness and good.

"My main aim is to use technology to motivate positive behaviours in users, this could include anything from increasing awareness about healthy sexual activity to supporting early interventions in relation to mental health and wellbeing," explains Dr. Orji. "This work draws from multiple disciplines including health, behavioural and computer science. I collaborate with researchers in many other areas at Dalhousie and beyond to ensure the technologies we are developing are putting the needs of humans first and are capturing many important contexts, insights, and perspectives."

Recently, Dr. Orji's collaborations have led to projects that have contributed towards Dalhousie's COVID-19 efforts. In conjunction with Sandra Meier from Dalhousie and the IWK Health Centre, Dr. Orji developed a mobile sensing app to monitor the impacts of social distancing and isolation on youth during the pandemic. She is also part of a Dalhousie team using artificial intelligence to analyze the public emotions expressed through millions of Tweets from those self-isolating across the globe and identify trends that could impact public policy in this area.
Further reading: Rita Orji and the art of persuasive technology

Get to know Dal's five new Canada Research Chairs

Get to know the five Dal researchers newly appointed to the Royal Society of Canada


National recognition

This award from CS-Can|Info-Can joins a list of many honours for Dr. Orji since joining the Faculty of Computer Science as an assistant professor in 2017. In 2020, she was announced as a Tier 2 Canada Research Chair in Persuasive Technology and admitted as a Member of the College of New Scholars, Artists and Scientists through the Royal Society of Canada.
"Dr. Orji has had a huge impact on the Faculty and the wider computer science community. Within her research area of Human- Computer Interaction, her innovative and important work has created an emerging research focus for the Faculty in Pervasive Computing," notes Andrew Rau-Chaplin, dean of the Faculty of Computer Science.

"Dr. Orji's research is of the highest quality, her publication record exemplary, and her students flourish under her supervision. In the last two years alone, her work has accumulated over 1500 citations, more than 750 citations each year. Alongside this, she is passionate about making a difference through everything that she does. Recognitions such as this one from CS-Can|Info-Can are very well deserved and will enable Dr. Orji to continue to build her platform and develop her impactful research which is exploring solutions to global social challenges."