To be a co-op student in 2020 required a greater degree of fortitude than usual. A large number of students faced unexpected unemployment when businesses had to make difficult decisions with their recruitment and hiring plans due to the arrival of the global pandemic.

But as the year progressed, so too did the employment picture for students. Funding partners provided more wage-subsidy programs, organizations adjusted to the 'new normal' and students adapted and found work.

In 2020 alone, Dal co-op students completed more than 2,100 work terms, with total student earnings grossing more than $22 million. To help boost job opportunities, employers who hired Dal students received more than $4 million in funding during the year.

For the second year in a row, we're celebrating our Top Co-op Students of the Year in a virtual way, sharing their incredible and inspirational stories.

Get to know the six outstanding students selected to receive this year's award.
Gabriel Coughlan, Master of Architecture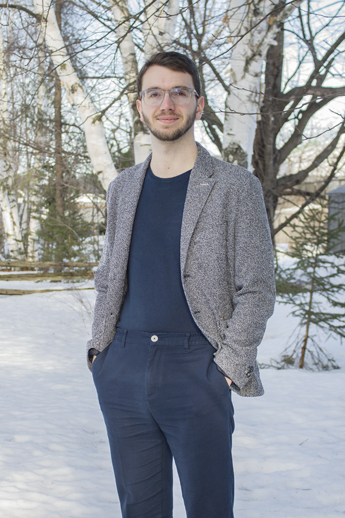 The study of architecture has been a long road for Gabriel Coughlan, but he is finally ready to take his next steps into a rich and fulfilling career, thanks in no small part to his experiences in the co-op program.

Gabriel has been a student of architecture for nearly 10 years, achieving degrees through both Dalhousie and the University of Montreal. He is now in the process of securing his Master of Architecture degree at Dal. Both of his co-op terms have been spent with Montreal-based architecture firm Chevalier Morales, a change of pace as Gabriel had not had the opportunity before in his academic career to participate in his chosen profession in a direct way with such a respected architectural firm. He has made the most of this opportunity by not only deepening his understanding of and experience in the architectural field but also by being a key part of various important projects with the firm.

Gabriel had the exciting opportunity to participate in various parts of the design process at Chevalier Morales, becoming a part of projects that include the conversion of a school chapel into a library and working space, along with other projects involving the designs for a concert hall, a college library, and more. He also had a chance to participate in the competition processes and have his design plans stand up against those of other talented workers in the industry. Gabriel and his co-workers had to make the best of a bad situation in navigating unique challenges presented by a working environment impacted by the COVID-19 pandemic, but they were able to rise to the challenge. Through all his various projects and roles, Gabriel demonstrated a keen eye for design and an enviable work ethic, leading to his superiors referring to him as the most talented and dedicated young architect to come along in quite some time.

Throughout his academic and professional career, Gabriel has busied himself with a diverse array of architectural projects that have kept his insights sharp and his knowledge base diverse. Within the past five years, Gabriel has participated in the design process for the building of a community center with Quebec City-based architecture and design firm PARKA and in the design of a retirement housing for his parent's friends, a personal project accomplished in 2019 that Gabriel takes pride in. Gabriel is also no stranger to accolades for his efforts, being a two-time recipient of the Faculty of Graduate Studies Scholarship during his time at Dalhousie along with earning the Wood Design & Buildings Award in 2019 for his work on designing and building a "warming hut" as part of the Refuge III project in Nova Scotia's Margaree Valley.

Gabriel is quite eager to get back into the workplace after his education is finished, and his previous employers at Chevalier Morales will be equally ready to welcome him back. Gabriel has enjoyed the opportunities and challenges that have been a part of his co-op terms, as well as the work environment he found himself a part of. The co-op experience has only increased his passion to continue working in architecture and design for the foreseeable future, a field within which he has proven his immense aptitude and now has granted him the distinction of being part of the new class of Dalhousie Top Co-op Award winners.
Kortney Dunsby, Master of Planning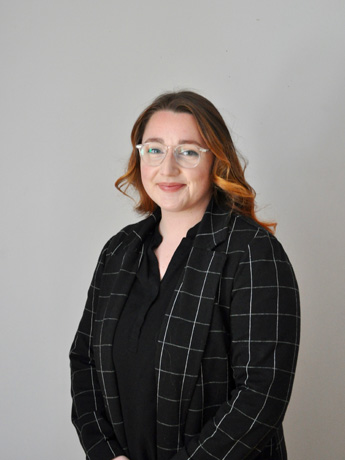 Kortney Dunsby came to Dalhousie to begin her journey in the Master of Planning program because of her fascination with the relationship of people to the spaces and places in which they live their lives. It was the time she spent in the co-op program that helped her realize her true passion in both planning and community engagement.

Kortney's co-op experience saw her working as a planning and accessibility coordinator for the Municipality of the District of Lunenburg, a role that involved (among myriad responsibilities) researching trends and challenges within the local community around the subject of accessibility. Within this role, Kortney played a key role in establishing what would come to be known as the Lunenburg County Accessibility Plan, a proposal that involved countless hours of research and community outreach to maximize the county's commitment to greater accessibility for all. Kortney's efforts during her work term were made more difficult due to being forced to work remotely because of the COVID-19 pandemic, but she persevered. Her hard work led to a positive experience for both her and her employers as she exemplified how a co-op student should perform, leaving the door open for potential future opportunities with the county.

Kortney's interest in planning and community extends beyond her co-op experience. In her home province of Ontario, she was a mind behind the NeighbourPLAN program established in Peterborough, a program that seeks to empower a sense of community connectedness in low-income neighborhoods by helping residents reimagine public spaces near them through a "co-design" method of planning. Her work, and the project itself, gained notoriety for its forward-thinking and innovative aspects. Kortney also feels her time spent volunteering at Trent University's radio station and newspaper during her undergraduate degree informed her interest in people's relation to the spaces they live in, as both opportunities gave her experience in community engagement and speaking with people who benefit the most from effective community planning.

During her time at Dalhousie, Kortney has served as a part of the Graduate Planning Society, enabling more professional and personal development opportunities to arise between the School of Planning and the community of Halifax as a whole. Kortney is currently enjoying her work on two different research projects within the school, serving as both a research assistant and graphic designer, as she considers her next steps toward what she hopes to be a future of continued work in community and environmental planning. After her remarkably successful co-op term and the earning of the Top Co-op distinction, Kortney wants to end her academic career on a high note. Not content with sitting at a desk for the rest of her life, she is instead eager to re-immerse herself into a community as she feels it is so important to be able to see the first-hand impact that one can have through continued hard work and dedication (much like she has shown). She plans to stay focused on these goals as her time at Dalhousie begins to wrap up, confident that her passion for making a difference in a community will lead her to where she is needed.
Liam Hebert, Bachelor of Computer Science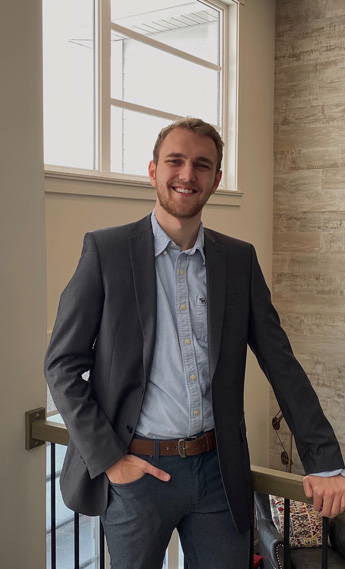 Liam Hebert describes himself as someone with many different interests but little time to explore them all. With two co-op terms under his belt involving work on multiple research projects, resulting in his naming as a Top Co-op Award winner, and a continuing future in computer science, it is no wonder that Liam is one busy student and will soon likely be just as busy in the working world.

Liam's co-op work term journey began at GraceNote in Halifax, an entertainment data and technology company. Here he was able to learn about various technologies important to the computer science industry and get hands-on experience working with a global company. While there, Liam was responsible for a system-wide redesign of the GraceNote product, a data tracking software, that was fully accepted into company production. From there, he went on to two consecutive terms at supply chain management company Kinaxis in Ontario, as part of its Machine Learning Product Research and Development team. As part of the team, Liam compiled and presented research which led to him receiving a patent for development on genetic algorithms to optimize the outcomes of complex supply chain problems within the company; additionally, Liam was involved in the development of a rough prototype that utilized quality assurance and cloud technology and that made it to the production phase. Liam consistently took the initiative in his work opportunities and ended up changing both of his workplaces for the better. His managers at Kinaxis cite his behavior and efforts as standout, evident even from just a short interaction with him.

Outside of work, Liam has been a part of the Dalhousie Space Systems Lab as both a payload software engineer and as the Software & Payout Team Lead, the latter role involving him overseeing six student software engineers and presenting progress reports to university professors across the country and to the Canada Space Agency. Liam has also served as a software engineer on the Dalhousie Aeolus Ventilator project, helping to design and create software architecture for emergency COVID ventilators. He has further advised the Health Association of Nova Scotia on emerging tech to help modernize health care in the province and serves as a peer mentor to female-identifying computer science students at Dalhousie, while also finding time to teach swimming lessons to children when he can. Liam leads an active life and puts 100 per cent into everything he does.

Liam is comfortable taking the lead on complex and intensive projects, a role that he has relished during his time at Dalhousie. Looking ahead in his academic career as his bachelor's degree is within reach, Liam is very excited for the next step in his education journey at the University of Waterloo, where he will pursue a Masters of Math in Computer Science (MMath) degree. When it comes to his chosen field, Liam loves tackling problems that have not been solved and pursuing machine-learning research. He is excited to further research and learn more as his education continues and is thankful for the hands-on experience that co-op and his volunteering opportunities have afforded him in the past several years.
Mariah St. Pierre, Bachelor of Science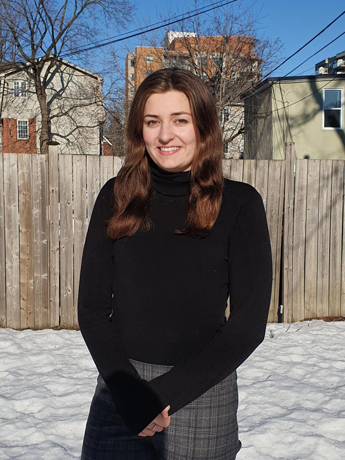 From a young age, Mariah St. Pierre has always had a great love for nature and has understood the importance of environmental conservation thanks to her parents' passion for it. This passion sparked a desire in Mariah to learn more about the environment and her role within it, a desire that led her to pursue a Bachelor of Science degree at Dalhousie and to her time enrolled in the co-op program.

Both of Mariah's co-op terms have been accomplished through Environment & Climate Change Canada – Meteorological Division as a junior policy analyst, initially with the organization's Planning & Risk Management team and then later in a communications role within the Policy, Planning & Partnership Directorate Office. Both roles saw her take various planning roles within the organization including taking on public-facing tasks as needed, including virtual events and team-building exercises. Mariah's interest in environmental science is at a policy and systemic level and both of her co-op terms allowed her to build on that interest and develop support from an organization committed to sustainability on a national level.

Her interest in the environment also permeates her free time as much as her academic efforts, as she is a part of Your Environmental Student Society at Dalhousie. The group looks to facilitate and advocate for sustainability for students across campus and Mariah has been key in many of the organization's drives and events during her time with them. She has also spent time volunteering with the Halifax Cat Rescue Society to provide housing and care for feral cats in the city, another aspect of environmental care close to her heart. Mariah's passions further extend to Indigenous rights, cartography, politics and more in and around the environmental sphere. In her personal life, Mariah likes to keep active in every sense: She is an avid volleyball competitor and taekwondo practitioner, as well as having coaching experience in the former sport back in her home province of British Columbia. She has been on the Dean's List of academic excellence at Dalhousie for three years in a row, a true overachiever in anything she puts her mind to.

Mariah is a big believer in systemic environmental change and that making a difference is possible in achieving sustainability worldwide. Through her co-op experience and her time at Dalhousie, Mariah has seen the change that can come from being a part of large organizations as well as the difference that can be made by those with a larger platform (i.e. politicians, influencers, celebrities) advocating for environmental reform. Seeing it all in action and being a part of the change has emboldened Mariah even further to pursue more career options related to the environment. She may potentially pursue her education further, but she also has opportunities for continued employment with Environment & Climate Change Canada, as well as with her current work as a clean energy program assistant with Crown-Indigenous Affairs and Northern Affairs Canada. Emboldened by her experience in the co-op program, Mariah is excited to be a part of positive systemic change as the journey into the field of environmental science has only just begun for this Top Co-op Award winner.
Stefan Wippel, Bachelor of Commerce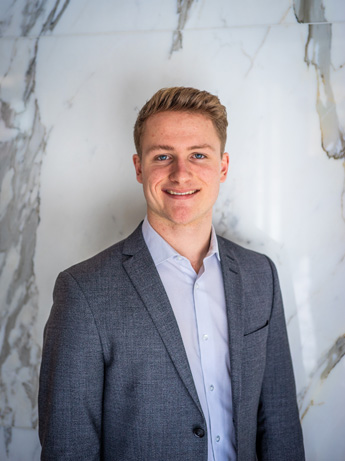 For Commerce student Stefan Wippel, co-op has given him the break in his budding career that may come to define his future in the business world. Both of his co-op terms have been with Toronto-based TD Securities (TDS), with Stefan describing his time spent there as one of the most rewarding experiences he has ever had in his professional career. Working with the nationwide financial services provider, Stefan impressed his higher-ups with his ability to learn quickly and to take the initiative on projects in which he is involved.

During his time with TDS, Stefan found himself directly on the floor with sales, booking trades and assisting TDS clients directly with transactions along with many other responsibilities. He also spent his time creating brand new tools and processes to help simplify tasks and streamline roles within the offices, removing time-consuming aspects of the job and assisting TDS greatly in turn. He also built a new tool to provide sector analysis for various credits, which showed the biggest movers in the company and enabled it to track performance and statistics even better than before. Stefan even took the initiative in leading fundraising efforts for the company's charitable efforts, helping it raise over $90,000 for hunger relief charity Second Harvest Canada during his time there. His proactive attitude and reliable nature helped him make a huge splash in the business and has left a lasting positive impression on his co-workers and managers.

Stefan's experience as a go-getter is apparent from his many endeavors outside of his work. He is a competitive multi-sport athlete who has played for the Dalhousie Men's Rugby Team while also involving himself with several societies and causes including the Dalhousie Investment Society, the Rowe Sports Business Society, and as a Dal representative in the Atlantic Throwdown Case Competition. Stefan was also given the Rising Star award in 2017 from Dalhousie's Commerce Society, one of the many recognitions of his hard work in his areas of interest as well as his potential.

Not long into his first co-op term, Stefan identified a long-term goal for himself to secure a full-time position with TDS. Stefan recalls falling in love with the fast-paced work and the challenging, stimulating atmosphere it presented to him along with the great support he received throughout his time there. Through his continued efforts across both of his co-op terms, he was able to secure further work over the summer of 2020 with the TDS credit sales desk team, further proof of his favored reputation as a young worker for the company. After graduation, Stefan is pleased to reveal that he will be returning to TD Securities for a full-time position in their "Sales & Trading Rotational Program" with a start date of August 2021. Stefan has presented an emphatic case to TDS as to why his continued presence should be valued and, with a work ethic and drive to succeed like his, the future seems bright indeed for this Top Co-op Award honoree in the business world.
Lauren Zwicker, Bachelor of Engineering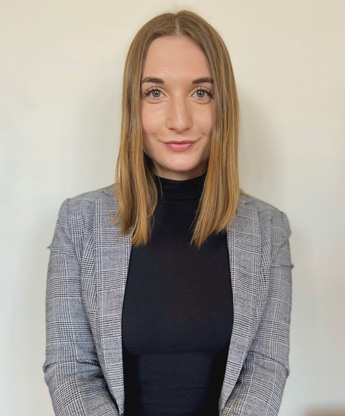 Lauren Zwicker's passion for industrial engineering has to do with how the science interacts with the human element; specifically, she loves to apply engineering in unique environments and toward sustainable solutions for the benefit of future generations. Through her three co-op work terms, Lauren has certainly found herself adapting to several unique situations and flourishing as a result en route to her continued future in engineering.

Lauren's first term saw her working as a Logistic Support Analyst for IMP Aerospace & Defence, the leading company in the country for its industry. In that role, she was able to help improve the workflow of Sparing Analyses (predicting maintenance parts needed for planes to reach full life expectancy) in End-of-Life Evaluation for fleets of planes, reducing the number of work hours required for the task from 300 all the way down to 72. She also spent time creating a tool to track aircraft unavailability that IMP was responsible for, working part-time through her schooling to see the job through.

From there, Lauren's second term saw her put in time as an IM/IT Student Analyst with the Nova Scotia Health Authority. Although Lauren had next to no experience working with the health care industry, she ended up creating a tool to analyze and report on the root causes of workflow problems in a department, a process that earned her praise for her ability to think outside of the confines of the system and bring a unique perspective to her work. Finally, her term in Asset Management for Nova Scotia Power saw her improve processes within the system and create dashboards to semi-automate future reports and customer requests. Despite having to work remotely because of the COVID-19 pandemic, Lauren gained praise for her attention to detail and professionalism.

Lauren is frequently generous with her time and talents, as she has been on two different volunteering trips to Kenya as both a camp counselor and as a participator in a youth food security and agricultural exchange. It was her time overseas that continues to inspire her from an engineering standpoint as it illustrated to her the importance of putting people first in engineering work and how the work can benefit those it should serve. As Lauren herself says, "The people involved in a project are more important than the project itself," a philosophy that continues to guide her.

Lauren has been in the interview process with multiple companies over the last few months but has not made any final decisions as to where her future lies just yet. In all aspects of her life, Lauren has a passion for the field of social justice, and she would ideally like to be working in a position where she can use her engineering skills in a way that is meaningful and aligns with her core beliefs. It is clear from her work term experience, and from her place as a Top Co-op honoree, that Lauren is capable of anything she puts her mind to and will be an asset for whatever company she decides to associate herself with after her time at Dalhousie ends.