The Fountain School of Performing Arts's fourth-year acting class returns to the Dunn Theatre stage for their final performance of the 2020-2021 season with Peter Oswald's new version of Friedrich Schiller's Mary Stuart.

While safety precautions have allowed for live theatre rehearsals and performances at Dalhousie for the first time since last March, audiences will still be kept at a distance for now. The production will be performed at the Dunn and streamed live every evening from March 30 to April 3 (excluding Good Friday) at 7:30 PM ADT via Vimeo. Additionally, a prerecorded matinee performance will stream on Saturday, April 3, at 2:00 PM ADT.

[Request a viewing link for any of these streams.]

Centering around Schiller's imagined meeting of Queen Elizabeth I and Mary, Queen of Scots, the narrative travels between the two monarchs and culminates in this historical "what if?" How would this interaction have looked? How would these two legendary women have behaved if they came face-to-face?

Whether driven by the force of fate, politics, or the inner workings of the royal structures surrounding both queens, this story considers what their meeting puts at stake.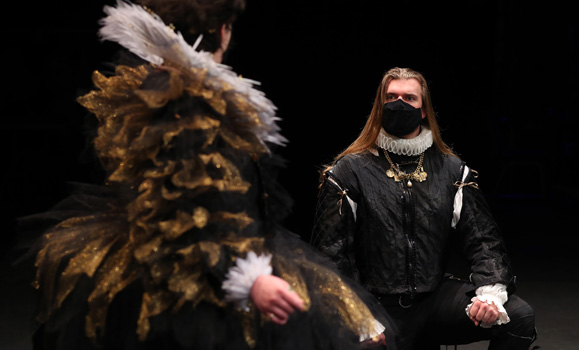 Emma James and Christian Ludwig Hansen.
Demanding to speak, demanding to be heard

One can only expect that a play about two matriarchal powerhouses carries a core concern with women and their political and social positions. Director Alistair Newton fully embraces and enhances the potential this play has for generating meaningful conversations surrounding gender and sexuality.

To further develop the pre-existing gender dynamics within the text, the creative team has decided to alter the gender of multiple characters.

This decision has allowed for the representation of "different women who sit at different social positions all stuck in this kind of patriarchal 1580s world," Newton says. "In this version, you've got that experience from a number of different positions in that hierarchy."

Hannah Whaley, a fourth-year Theatre Honours student and assistant director of Mary Stuart, expands on the impact of this adaptation: "What I love about our production is that we have added more female roles to really flesh out the representation. All of the female characters are so different. There are women blinded by love and/or lust, women with no romantic interests, women who want power, women who resent their power, and so on. It's wonderful to be a part of."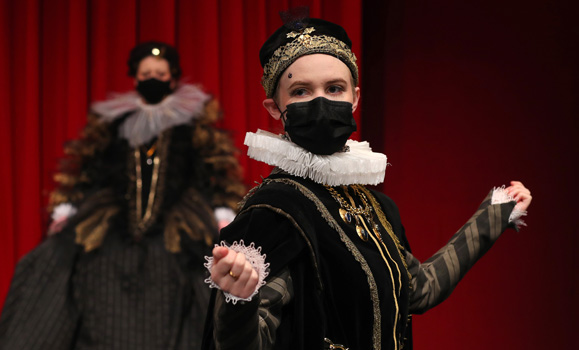 Emma James, right, and Guilia Wilson.

As Newton adds, "There's a female power dynamic in there that I love." These women "demand to speak and demand to be heard." Even without the immense power and responsibilities shouldered by the two monarchs, this is a demand for authority and respect shared by female audiences centuries after these historical events.

However, among the great moments of feminine power, among the demands to be seen and heard, Newton poses a vital question that remains: "What does a woman have to deny about herself to gain and maintain power in a patriarchal world?" Even in a play centered on an era considered a great matriarchy, there is the acknowledgement that these characters, some of the most powerful women in history, are still forced to dismiss something within themselves for political and social power.
Duty to church and state

This production also raises important questions of morality surrounding political power. Newton explains that much of this show is "about tyranny, about authoritarianism, about state power. It really hinges on this idea of what the moral authority of the state is and how that power is exercised."

The political expectations forced onto characters often compete with where their independent morals stand. There is a constant battle between the right thing to do for oneself and the right thing to do according to one's political, religious, or social responsibilities. This production asks us to consider how these different social duties and our personal lives intersect. Additionally, it asks audiences about the necessity of taking responsibility for our actions.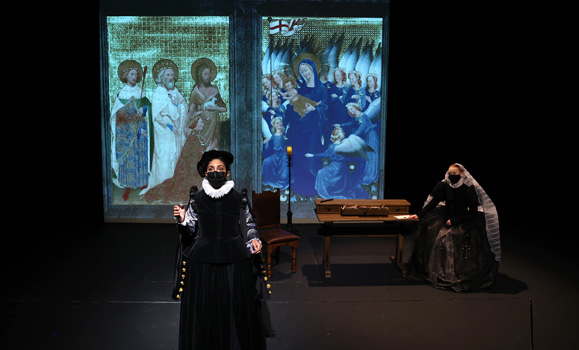 Misha Bakshi, left, and Molly Redden.

Whaley, the assistant director, speaks to the necessity of accepting responsibility even when one's actions feel forced by their given position. "The characters may not have control over their circumstances," she says, "but they can control how they react to them and take ownership of those reactions."

"The two words you hear over and over and over again in the play are necessity and ambition," says Newton. "Necessity, as in what is expected of you. What do you owe to the state, to your station in life, to God, to religion, all those sorts of things? What does Elizabeth owe to her people?"

Alternatively, Mary Stuart asks audiences: to whom does the responsibility fall when actions and reactions stem from this political necessity?
A trans-historical pageant

The crisp set design by Katherine Jenkins Ryan and stunning costumes from John Pennoyer create the physical world of Mary Stuart. "This is a play about pageantry," Newton notes, "about people who take up a lot of space." While helping to fill the stage visually and partially mask the six-foot distancing throughout the production, the pageantry and grandeur of the physical design also speak to the extravagant era.

The costumes, which Newton explains are the result of "intensive historical research filtered through the lens of contemporary fashion," provide "touches of the historical period and really the world of the 1580s filtered through the lens of a contemporary high-fashion aesthetic."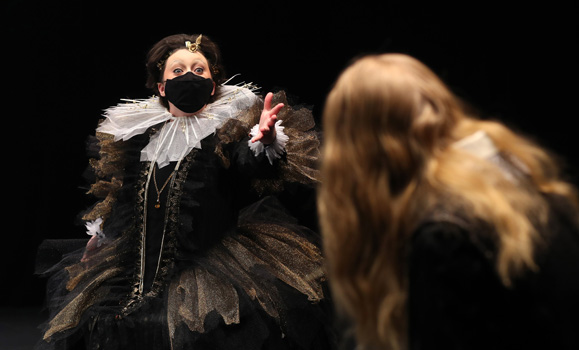 Emma James, left, and Kirsten Claussner.

The spectacular historical garb, viewed through this lens of contemporary fashion, bridges the gap between past and present. The stylization of the period, inspired by legendary fashion designers like Gareth Pugh and Alexander MacQueen, solidifies the connection between these historical events and their ties to modern audiences.
From 1580 to 2021

Mary Stuart floods the Dunn stage with a story of passion, betrayal, lust, fanaticism, and ambition. It provides audiences with a unique glimpse into the hearts and minds of two of the most iconic and powerful women in history, along with those who surround them. The production really highlights the complex system and network that these two monarchs are tied up within.

Audiences have the opportunity to explore not only the words and deeds of Elizabeth and Mary, but also those who advise them, who are loyal, who betray, who love, and who are loved by them, all of whom play such a vital part in the outcome of history.

The tireless work of cast and crew has resulted in a powerful staging of a centuries-old story. This story carries its impact and importance into the 21st century, resonating with contemporary audiences thanks to the sensitive, complex, and truly heartfelt performances from the exceptionally talented acting class of 2021.

Mary Stuart (Oswald) is presented by arrangement with Concord Theatricals on behalf of Samuel French, Inc. www.concordtheatricals.com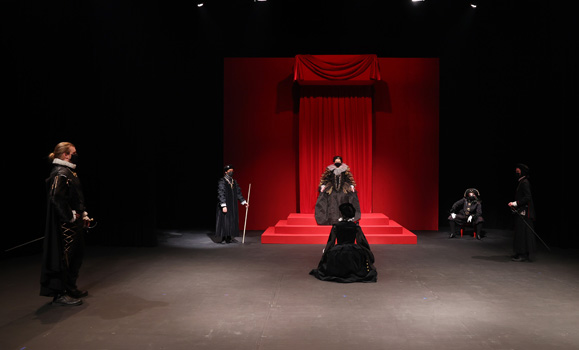 Actors on stage in Mary Stuart.