Awareness about hunger's role in the complex calculus of conflict has grown in recent years, with natural disasters, politics and the COVID-19 pandemic all exacerbating matters globally.

The world's attention further zeroed in on the issue last year when the Norwegian Nobel Committee awarded the Nobel Peace Prize to the United Nations World Food Programme (WFP) in recognition for its efforts to combat hunger.

WFP was lauded by the committee for its contribution to bettering conditions for peace in conflict-affected areas and for acting as a driving force in efforts to prevent the use of hunger as a weapon of war and conflict.

For Dal alum Benjamin Syme Van Ameringen (BA'09), a long-time WFP employee based at the organization's Geneva offices, the recognition couldn't have come at a better time.

"We are seeing one of the most challenging periods in terms of food insecurity that we've seen in modern human history," he warns.

Last year, the WFP mobilized to meet the food needs of more than 100 million people. Tackling this rising tide of hunger has necessitated the largest humanitarian operation in WFP's history. And the organization says the number of acutely food-insecure people could increase by 80 percent to 270 million this year in 79 of the countries where WFP works.

Syme says this sharp rise in hunger has a lot to do with an increase in the number and severity of conflicts going on. Fighting hunger in many of these zones of unrest, such as Yemen and Burkina Faso, can be challenging for organizations as they often lack the access or funding they need to operate — a predicament that's been compounded by COVID-19. 
The last mile

In his current role, Syme works on building partnerships between WFP and other organizations within the UN system in order to better support staff on the ground in countries where they operate.

"It's really about how do we support and enable our teams in the field to reach those people at the last mile — the people who are most in need," he says.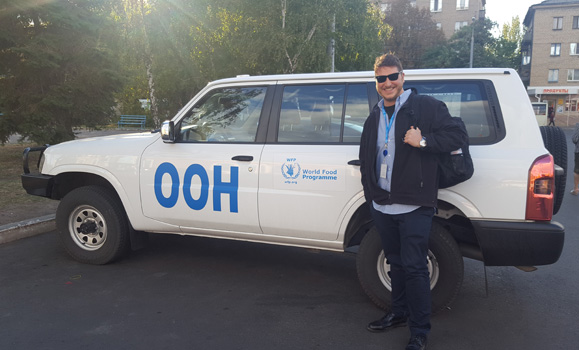 Ottawa-born Syme, who spent some time living abroad as a child of diplomats, first delved into the world of international humanitarian assistance during an internship with the United Nations Population Fund in Bangladesh just over a decade ago. The posting was facilitated through a Dal experiential-learning program Syme signed up for as part of his undergraduate degree in political science. That experience, along with the expertise in international affairs he'd developed through his coursework at Dal, set Syme up for success.

"That kind of diversity really shaped my worldview in a big way," he says.

Following graduation from Dal and a master's degree abroad, Syme spent some time working in the corporate sector in Toronto (where his spouse was then a student) as a risk consultant for financial institutions but felt a gravitational pull to return to work in the international orbit.

Since joining WFP, Syme's work has taken him to 12 countries, including Zimbabwe, Ghana and Senegal — where he was on mission supporting the country office.

"Food and food assistance really has such a magnificent power that allows communities to grow and peace to occur," he says. "It allows young people to reach their full potential. It supports helping women and girls break out of traditional roles. It really creates prosperity and wealth when people have sufficient food and are not hungry."

During one of his country missions in Eastern Ukraine, Syme helped set up a program for people displaced by the conflict there at the time. It was designed around cash-based transfers and resulted in an uptake in medical services and consumption.

"This assistance is really life saving," he says.

And recent WFP initiatives have further amplified the power of the organization's work. Its Share the Meal app, for instance, enables anyone with a smartphone to support those in need of food easily with the simple push of a button.  

Download the app now to help
Promise during a pandemic


As the impacts of the pandemic continue to play out around the world, with rising unemployment and increasing hunger in many countries, more and more of Syme's work has shifted to focus on WFP's COVID-19 response.

Syme says right now WFP is working with the World Health Organization and others to help bring their resources to bear on relief efforts.

"Because we have the logistics and capacity, WFP has moved about 28,000 staff from all different humanitarian organizations from all around the world using aircrafts contracted by us," he says. "We're helping WHO and others bring PPE and supplies to more than 170 countries."

As COVID magnifies conflict, economic stresses, climate and other pre-existing vulnerabilities, Syme says collaboration is more key than ever.

"My goal is really to forge partnerships and find pathways for us to work together."