There's a new tool in the fight to save the endangered right whale and it comes from the final frontier — space.

Thanks to a bold vision, dogged determination and some very tedious lab work, Dalhousie PhD candidate Olivia Pisano and her team have a new industry partnership in place that will go where no one has gone before.

"I stumbled across a paper from the UK, where some scientists had started to look at whales from space. And I just thought, this is a coolest thing I've ever seen in my life. I wonder if we could do something like that in Canada," says Pisano, pictured below left.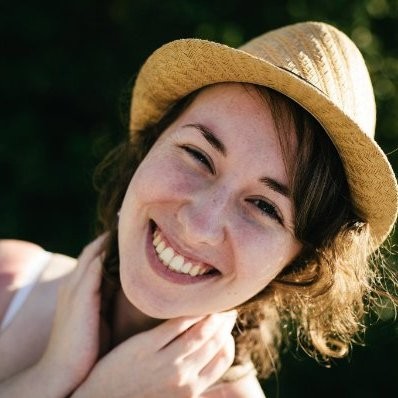 She has wanted to 'save the whales' since she was a child. She even wrote a children's book about it called 'Sammy's Wish' when she was in high school, with a foreword by Jean-Michel Cousteau, son of ocean explorer Jacques Cousteau.

Her PhD supervisor, Boris Worm, is primary investigator on the Ocean Frontier Institute module called Future-proofing Marine Protected Area Networks. Funded by the Canada First Research Excellence Fund, the project aims to help 'climate-proof' Marine Protected Area networks and other spatial management tools, such as fisheries closures and critical habitat designations.

Pisano's theory was a perfect fit.

"With climate change, the distribution of species (particularly mobile species like the right whale) is changing so rapidly, that the traditional approach of going back year after year, say to the Bay of Fundy is just not working anymore," says Dr. Worm. "These whales are turning up in many new places recently. To an endangered species that's on the move, we need a different approach."
A new type of data

Right whales and other endangered species are currently monitored in many ways, including acoustics and observations from land, sea and air. Tagged animals can be monitored in real time, but that encompasses a small fraction of the population. While these measures are essential, more data is needed to understand the animals' ever-changing movements due to climate change and other factors.

Pisano's idea was to create an algorithm that would quickly scan real-time satellite images and pinpoint whale movements. Pisano and her team have looked over more than 40,000 images captured by aircraft belonging to the Department of Fisheries and Oceans.

 "I have been working with aerial imagery so far, which we will use in addition to satellite imagery for this project" she says. "I look at the image, zoom in and I just scroll through back and forth, just manually looking and checking for any signs of life. I have found whales, dolphins, sharks, turtles and Sunfish. It is incredible how much you can see in that imagery."

All the examples have been used to train a computer algorithm to run through thousands and thousands of images, automatically distinguishing the right whales from things like waves, sharks or even ships.

"We will be able to give our algorithm many thousands of examples of animals, so it will already know what to look for. So, it's not starting from scratch, it'll already have a very good idea of what it's looking for. We can make progress that much faster."

"That's a labour of love that not just anyone could have done — weeks and weeks and weeks looking at these images and trying to find the little whale needles in a vast haystack of ocean," says Dr. Worm, pictured right.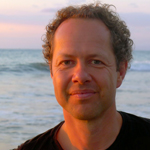 And the work has paid off.

The team has just received $1.1 million from Canada's smartWhales initiative led by the Canadian Space Agency. This is part of a $5.3-million investment in five companies to advance innovative solutions that could enhance Canada's ability to detect and monitor the presence of these whales in Canadian waters and predict their movements.
Solving real problems — together

During the call for proposals they met with several potential industry partners, all of whom wanted to join the project. In the end, the collaboration includes Dalhousie University, DeepSense, British Antarctic Survey, Bigelow Laboratory for Ocean Science and locally owned Global Spatial Technology Solutions, or GSTS.

"Space observation is a more cost-effective way to be able to survey large areas, where it's impossible to keep up with them in planes and boats. You don't have to worry about gas, personnel or the safety of the crew," says Pisano. "We can actually task satellites to take pictures where we think we need to look for whales, or where nobody has looked before, or where there's potential conflicts with, say shipping or fishing. And then the idea is that that information is made available in real time."

The three-year contract will pay for access to satellite imagery and personnel to continue to advance the algorithms.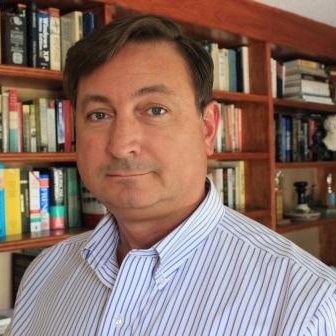 Richard Kolacz (shown left), CEO of GSTS, says the project blends the institute's expertise and knowledge of marine mammal movements with the company's technological capability to quickly develop operational systems to help save the whales and potentially other species down the road.

"We're focusing on solving real problems that exist in the world and this is clearly one of them. So, it's really taking the capabilities that we have in artificial intelligence, and big data analytics and processing, and matching it up with the capabilities of the institute to provide a solution to a problem," he says.

"We can use that capability to feed into our artificial intelligence algorithm to recognize whales. It's like developing an AI algorithm for facial recognition. We're looking to do the same with the whales. And it's really the domain expertise on the whales themselves that the institute has to help us in training our AI algorithm."
A perfect fit for OFI

For Dr. Worm, this collaboration is an example of what the Ocean Frontier Institute was designed to do — be a catalyst between meaningful ocean research and its real-life application in government, industry and community.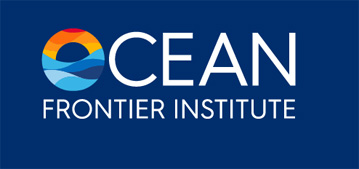 "This project concerns the sustainability of a species that has been depleted by human causes, almost to the point of extinction. A large problem like this really requires innovative, timely partnerships between scientists, government and industry," says Dr. Worm.

Pisano calls it serendipity.

"We really saw this as an opportunity to transform our initial vision into something tangible, something that can be used by decision makers, to make sure that we're keeping these whales safe, that we're finding out as much as we can about them, and that we're doing everything that we can to make sure that all whales survive. It feels like a destiny moment. You know, this is it. This is what we've been waiting for."