The holiday season is a time of festivities, social gatherings, and making memories. Gift giving, eating special meals, and connecting with family members are all a part of the symbolic and emotional gestures we affiliate with this period.

Yet this year will challenge those rituals and comforts. Due to the global pandemic, many of our traditions and practices can't happen in the same way they have in the past. This could be especially hard for students, many of whom have never had a holiday season away from family.

Martha Radice (shown right), an associate professor in the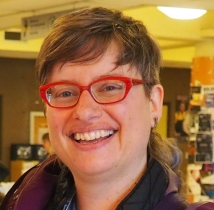 Department of Sociology and Social Anthropology, says the holiday season is important to people because it's a time when they engage in certain rituals of significant to their cultural communities, some faith-based and others not.

"We take time off from our everyday lives, and we do things — typically with other people —that are repeated from year to year and attached to our cultural values in some way," she says.
New traditions and practices

To fill in some of the gaps in traditions and rituals this year, Dr. Radice suggests considering the possibility of introducing new ones.

"I think it's very much worth it to consider new traditions" she says. "Perhaps now before things get busy and hectic, sit down and think about the elements of the holiday rituals and traditions that are really important and how can we adapt them."

To shape the holiday season to fit your needs this year, Dr. Radice offered up a number of ideas, including:  
•    Online meetups with relatives over Zoom/Teams/Skype
•    Secret Santa as a means of gift giving among families who can't be together in person
•    Eating together, when apart, through online meet ups or by making similar meals
•    Reaching out to neighbours or other students that are here for the Holidays
•    Sending Holiday cards
•    Spending more time outdoors
•    Volunteering

As Dr. Radice says, "One of the reasons that this is a season for celebration is that we do move from the days getting shorter and the nights getting longer, and then at the Solstice we see the days getting longer again. And there's this sense of passing through the darkest day.

"I think that this year that metaphor is particularly poignant."