The global pandemic has caused great upheaval in people's lives, impacting everything from employment and financial security to physical health, mental wellness, and the ability to move freely throughout communities. While public-health measures are necessary to protect people's health and prevent hospitals from being overburdened with unmanageable patient loads, adjusting to health protocols has not been an easy feat.

The struggles people have experienced throughout the pandemic has even led some individuals to direct their frustrations towards others. Stories have emerged throughout this year of people being shamed for their real or perceived lack of adherence to public-health protocols, their race, their age, and where they are from.

Robert Huish, an associate professor in Dalhousie's International Development Studies department, is conducting a research study funded by the Nova Scotia COVID-19 Health Research Coalition on the consequences and outcomes of stigma. We spoke with him about the impacts of social stigma and how it has evolved throughout the pandemic.
What exactly is social stigma and what role has it played throughout the COVID-19 pandemic?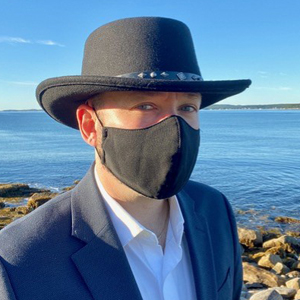 Stigma occurs in times of pandemics when groups of people are made to feel shamed and marginalized and dealt up unfair treatment from the rest of society because of who they are, not necessarily because of what they've done. This can lead to a long-list of mental and physical health outcomes.  

Quarantines are public health interventions that are thousands of years old, and with them come ancient problems like stigma. From leprosy to HIV to COVID-19, someone has always been blamed.  For COVID-19, we've seen persons who appear to be of Asian descent initially stigmatized, but then essential workers, seniors, persons who have had COVID-19, and health workers. In the Atlantic bubble, license plate shaming and assigning blame to 18 - 35 year olds has also unfolded.

Shaming doesn't always lead to stigma, but it can be a strong indicator of how well we're really taking care of each other. Blaming someone, or expressing anger at others doesn't help defeat the virus. The virus doesn't discriminate against people, but it does gain a stronger advantage when society is divided and distrustful. 
What factors cause individuals to express their beliefs or stigmas about another person or group?
In times of quarantines there are new rules to follow, and a lot of the no-nos were perfectly acceptable a year ago.  Sharing a plate of nachos and a pitcher of beer would be a common sight in any sports bar, just as a group of friends going to a gym to workout. Now that's forbidden. When people follow the rules, and then hear that some people are not, or not doing it as well as they should, anger ensues. Whispery rumours and conversations, enabled greatly by social media, fan the flames and then groups of people are broad stroked as causing the problem.  From there, heated words turn into heated actions, and the targeted groups begin to adjust their behaviour to avoid conflict.  

Following the rules certainly helps contain the virus, but quarantines will always protect some better than others, leaving some more vulnerable. When people feel it is okay to assign blame for their own fears and suffering, then we lose the plot. Those who assign blame often themselves make mistakes with the rules as well.  So, in the case of the demise of the Atlantic bubble, some people took their anger out on students who were going to bars, which was perfectly legal and acceptable at the time, by the way.  This sort of finger pointing was not extended to shoppers who didn't keep six feet apart the grocery aisle, or to those who wear their masks under the noses. 
You have said recently that we are experiencing a third wave of social stigma as a result of the pandemic. What do you mean by this and do you believe that we will see further waves of social stigma as the pandemic continues? If so, what do you think they could look like?
Yes, the first wave of stigma in the Atlantic region was against persons who appear to be of Asian descent. The second wave was aimed at people from out of province, essential workers, health workers, and persons driving vehicles with out of province plates.  My research assistants and I are actually very shocked at the plate-shaming and how profound it has been. 

The third wave is aimed at 18-35 year olds. All three waves of stigma seem to stem from the same base: that these groups of people brought COVID-19 into the Atlantic and that they don't really belong here. It's a dangerous and naive way to think. An Atlantic bubble doesn't work by keeping some people in and others out. It works by the accepted behaviour that goes on within it.  Wearing masks, social distancing, limited gatherings are what matters most.  

A 25-year old who appears to be of Asian descent who drives a car with Texas plates in Halifax is just as capable as anyone else to follow all rules, guidelines, and social ordinances. The Atlantic bubble was an impressive public health feat, but it was because of the rules and guidelines and participation to them that keeps COVID-19, not so much who is let in and who isn't.  

The fourth wave of stigma that may be worrying will involve the vaccine roll out. If exceptions to the social distancing rules are given to those who are vaccinated, it will spell big trouble. Historically, it's persons who are already socially marginalized, or who have low economic means that receive vaccines later than others. I worry that stigma may find its way to already discriminated groups in the Atlantic, and that's the last thing anybody needs. 
What can be done to address or prevent social stigma during the pandemic?
The first thing is to realize that social distancing and quarantines are not an exact science. They are best practices until vaccines and medicines are ready. Dr. Robert Strang, Nova Scotia's chief medical officer, has done an impressive job in leading the region to have daily virus counts comparable to remote islands in the South Pacific. This is really exceptional on a global scale. But Atlantic Canadians need to recognize that following the rules, and helping others follow the rules, is what makes it work. Holding the attitude that some people belong and others don't isn't helpful. Nor is taking the time to hurl insults, threaten people on social media, or take a key to someone's car with Ontario plates. Making people feel bad doesn't cure the virus, and COVID-19 doesn't care if you key someone's car.  

In order to address stigma, we need to realize that we're all on the same team working against a common goal of defeating the virus. It might be frustrating to think that one or two people are flaunting the rules, and a few people may be — but hold back on broad-stroking entire groups. This only puts wedges and division into society, and as we see around the world, the more divisive the society, the better chance the virus has to spread. For something as globally inclusive as COVID-19, we need to remember that our actions matter in taking down the virus, but also in taking care of each other.