You rarely see a newscast without one. Academic experts. They help us make sense of our world by sharing opinions based on evidence and guide us through a fog of partisanship and spin.

Dalhousie's OpenThink initiative aims to train the next generation of experts by equipping PhD students with the skills and stage to share their ideas, inform on issues and influence public policy.
Thought leaders in training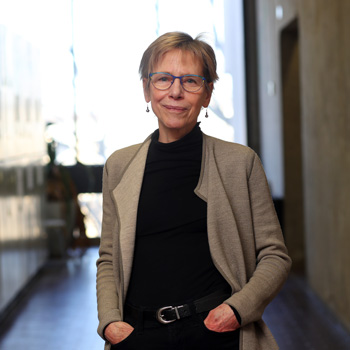 The yearlong program, run by the Faculty of Graduate Studies, is entering its second year and recruiting its next cohort of 13 OpenThinkers. Beginning in January, these students will attend a series of workshops led by communications experts from Dalhousie, University of King's College, NATIONAL Public Relations and The Conversation Canada. They will be coached to manage research-driven social profiles, write about their research for news publications, pitch and talk to journalists, and harness data visualization.

"The OpenThink Initiative allows us to amplify our graduate students' advancements and get their ideas into the hands of the communities we serve," says Marty Leonard (shown above), dean of the Faculty of Graduate Studies. "They're our next generation of leading experts, so now is time to give them the training they need to make an impact."
Activating ideas

The PhD students are also given a digital platform to share their research-based opinions and observations on a monthly basis — Dal's OpenThink Blog. The first cohort of OpenThinkers, who complete the program this month, used the forum to delve into issues that make headlines around the world: sustainable power, social justice, food security, sexualized violence, urban planning, resilience in the face of COVID-19, and much more.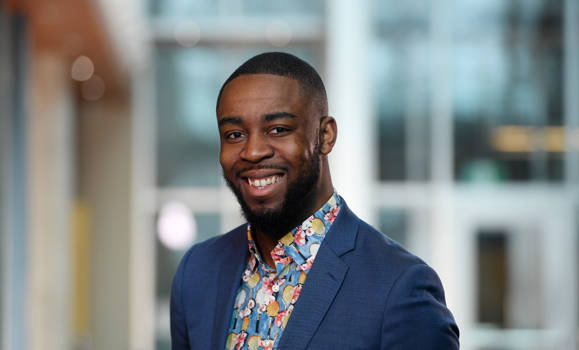 In his writing, Tari Ajadi (shown right), a political scientist explored the mechanisms of systemic discrimination in health care and other sectors of society. In particular, he reveals how the collection of health data allows policymakers to overlook the extent to which racism affects healthcare delivery to Black Canadians.

He says OpenThink provided a venue to activate ideas.

"It gave me the opportunity to puzzle through problems that arose in my research, but also problems that were arising through my life and community, as well," he says.

"I was writing for an audience who are ideally considering what it means to be good citizens, because this is what I explore in my research. I am trying to understand how we can let kindness be a guide."
A powerful public voice

OpenThinker Karinne Lantz (below left), a PhD student studying at Dal's Schulich School of Law, focused on how courts can be used to push countries to secure the rights of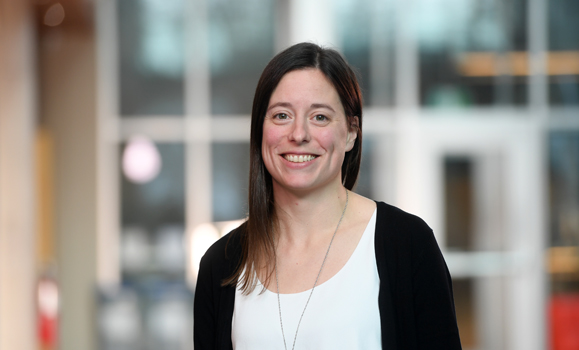 their populations. Her article in the news publication The Conversation, which was read more than 37,000 times, highlights a recent Dutch case and the important precedent it set for holding a country accountable for inadequate action on climate change. It's a case she says that could inspire similar legal action in Canada and around the world.

She notes that OpenThink made her comfortable taking on a "stronger public voice," and says she used the opportunity to encourage "people to think about the role of law and its ability to effect positive change at home and abroad.
A debt to the world

For their final blogs to be published over the coming two weeks, Dal's first OpenThinkers committed to answering the question "What do we owe each other?" from across the spectrum of their disparate academic disciplines.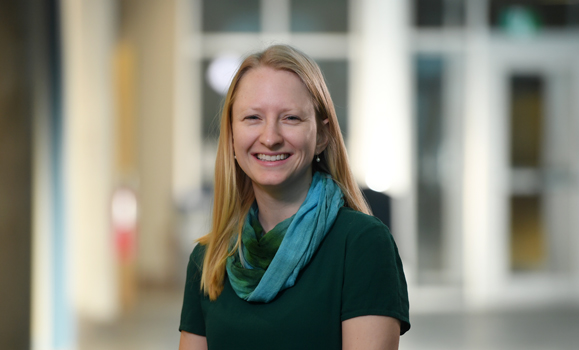 Taylor Hersh (shown right), a biologist researching the culture of sperm whales, took on the challenge by relaying the harrowing story of researchers who observed an orca attack on a family of sperm whales. She describes the self-sacrificing tactics sperm whales display in defense of each other and their young — an instinct and instructive example that, if taken up by humanity, could lead us to better outcomes.

She writes that what we owe each other is the same as what we owe to the whales who share our oceans.

"It's easy to center ourselves in the narrative of 2020 and to focus on what we've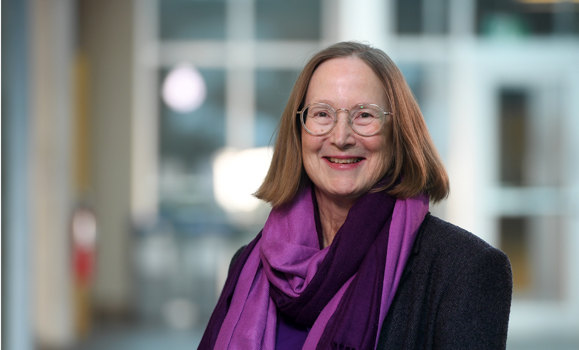 personally lost. We've had a hard year — the hardest year for many. But there's something to be said for looking beyond ourselves, for thinking about our human and non-human neighbours too."

Professor Lynne Robinson (shown left), OpenThink's academic director, says society is in good hands if our next generation of public academics share the values of Dal's OpenThinkers. "No matter how technical or specific their research, their guiding motivations are grounded in principles of compassion and respect for the planet. When we turn the news on at night, these are the ideas we need to hear."
Apply now for OpenThink

Are you a PhD student interested in joining the next cohort of OpenThinkers? Applications are being accepted until Friday, December 11th at 5:00 p.m. AST. Find complete details and the application form on the OpenThink website. Have a question? Contact openthink@dal.ca.