The global pandemic has never left Nova Scotia — from masks to gathering limits, it's continued to be part of our lives throughout 2020.
But the period of relative normalcy this summer and early fall has now given way to a scenario that feels a lot more like it did back in March and April: more and more COVID-19 cases being announced daily; updates from governments and public health officials dominating news headlines; communities adapting day-by-day to the realities of the virus and what's needed to keep it at bay.
But there are a few ways this second wave is markedly different than the first —  particularly at universities such as Dalhousie.
Keeping the Dal community safe

For starters, the majority of Dal's classes this fall have been offered online from the get-go and will continue to be in the winter term. That means the bulk of students are able to carry out their studies safely from a distance (some in Nova Scotia, many across Canada and around the world), while those students who are taking select courses in-person are doing so amidst stringent health and safety protocols.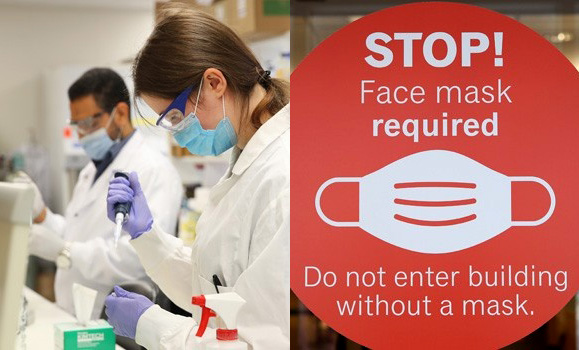 Scenes from campus during COVID: Two researchers working in a lab, and a "masks required" sign.
Similarly, many research labs and spaces are also staying open, thanks to clear plans designed to keep faculty and staff safe. The majority of employees continue to work remotely as well.
"The careful approach we have taken at Dalhousie towards the Fall Term and our Return to Campus/Return to Research processes means we are well-positioned to continue mission-critical teaching, research and campus operations at this time — provided health and safety protocols continue to be followed," stated Acting Provost Frank Harvey and Vice-President Finance and Administration Gitta Kulczycki in a recent memo.
Squashing the second wave

The challenge faced by the Dalhousie community now is that this second wave has arrived just the end-of-term approaches — when cold and flu season is beginning; when colder weather impedes safer outdoor activities; when many in the Dal community have travel plans to home or elsewhere; and when people gather to celebrate a variety of different occasions and holidays.
Doing all these activities is going to look a little different in the weeks ahead. And that's because, just like earlier this year, squashing this wave COVID-19 is going to require strong adherence to Public Health and Dalhousie health-and-safety directives, and everyone stepping up and sharing the responsibility to keep one another healthy.
The fact that hundreds of young people — many of them students — have been lining up for hours to get tested at the pop-up testing site organized by Dalhousie Medicine's Dr. Lisa Barrett this week in Dal's Richard Murray Design Building on Sexton Campus is a sign that the seriousness of this current situation is resonating with many. New Public Health measures like closing gyms (including Dalplex) and bars/restaurants in Halifax for in-person service also hope to send a strong message.
Follow Public Health measures

The university also continues to keep students informed about Public Health guidelines and their impacts through email, the Dal Mobile app, communications directly to students living in residence and on social media. In a message to students this Thursday, Acting Vice-Provost Student Affairs Verity Turpin emphasized that "the vast majority of our community are following Public Health guidance" and stressed the importance of following Public Health rules and restrictions.
"These are challenging times and with the importance of Public Health measures in place, Dalhousie will apply its Code of Student Conduct to the greatest extent possible when students violate Public Health measures," said Turpin. "We thank you for your continued efforts and are confident that by working together we can stop the spread of COVID-19."
Dalhousie is amplifying the importance of following Public Health measures with a new campaign, In This Together, reminding students and everyone in our community to "Be Aware," "Be Safe" and "Be Considerate" in adhering to health and safety guidelines. The online and on-campus campaign also includes additional promotion of those guidelines themselves.
BE AWARE
BE SAFE
Adhere to all Public Health guidelines: Nova Scotia, New Brunswick.

Limit gathering sizes. (5 people or less in Halifax, 10 or less in rest of Nova Scotia, variations by regional alert levels in New Brunswick)
Keep your social group small and consistent.
Wear your mask and maintain physical distancing in shared spaces.
BE CONSIDERATE
Self-isolate when required.

Avoid large gatherings and limit your social engagements.
This isn't just about your health — it's the health of others who may be more vulnerable.
Visit Dal.ca/coronavirus for more on specific health-and-safety directives at Dalhousie. For more information on provincial guidelines and updates, visit dedicated sites from the Government of Nova Scotia and the Government of New Brunswick.