Sciographies is a radio show and podcast about the people who make science happen, presented by The Faculty of Science and campus-community radio station CKDU. This article is the sixth in a series that features excerpts from each new episode released this fall.
Sophia Stone has always surrounded herself with strong female role models. While growing up in Jamaica and then Ontario, Dr. Stone attended Catholic school and looked up to the nuns. During her graduate and post-doctoral studies, Dr. Stone's supervisors were both champions for women in science. But perhaps the strongest female influence of all was her mother, who encouraged Dr. Stone to follow a path of excellence while supporting her the whole way through.
Strong mentorship and unwavering commitment throughout her life led Dr. Stone to the career she has today as a professor and molecular biologist in the Department of Biology. Her research explores the fundamental principles that explain how plants respond to their environments and cope with changes. It's an area of research that's especially important today, as challenges with global food security become increasingly urgent in the face of both climate change and a growing population.
In this episode of Sciographies, Dr. Sophia Stone talks to host David Barclay about her experience immigrating to Canada, her career path and research, and her passion for increasing diversity in STEM fields.

Here are some excerpts from the interview, edited for clarity and length.
Rising through the ranks in Catholic school

Barclay: Were there any positions of prestige [in your school]? Were you a hall monitor or something?
Stone: I was a prefect.
Barclay: The prefect. It's so close to perfect, isn't it? So, what does that mean? Were you in charge?
Stone: I was in charge. Not only did I help set the rules, I got to enforce the rules.
Barclay: Did you ever abuse your power as the prefect? It's OK, the statute of limitations has passed.
Stone: [laughs] No, I didn't! Because I knew it what it was like to not be prefect. I was just proud of the fact that I got to be the prefect, because you stood out; you got a special tie!
Leaving Jamaica for Canada during adolescence

Barclay: How did the culture shock hit you?
Stone: That was hard. I turned inward at that point. I ended up taking on more roles at home to keep myself busy; I was the de facto babysitter, and I helped my mom out a lot. But going back into the Catholic school system [in Ontario] was familiar and gave me comfort… And going back into science classes again was something that I was excited about, so that helped too.
Science for the future

Barclay: Your research touches on big, societal issues.
Stone: Yes. How are we going to feed the exploding population, especially while facing climate change? That's the big question we're trying to answer. So, not only do we have a population that's growing, but we have climate change making it harder to produce the types of yields we would expect to produce to feed that population. Soil is eroding, extreme weather is leading to more droughts and flooding. How do you come up with solutions to this challenge?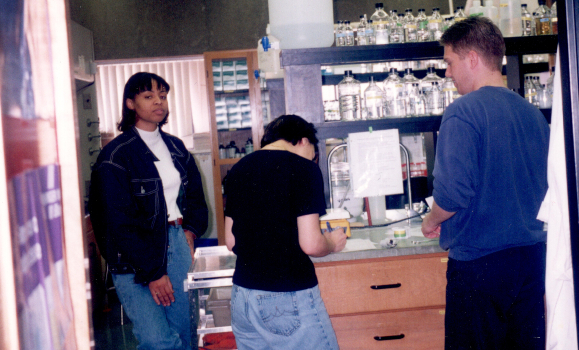 The first thing you need to do is to understand how a plant responds to and interacts with its environment. How does it develop normally, and then how does it develop when it's stressed because growth conditions aren't optimal? To understand that, you need to get into the genetics and molecular biology behind the plant. Then that knowledge can be used to modify or improve the plant so that it can better adapt to fighting off a pathogen, or more extended drought periods, or soil that's not so great.
Building a supportive environment for inclusion

Barclay: What can professors who are running their own labs do to encourage more women and black people into science?
Sophia: One thing is to create an environment where people feel comfortable. If you walk into a lab and comments and made, and you get those little microaggressions that the supervisor isn't aware of (or could be making themselves) — no one wants to be in that [environment]. You can bring somebody in, but that's just the first step. It's important that once they get there, you support them, and you provide an environment that they can excel in... The other thing is that you have to be a little more open to who you're bringing into your lab. You always need to be thinking of diversity. Maybe someone doesn't have excellent grades, but they can excel at this so give them a chance.