Dalhousie Orientation for the fall 2020 semester kicks off this month and, like most events these days, things will look a little different this year.
Due to continued COVID-19 safety precautions, Dal has made the decision to move most of its Orientation programming to an online format, which will include live virtual webinars, meet-and-greets, panel discussions, and pre-recorded video content.  

Despite this new-look Orientation, incoming students will still be provided with content and information that will help them transition to university life and introduce them to the university's services, resources, and academic expectations. But, perhaps most importantly, students will still have the opportunity to meet and interact with their fellow students, and connect with staff, faculty and communities on campus.
Learn more: dal.ca/orientation

For Rigel Biscione Cruz, Dalhousie's student engagement coordinator, the main challenge this year is to connect with students who are becoming exhausted with our new virtual world.


"Remote learning has a unique set of challenges when it comes to engaging students in a consistent and meaningful way, and it has forced us to think of more accessible ways of building communities," says Rigel.

Many of this year's live virtual events will take place on Zoom, where students can meet faculty, staff and student leaders face-to-face, as well as interact with each other and ask questions. Students will also be able to connect on Dal Mobile, a new app launched by the university in conjunction with Orientation.  

Additional measures to make programming more accessible include archiving live events in the Orientation course space on Brightspace (accessible here) and expanding the time frame in which students can access archived events and pre-recorded content. (Some pre-recorded content has been available since August 17, and all programming will be available to students well after Orientation ends.)
Building connections

Although most of the fall Orientation experience will take place virtually, there will still be in-person events for some students who happen to be on or near campus this semester.  

The Dal Student Union (DSU) organizes O-Week annually as part of Dalhousie Orientation, with events that allow students to build community and celebrate the beginning of the university experience. This year, the DSU will be hosting in-person events from September 8-­11 that include an Outdoor Movie Night, Morning Yoga with Nikki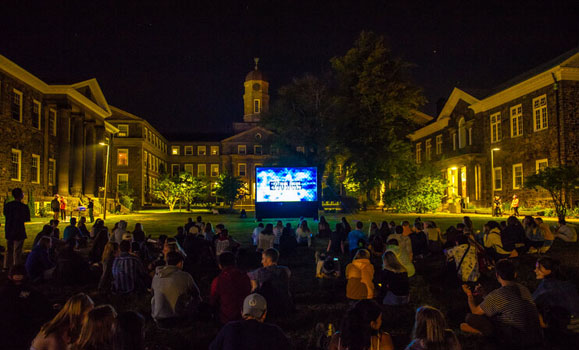 Martin, Dreaming in Colour, and the DSU Block Party. All will take place outside. (The photo featured here is from a past DSU movie night pre-COVID-19.)
Learn more: dsu.ca/oweek

For DSU President Madeleine Stinson, it was important to still provide some in-person events to students who are able to attend.

"We knew that we needed to find a way to meet with students in person because that face-to-face interaction is so important to help build a connection between students, the DSU, and campus," says Stinson.  

Stinson says the DSU is working with Dalhousie's Return to Campus Committee and Health & Wellness staff to ensure that any risk related to the pandemic is minimized. Restrictions and guidelines for these events include capping attendance at 200 students per event, face mask and social distancing requirements, and limiting groups to fewer than 10. For further information on O-Week safety measures, students can contact the DSU at dsu.ca/contact.

In addition to in-person events, there will be O-Week virtual events for students that won't be on campus, including an Isolation Pop Quiz, an Instagram Live Q&A with Venus Envy, and a live Sexy Kahoot. Ongoing programming will also happen throughout the semester. For Stinson, it's important that all students have the opportunity to experience O-Week, whether that means in person or in a virtual format.  

"Thinking back to my first year, the people I met then have become some of my closest friends, roommates, and supports," she says. "By attending O-Week this year, students will be able to get a taste of the student experience here at Dalhousie and make the connections that are so important when starting a new chapter of your life."

For more information about O-Week visit dsu.ca/o-week, and for more information on Dalhousie Orientation visit dal.ca/orientation.