Ever wondered about the impact of the beef industry on the environment and what you can eat in its place? Or how much plastic ends up in the ocean every year and what alternatives you could use to help cut down on ubiquitous packaging that is often just thrown away? Or, how to see through greenwashing marketing trends and become a more eco-minded consumer?
 
Well, a new e-book by Dalhousie student Hannah Solway offers comprehensive guidance on how to 'green your life' and make ecologically friendly choices for everything from dental floss and sunscreen to travel, dining out, and doing your laundry.
 
Solway produced the book after being assigned a project in her Conservation Biology class at Dal to design a research study that would have an environmentally positive impact. She originally intended to create a small list of ecologically harmful everyday products and habits, while providing eco-friendly substitutions. But as she researched various products, habits and substitutions, she had the realization that there were significant knowledge gaps when it came to why these changes were actually important to make.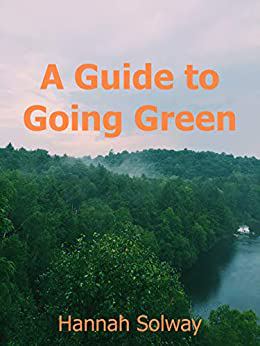 "People are always told to not eat meat, or stop using plastic, or take colder showers, but many people don't really understand exactly why, scientifically, they should be doing these things. All they know is that it helps the environment" she says.

Her small list then developed into a 76-page document that explains a myriad of lifestyle changes from an easy-to-understand scientific standpoint, while also factoring in a thorough economic analysis of each change and expansive convenience considerations.
 
Months after being given the assignment, Solway finished A Guide to Going Green and submitted it to her professor, Boris Worm in the Biology Department. She was also keen to have it published electronically so she could share the information she had gathered on the many ways consumers can make more environmentally friendly choices and actually understand them. She succeeded in having it published in July, and the e-book is now selling on Amazon and is available for all devices (iPad, iPhone, computer, Kindle, etc).
 
"It is super exciting to see my book out there," says Solway, who originally planned to study medicine but switched her degree after developing a passion for conservation biology. "I never would have thought I could achieve something like this, and yet here it is. I am very hopeful that this e-book will have a positive impact on both the environment and people's lives.
 
"The main things gained from reading this e-book are having a good understanding of our changing environment and the threats facing it, having the tools they need to become an eco-conscious thinker, and, lastly, the reader will always have a resource that they can draw from to make specific changes in their lives to become more eco-friendly."
The human impact

The guide has eight chapters, starting with a glossary of key terms that are important for the reader to understand, such as sustainability and biodiversity. It then goes through some of the biggest challenges to the environment, why they are happening, and ways to mitigate their effect. For example, in the chapter on plastics, Solway outlines how plastic — celebrated as a game-changing development for manufacturing and packaging after its invention in the early 1900s — has become an environmental scourge that is not widely recycled and takes thousands of years to decompose.  
 
The honours Biology student notes that eight million tons of plastic end up in the world's oceans every year (an always changing statistic), that 50 per cent of all plastic is single use and that less than one-fifth of plastic is recyclable. But the guide provides several alternatives to the material, such as silicone, bamboo, stainless steel and natural fibre cloth, along with the reasons why they are more environmentally sustainable.

Solway outlines problems with the beef industry, big business, the benefits of buying second-hand goods, purchasing less, among many other topics.

After establishing a thorough scientific background of the major effects humans have on the Earth in the first two thirds of the book, the latter part describes specific lifestyle habits that pertain to these harmful effects and what specific changes can be made to help eliminate the harm on the environment. Solway also describes in detail the economic differences between purchasing the more eco-friendly products or the environmentally harmful products — the analysis will surprise you, and save you some money.

"My book is different from other guides, as it provides everything someone may need to become an informed eco-conscious person," says Solway. "This book includes the science, it includes the products and habits, it includes the product and habit substitutions, it includes the economics behind the substitutions, and it includes the convenience behind them".
 
"I have seen guides that provide just one of these things at a time but never all. This guide is all encompassing."
One step at a time

Solway also stresses that making the switch to more environmentally friendly choices does not need to be more expensive or happen all at once.
 
"I always try my best to make the most eco-conscious choices, but I make mistakes. Through writing this book, I have seen a significant increase in my awareness regarding the products I buy, the food I eat, and how I live my life. It is also important to understand that sometimes there are circumstances where your own personal health and safety may trump being eco-friendly, COVID-19 being the most prominent example," she says.
 
"No human can ever be 100 per cent environmentally friendly, but as long as a majority of people work to become the most eco-conscious as they can, a huge impact can be made. I help the reader understand that these changes should be made overtime, at their own pace, and up to their discretion."

Find Solway's e-book online.