The COVID-19 pandemic has posed challenges for everyone across Dalhousie, with the faculties of Medicine, Health, and Dentistry facing some of the most trying difficulties.

Typical academic programs involve the completion of projects, essays and exams — all of which can be facilitated online once the platforms are up and running. Learning in the health disciplines, however, requires a hands-on, diagnostic approach.

When COVID-19 swept across the country this spring, these faculties were faced with the unprecedented task of creating an experiential learning environment in which students could gain interactive, diagnostic experience without sacrificing safety. Dalhousie was able to meet this challenge, thanks to the Centre for Collaborative Clinical Learning and Research, or C3LR.

The C3LR plays an essential role at Dalhousie by developing and supporting diagnostic and caregiving skills through simulated learning and assessment exercises. In normal circumstances, the C3LR utilizes over 1,900 square meters of physical space, including simulated patient care labs, clinic and seminar rooms, and other specifically designed home care, rehab and hospital settings. Students, residents and practising health-care professionals use this space in conjunction with both mannequins and trained, simulated patients to learn and practice diagnostic and caregiving skills.

From in person to online

When COVID-19 shut down most of the province, the C3LR was faced with an unprecedented crisis and the question of whether it could continue playing its essential role.

"It was very hectic," says Tanya Dutton, C3LR director. "We had little turnaround time. We were faced with modelling what an on-site program would look like online, how it could work to maximize learning and if it was even possible."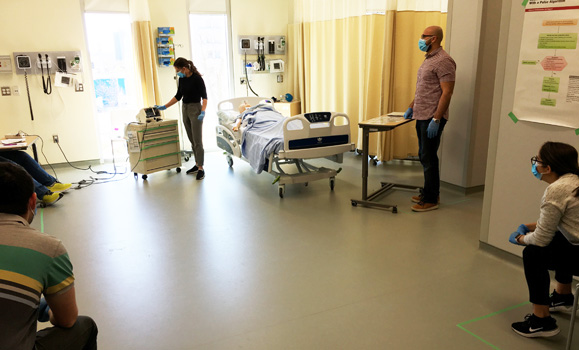 To make the switch, the C3LR team immediately embraced Microsoft (MS) Teams for all its programming. "Basically, learners interact with simulated patients through MS Teams, similarly as they would face-to-face, on-site," says Dutton.

The obstacles in switching to MS Teams were multifold. Not only was the C3LR staff forced to reconceptualize its programming within the framework of MS Teams, it had to ensure that its hundreds of simulated patients (SPs) were able to transition, too.

"Getting SPs used to this new normal and ensuring they had the technology at home to support what they needed to do was a challenge," says Dutton. "Initially we had simulated patient educators playing the role of SPs for the first few sessions because the educators needed to see and understand what it might be like for SPs in their role online. What we found is that online simulation is more tiring for all participants, including the SPs."

Constantly learning

Dutton says that while the transition has been a success, it is an ongoing process.

"This has been an iterative process that has evolved continuously since the spring. A good example of what is currently happening online is the remediation of students," she says.

The remediation process occurs when a student or learner is not succeeding as planned in their programming, and is identified by the Faculty through their review process. Simulation is then used to either practice some of the skills that have been identified as lacking, or to help assess what the issue could be (i.e. communication, skills, time management, etc.). Once faculty determine what needs to be worked on or assessed, scenarios are then developed in which the student or learner can work with a simulated patient online, with the instructor watching and giving feedback.

"Previously, students would come into the C3LR to interact with SPs for their remediation. They would have a faculty member come in to observe and provide feedback. The simulated patient and the learner would be in one of our clinic rooms — we have 24 at the C3LR, they look like a typical doctor's office — and the experience would be videotaped for later review."  

The remediation process is essential because it ensures practitioners have vital communication and clinical skills for safe practice. Establishing thorough patient histories and having difficult diagnostic conversations are skills that can only be developed through interaction with a live person. Dutton says that students are now achieving this virtually.

"Now, the learner clicks on the link for the remediation session and encounters the SP on MS Teams. The evaluator keeps their camera off and can listen in and tape the entire encounter.  After the encounter, the simulated patient and the evaluator can give feedback to the learner directly, just like it was done face-to-face."

Dutton adds that there were also psychological hurdles to overcome, unique to the COVID-19 situation. "Emotional roles were even more emotional and heartfelt for all participants, which makes it even more important to debrief all participants, including faculty and staff, to ensure the psychological safety of programming."

The value of teamwork

Ultimately, Dutton attributes the success of the C3LR's transition to teamwork. "When COVID hit, I really feel the team rolled with it," she says. "They looked at their upcoming programming. They connected with faculty to determine what they wanted to do. The team is well-positioned to roll with the punches. They are used to working with unknowns and being creative in the face of unpredictability. You can always assume something is going to go amiss with a large-scale program with multiple factors in play, so why is this any different?"

Organizational management played a big part in the team's success, too. "The C3LR has adapted by focusing on individual strengths," she says. "Some folks are better at technology than others, while some thrive in the creative, scenario development realm. So, matching up those with different skills is important as all of the skills together make magic."

While being forced to deal with a pandemic has been trying, Dutton says some positive developments have evolved from the crisis, too. "We have also been blessed during this hectic time to answer the call from our NSCC peers as they were challenged with the abrupt stoppage of clinical placements for their Practical Nursing programming," she says.  

"We ended up developing seven scenarios for them within a two-week period, collaborating with their faculty to develop content for their intensive online programming in July in order to bridge the gap of skills for their successful graduation. Sometimes out of trying times, new partnerships develop quickly."

While the C3LR's transition during the COVID-19 pandemic has been successful, challenges remain. For instance, the recent loosening of social distancing restrictions has already created a demand for the return of onsite programming. Such a return wouldn't be business as usual, of course.

"We are now planning on the transition back to on-site programming that requires physical distancing, PPE, custodial support, small groups and so on," Dutton says. "This endeavour seems even more daunting than our quick move online."

Whatever the challenges may be, the C3LR looks more than ready to meet them.