With Pride having arrived in Nova Scotia this July, COVID-19 precautions require a different approach to a time of celebration.

In Dalhousie's case, that means shifting most of its Pride activities online, including attendance at a flag-raising ceremony in Halifax on Monday.

A small contingent of representatives from the Dalhousie community gathered in person on Studley Campus in a physically distant way to speak as part of the kick-off event, which was livestreamed for viewers on Instagram.

"While Pride is a time that we typically get together, this year it's a time to be physically distant and stand together but six feet apart," said Tami Meredith, an instructor in Dal's Masters of Applied Computer Science program and member of the Queer Faculty & Staff Caucus (QFSC), in remarks at the event.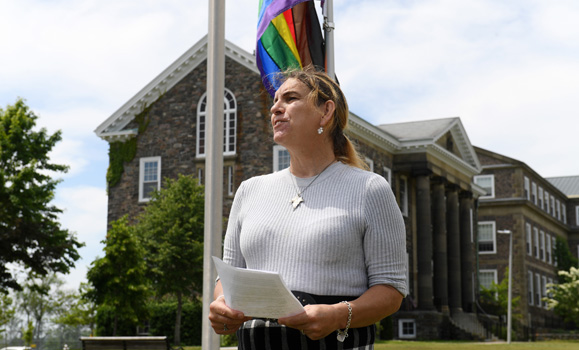 Dr. Meredith, a queer woman and trans person, spoke about the continued power of Pride in fostering recognition of the uniqueness and diversity of LGBTQ2SIA+ communities and in spurring action.

"Pride is a time to reflect on how each of us can help in the fight towards making our world better and safer for those who identify as 2S, LGBTQ, as Black, as Aboriginal, or as a member of any other marginalized community," she said.

To watch the full flag-raising ceremony, click here or see bottom of this article.

Frank Harvey, Dal's acting provost and vice-president academic, welcomed individuals to the event on behalf of the university.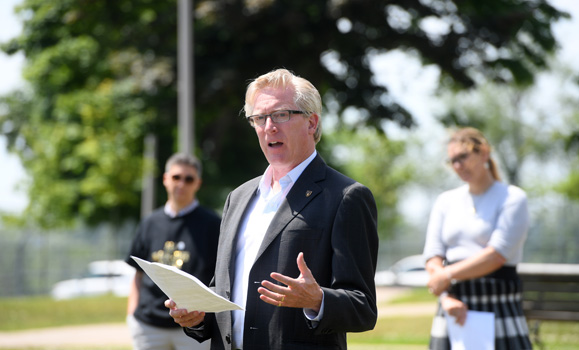 A different climate for conversation

If the pandemic has changed the way events are being held this year, recent protests against anti-Black racism and police violence have altered the types of conversations being had.

OmiSoore Dryden, James R. Johnston Chair in Black Canadian Studies and an associate professor in the Department of Community Health and Epidemiology, provided a snapshot of past and present examples of how race, gender and sexual orientation intersect in sometimes tragic ways.

She mentioned the recent killing of Tony McDade, a trans man, by police in Florida and his subsequent misgendering in the press, and of the killing of two Black trans women in the U.S. last month.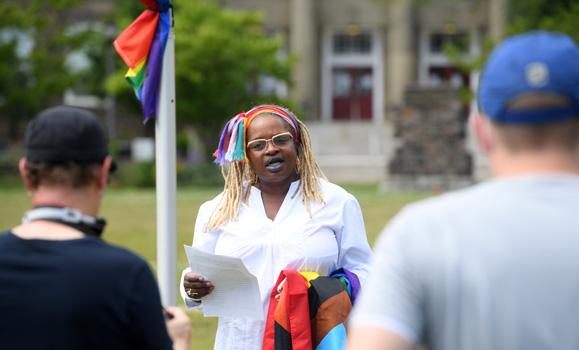 But she also spoke of times when a bit of progress was achieved, such as when Martin Luther King Jr. stood up for Bayard Rustin — a gay Black man and one of his close advisors who helped plan the March on Washington in 1963.

"Although Martin Luther King Jr. received a lot of pressure to distance himself from Bayard Rustin, Mr. King refused and in this act Mr. King also demonstrated that all Black lives matter."

Dr. Dryden said progress requires more recognition of racism's impact on queer communities.

"We must acknowledge and be committed to understanding that racism is a queer issue and there is a necessity to address anti-Black racism in queer spaces, scholarship, research and workplaces," she said.

Driving positive change

Jasmine Walsh, Dal's vice-president of human resources, invited viewers to join her in thinking about "concrete ways" we can use privilege to help drive positive change.  

"Pride is political. It has always been political," she said. "I consider this a real call to action for us to learn about and reflect on the way that Black queer voices and Black queer activists have been instrumental in the development of Pride."

Walsh spoke about some of the initiatives she has led during her time at Dal that she believes have made the university a better place to be for queer and trans faculty and students, such as the inclusion of data collection of queer and trans identification information within the Be Counted census, amendments to the employment equity policy to include queer individuals as a recognized equity group, and the development of Dal's first Gender Affirmation Policy, to mention a few.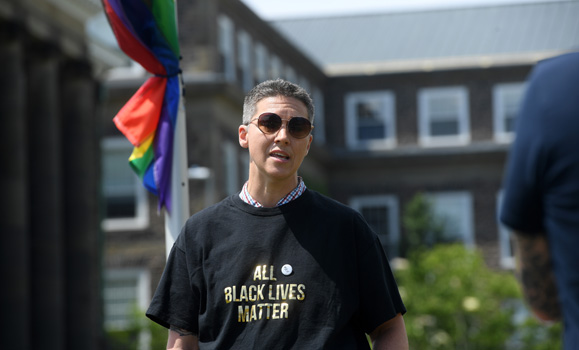 Other changes at Dal have been more symbolic, such as the raising of a version of the Rainbow Pride flag over the past few years that includes brown and black stripes — in recognition of the diversity of the LGBTQ2SIA+ community.

As Theresa Rajack-Talley, Dal's vice-provost of equity and inclusion, noted in remarks before the flag was hoisted this year, this "simple but important act teaches us what creating a more diverse Dal should look like" because it recognizes the uniqueness of individuals and groups.

"I would like to use this opportunity to rededicate and commit to transforming Dalhousie's efforts to creating more accessible and inclusive programming that supports our LGBTQ2SIA+ communities, to educate allies and to continue to create opportunities for the visibility of the LGBTQ2SIA+ members," she said.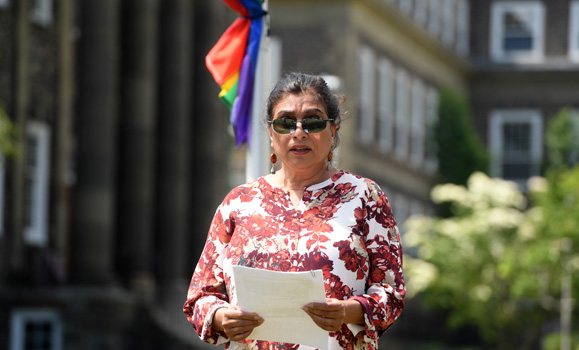 Different, but wonderful

Trulee Love, president of the LGBTQ2SIA+ student society DalOUT, encouraged her fellow students to look for new ways to celebrate Pride this year.

"If you're anything like me, sitting at home, it might feel kind of weird for how to celebrate Pride this year," she said. "It might almost feel wrong or as if we shouldn't because of everything that is going on. But ... it's really important to remember how Pride started. Pride is a protest and always has been. It is to commemorate the fight for our rights, the fight that we still have to continue, and the fight for communities that may not be our own.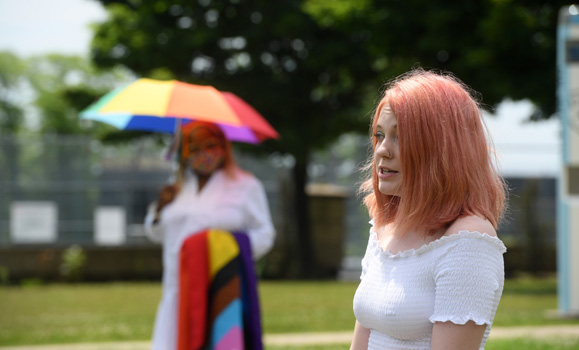 "I think one of the best ways we can celebrate Pride this year is to reach out, to support others, whether they are in our community or not. To stand together, to educate ourselves, to radicalize ourselves in the ways that those who came before us in the fight had to."

She said people should reach out in their online communities and join in virtual events.

"Just because it's different, doesn't mean that it's not wonderful and that we can't celebrate who we are and the community that we belong to."
A flag raising event was also held on the Agricultural Campus last Friday.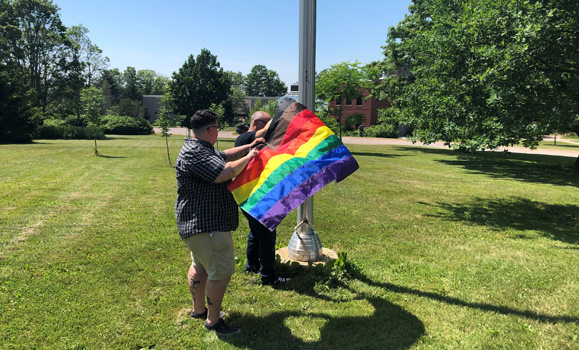 "The Agricultural Campus is once again proud to raise the Pride flag as we have done in recent years to show our support for LGBTQ+ members of our community and, with our new flag, people of colour," said David Gray, dean of the Faculty of Agriculture and principal for the campus.
"As a place of learning we embrace and encourage diversity in all forms. Diversity is our strength and we are truly stronger together."
Watch the full flag-raising ceremony below.