Water is one of the primary elements responsible for life on earth. We drink it, cook with it, and use it to keep ourselves clean. We often turn on the tap without giving it a second thought, but ensuring that everyone has reliable access to a safe and clean water source is vital.

In First Nations communities across Canada, water and wastewater facilities tend to be small and remote systems. As with other small and remote communities within Canada, there are major issues with both human resource and financial capacity. But unlike other Canadian small and remote systems, the provinces do not regulate First Nations facilities, so the standards for compliance can vary widely.  

Since 2009, Graham Gagnon, Dalhousie's associate vice-president research and the NSERC Industrial Research Chair in Water Quality and Treatment, has been working closely with the Atlantic Policy Congress of First Nations Chiefs (APC) to develop a comprehensive water strategy for the Atlantic region. And, 11 years later, a significant milestone has been reached.  

Last month the Honourable Marc Miller, Minister of Indigenous Services, and the Atlantic First Nations Water Authority (AFNWA) announced the signing of a framework agreement that creates a path for the transfer of water and wastewater services for 15 First Nations communities in Atlantic Canada from Indigenous Services Canada (ISC) to the AFNWA.

A first for First Nations in Canada

The framework agreement outlines the negotiation process and the roles and responsibilities for all parties to transfer responsibility for the control and management of water and wastewater services. This agreement advances a new First Nations-led service delivery model and represents a step towards self-determination and greater control for First Nations over service delivery in their communities.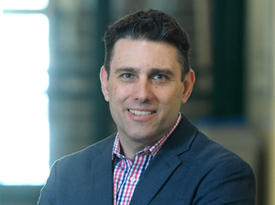 "This is a truly exciting day that many Chiefs, Elders, water operators and community members have worked very hard for over the past decade," says Dr. Gagnon (pictured). "Congratulations to the Atlantic First Nations Water Authority and a new opportunity for safe water."

The AFNWA continues to work towards full autonomous operations by Spring 2022. Once the transfer is complete, they will assume responsibility and liability for water and wastewater services to over 4500 households and businesses on reserves, which represents approximately 60% of First Nations people who live on reserves in Atlantic Canada.

"This is a unique opportunity for First Nations to take control of a service critical to the social, economic and environmental well-being of their communities," says Carl Yates, Interim Chief Executive Officer, Atlantic First Nations Water Authority, in a news release. "The AFNWA will not be going where the path may lead but instead will be blazing a trail for others to follow."

This is the first framework agreement for a First Nations-led water authority in Canada. The model has been designed to be able to integrate new communities into the utility and could capably manage water and wastewater services for all Atlantic First Nations communities.

Ensuring safe drinking water now and into the future

A key part of Dr. Gagnon's work on this water strategy has been the establishment of the First Nations Clean Water Initiative – Atlantic Region (FNCWI-AR). The goal of the FNCWI-AR is to ensure safe drinking water for First Nations communities not only now, but into the future.   

The FNCWI-AR project was a partnership between Atlantic Policy Congress of First Nation Chiefs and the Centre for Water Resources Studies (CWRS) at Dalhousie, where Dr. Gagnon is the director. This initiative played a key role in the development of the AFNWA in 2018, which included community engagements that informed the design of its "hub and spoke" delivery model.

Even though it is now established, the authority continues to engage with First Nations communities and organizations so that their experience, expertise and best practices are integrated into their service delivery model.
Preparing the next generation to solve water challenges  

According to Dr. Gagnon, the AFNWA represents not only a possible path to have clean water in First Nations communities, but also an opportunity for those communities to develop STEM-based training goals that will see First Nations engineers, scientists, operators and other trained individuals solving water challenges for their communities.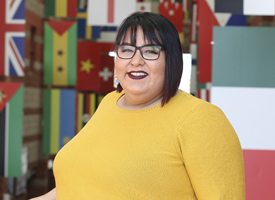 This year, he is proudly supervising Tiannie Paul, Dalhousie environmental engineering student, in his lab. Paul (pictured) was the first Mi'kmaw woman to complete the engineering diploma program at Cape Breton University, and she pursued a career in engineering so that she could help provide clean drinking water and address a public health crisis that currently exists among many Indigenous communities in Canada.
 
Paul's research involves looking at how to adapt Water Safety Plans for the water systems in First Nations communities throughout Atlantic Canada. This is a tool that uses a comprehensive risk assessment and risk management approach to ensure the safety of drinking water, and encompasses all steps in water supply from source to tap. She is also looking at the sustainability and effectiveness of integrating these safety plans into First Nations communities water governance structure. Dr. Gagnon suggests this work has the potential to play a big role in the AFNWA.
 
"I learned about the AFNWA in the Spring of 2019, when Dr. Gagnon invited me to a meeting where I got to meet and interact with some of the Chiefs involved," says Paul. "They told me how important it was that I get my engineering degree and work in the water industry so that I could help make a difference providing safe, clean drinking water to First Nations communities. That made me want to learn more about the AFNWA and drinking water in First Nations communities."

According to Paul, the framework agreement symbolizes a bigger, brighter future for First Nations communities. In addition to helping provide clean water, she believes it will create employment in the communities and hopes it will encourage more First Nations youth to pursue careers in STEM. She also feels that the framework symbolises trust and communication between the communities and the AFNWA – the AFNWA is listening to, and asking for input from, the communities.

Following her graduation from Environmental Engineering, Tiannie is hoping to do a work term with a water utility or in the lab at the CWRS so she can get even more practical experience with water and helping address First Nations water quality issues. She is also interested in pursuing a graduate degree in engineering.  

"Eventually, I would like to go back home to Eskasoni, Cape Breton, and work for my community and to share my expertise," says Paul. "My overall career goal is to help improve the quality of drinking water for Atlantic First Nations communities."  

More information about the AFNWA framework agreement can be found in the media release from June 23, 2020.
File photo of Graham Gagnon by Danny Abriel. Tiannie Paul photo from Cape Breton University.