June is often a time for big-picture reflection at Dal, when university leadership, faculty and staff pause to look back on the academic year that was and consider progress made on institutional priorities.   

And while the response to COVID-19 has made for a less predictable spring and summer period than usual, that reflective process has continued this year.

This week, the university published its Annual Progress Report — a look back at some of the highlights and achievements from the past year. This year's report covers highlights from several key categories, including Teaching and Learning; Research; Innovation and Entrepreneurship; Service; Partnership and Reputation; and People, Infrastructure and Support.

Dalhousie President Deep Saini and members of the university's senior administration team held a virtual event last Thursday for faculty and staff to present highlights from the report as well as answer questions on a wide range of topics.

"After 200 years, it might seem as if Dalhousie has seen everything — and then a year like 2020 happens and you know that's certainly not the case," said Dr. Saini in remarks at the event.

"And yet, for all that changes, some things remain constant. Our students, faculty and staff continue to boldly push forward in their work — strengthening our academic experience, innovating in research and discovery, forming powerful new partnerships, and deepening our vital roots in Atlantic Canada and communities around the world."
Milestones in teaching and research

Read more: Download the full Dalhousie University Annual Progress Report 2019/2020 [PDF - 7 MB]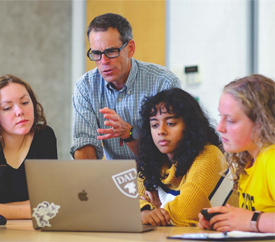 Under the Teaching and Learning banner, the report notes a 2.1 per cent growth in Dal's student enrolment during the past academic year and a nearly 30 per cent increase in postdoctoral fellows to 180 positions. Close to 24 per cent of students participated in work-integrated learning and students completed more than 2,200 total co-op work terms. Three new degree programs and 12 new certificates also received approval during the year.

But, as Dr. Saini noted Thursday, what many will remember most is adapting to meet the challenges of COVID-19.

 "I particularly want to highlight the work in our teaching development team, that grew from four to 42 over a one-week period in March and put together dozens of new training sessions," he said. "It's been a remarkable effort and an example of the power of community building in enhancing pedagogy — even during a pandemic."

On the Research front, Dal reached a new institutional high in total research funding of $181 million — a 30 per cent increase over what it was five years ago. In the past year alone, 15 Dal researchers were awarded grants or contracts valued at $1 million or more. Dal continued to perform well in Tri-Council competitions and to outpace U15 peers in publication rates.

The university also broke into the top 100 universities in the world in the Times Higher Education Impact Rankings, which is based on universities' social, environmental and economic impact as measured against the UN Sustainable Development Goals — the same goals Dal's Research Strategic Direction is based on.
Community impact and the power of partnerships

For Innovation and Entrepreneurship, the report notes the launch of a new minor focused on the topic that saw 402 students enroll in 11 different courses. It also highlights the many new partnerships and young businesses that have been incubated in the university's sandbox spaces, through Creative Destruction Lab Atlantic, and through the Emera ideaHUB.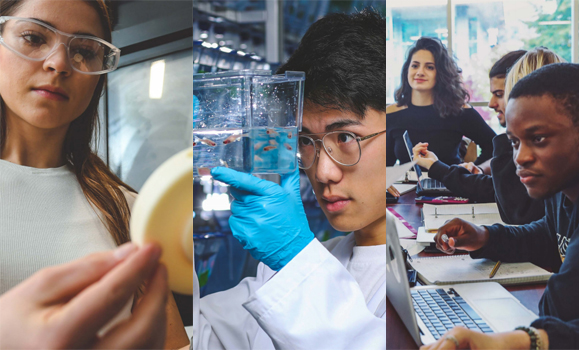 Images from the Annual Progress Report.

The report's Service section shows the many diverse ways Dal gives back to the community. It notes the thousands of young people supported by outreach and engagement programs like SuperNOVA, Imhotep's Legacy Academy and Math Circles; the impact of community health clinics in Dentistry, Nursing, and Social Work; the thousands upon thousands of hours of volunteer service from our student-athletes, all of our students and our faculty and staff.

And, as Dr. Saini pointed out in his presentation, that commitment to service applies as well to "all those working on the frontlines to provide care and support to Canadians in a difficult time" during the pandemic.

As for Partnerships and Reputation, the university raised more than $35 million over the last year in external philanthropic support, including over $5.3 million in funding to support student services and financial aid for students. Dal hosted more than 120 in-person alumni events with over 9,000 attendees during the year.

The report also showcases some highlights (of which there were many) from the world of student athletics. Dal won nine Atlantic University conference championships of the 16 Dal participated in, a silver medal at Nationals in Men's Basketball (the best performance in Dalhousie's history), as well as national medals in swimming, track and field and curling. What's more, Dalhousie had 104 Academic All-Canadians (students who maintain a GPA of at least 3.5 while competing in a varsity sport) this past year, representing 44% of student athletes. And the Dalhousie Rams Woodsmen Men's and Women's Teams from the Agricultural Campus are the Canadian Intercollegiate Lumberjacking Association National Champions this year.
Investing in people, infrastructure and supports

Developments in the People, Infrastructure and Supports category include the welcoming of Dr. Saini as president, new leadership on the Board of Governors in Chair Candace Thomas and Chancellor Scott Brison, and the addition of Theresa Rajack-Talley as Dal's first vice-provost of equity and inclusion. The report also pays tribute to those moving on from their roles and how Dal will continue to benefit from the work of leaders in the years ahead.

On infrastructure, the report highlights investments of $1.3 million on upgrades to teaching and learning spaces, $4.9 million in upgrades to labs, and $9.7 million in other upgrades across our campuses. Elsewhere, ground was broken on the Arts Centre expansion and the Cox Institute upgrades began in Truro with the aim of occupancy date of January 2021.

And in terms of supports, Dr. Saini focused during Thursday's event explicitly on the importance of acting on equity, diversity and inclusion at this time.

"Our overall efforts in equity, diversity and inclusion remain a crucial institutional priority," he said. "And it's about more than just addressing racism and its legacies. Unless our institutional excellence is couched in true inclusion — unless we can bring to life the talents and abilities of everyone who is part of our community — it can never be true excellence."
Moving forward

In addition to including an overview of the progress report, Thursday's event also included an update on Dal's broader strategic planning process from Dr. Saini and Frank Harvey, Dal's acting provost and vice-president academic.

Dr. Harvey, who stepped into his new role in late May, recognized the highly collaborative work of all those who have contributed to the process over the past 15 months through learning circles and self-study groups that produced thought papers on eight priority areas.

Finalizing a strategic plan for the next five years became more challenging when COVID-19 struck, Dr. Harvey said. He said it's become clear that the response to the pandemic and the lessons being learned about that response, and informed further by crises impacting people of African descent, Indigenous peoples, and people of colour, should inform strategic planning moving forward and "reinforce the imperative to carefully reflect and consider our priorities in relation to meaningful and thoughtful action."

"In the short term, we will continue to work through the framework of Dal's existing and emerging plan and return to long-term strategic planning as we continue to manage our response, not only to the pandemic but to other pressing and lingering crises."