Hailie Tattrie learned about Indigenous people and history throughout her school years and was exposed to the history of the residential schooling system when she was in high school. However, it wasn't until she took a sociology course during her undergraduate studies where she and her classmates participated in the "KAIROS Blanket Exercise" that her interest was truly piqued by this subject.
"This exercise consisted of students using blankets to understand land rights, land theft, the Residential Schooling System, and colonialism in general," explains Hailie. "This exercise was extremely powerful and is one of the experiences that inspired me to pursue studying Indigenous and settler relations."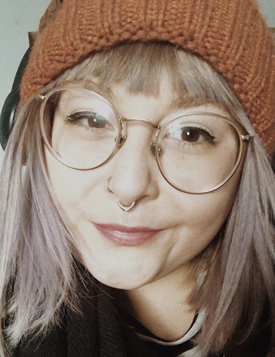 Hailie, originally from Oxford, N.S., has built on those experiences as a master's student at Dalhousie in Sociology and Social Anthropology in the Faculty of Arts and Social Sciences. Her MA thesis, which she worked on with supervision by professor Brian Noble, focuses on Indigenous and settler relations, how they are impacted by the education system in rural Nova Scotia, and how to better those relations.
She credits political science courses during her undergrad program in sociology at Mount Allison University with shaping her research in different ways. They forced her to look differently at Canadian news media. She was educated on the issue of Missing and Murdered Indigenous Women and was exposed to the Canadian government's poor relationship with Indigenous peoples. She examined social movements such as Unsettling Canada and Idle No More, and had the opportunity to work alongside Elders, participated in smudging ceremonies and Longhouse building. She also was encouraged by a previous job where she had the opportunity to work with Indigenous activists from Pictou Landing and Eskasoni First Nation. All of these experiences led her to decide on a master's research area that was truly meaningful to her.
"It was experiences like these that not only shaped the trajectory of my academic career, but my personal life as well. I was moved, and inspired by Elders whose experiences, and stories, shaped my research and helped me to situate myself as a white settler ally."
Putting her studies to work

Since finding her niche in the study area of sociology, Hailie has taken her educational experiences out into society, putting her sociology studies to work.
"My studies have deeply impacted who I am as a person, including my ideologies," notes Hailie. "I never want to be an armchair sociologist, which is part of why I try my best to be part of social justice movements. Particularly it is my responsibility as a white settler to uplift the voices of marginalized groups and peoples and to do what I can to dismantle oppressive systems and institutions."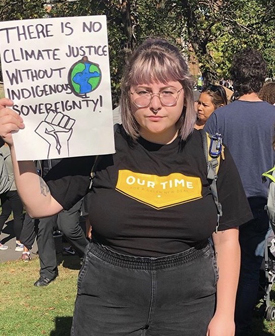 Hailie adds that she is passionate about being involved in community activism and social justice. Prior to COVID-19, she attended and helped to organize rallies and actions for Fight for 15 and Fairness Halifax/K'jipuktuk (a campaign that advocates for a minimum wage of $15 plus legislation towards greater worker protections and benefits). She has also been involved with groups and actions such as Dal Do Better (a campaign organized by students for students that examines Dalhousie's commitment to inclusivity and diversity), Our Time (a national campaign led by young people who are championing a vision for a Green New Deal for Canada — an ambitious plan to tackle climate change and inequality), and other relevant actions involving racial, class, and environmental justice.
She has also volunteered and fundraised for the Treaty Truck House (local communities of Indigenous and non-Indigenous grassroots people of all ages protecting the Shubenacadie river from Alton/Alta gas, led by Indigenous grandmothers).
Most recently, Hailie began working for Out of the Cold (OTC) homeless shelter in Halifax, a community based organization that works to provide shelter and community supports to people who are homeless and precariously housed, just as the COVID-19 pandemic was beginning to have an impact. The shelter had recently twice relocated – first from Saint Matthew's Church on Barrington Street to a house on College Street (until an unrepairable pipe burst forcing them to move again). They then relocated to the Mi'kmaw Native Friendship Centre on Gottingen Street who they have since partnered with by securing a more permanent space.
Focusing on what matters most

Hailie worked at OTC before and during the COVID-19 crisis but took a short break to finish up her master's thesis. She admires OTC and their partnership with the the Mi'kmaw Native Friendship Centre as they aim to help those in need who are Indigenous as well.  
"I suppose my own beliefs and experiences are what led me to apply to work at OTC," says Hailie. "It has been interesting to say the least to see the transitions and policy shifts due to COVID. It is a scary time for all, but all of our incredible staff stuck with OTC when it was decided that we would be temporarily moving to a hotel so as to better serve the homeless population during such precarious times. I love the job, my coworkers, and the guests. I truly care about all of these amazing folks – they are what made me love the job!"
Come July, Hailie will begin her PhD studies in Educational Studies at Mount Saint Vincent University with a goal to become an educational Sociologist, and she will continue to use her education in sociology and her experiences as an activist to make lasting impacts on society.
In light of recent events Hailie wishes to highlight a local fundraiser in solidarity of the Black Lives Matter movement – to learn more and to donate check out the Black Lives Matter Solidarity Fund.