Following the horrific mass shooting on April 18 and 19, Canadians have come together to raise more than $2.75 million towards the Red Cross Nova Scotia Stronger Together Fund. One of those Canadians was Dal student Graeme Wach, who garnered the support of his community to raise money for the cause.

As a long-distance athlete, Graeme had been training towards the Bluenose Marathon before the race was called off due to COVID-19. Despite the wave of cancellations, he took to the streets of Halifax and over the course of a day ran a total of 53 kilometres.  

The run, which took place on May 4, was a huge success, raising $3,760. All donations went to the Red Cross in an effort to provide immediate financial support and long-term emotional support to families impacted by the tragedy.

"It started as a bet with my friends, to see how many miles we could run in a week," says Graeme, who graduates from the Earth Sciences program with the Spring Class of 2020.
Pushing the limits

Graeme quickly realized this challenge could grow into something even bigger for his community.

In the days leading up to the run, there was a large show of support from family,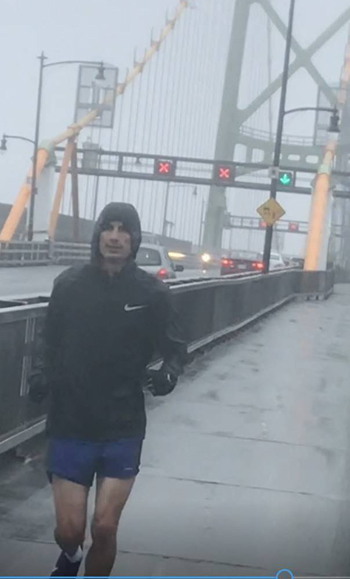 friends and community. Donations quickly accumulated as people got word of the what Graeme was doing. Donors were able to pledge a set amount for each mile Graeme completed, giving him extra incentive to push the number of miles he ran throughout the day.

"Graeme started running just after 5:00am," said his father, Grant Wach, a professor in the Department of Earth and Environmental Sciences at Dal. Grant followed his son on a bicycle for the first stretch of the run. "He did really well, he kept a strong pace."

Graeme's route passed many well know locations across Halifax, including Point Pleasant Park, the Halifax Shipyards and the Angus L Macdonald Bridge. What started as a calm, dry morning eventually turned to rain but Graeme ran on. The intrepid runner took intermittent breaks from the inclement Nova Scotian weather for a chance to dry off and regain his energy. He knew he wanted to go much further.
Uniting around a common cause

Graeme's mother, Susan Spence, vice provost of planning and analytics at Dal, also followed him on a bicycle as he continued to run later in the day.

"As a family, we've always felt it's important to give back to the community in different ways. The run was special because it was so singular. Graeme doing it on his own made it more unique and challenging," she says. 

Undaunted, Graeme continued to add to the number of miles he completed despite the rain. "As I was running, all I kept thinking was one more mile would mean that much more in donations," said the student.
Towards the end, with a seizing ankle, Graeme walked the final few miles. Surpassing the distance of a marathon and raising thousands of dollars in donations, the event stands as an inspiring example of what can happen when the community unites around a common cause.

Graeme has been accepted into Dalhousie's Corporate Residency MBA program and is looking forward to starting classes online this June.