This article is part of a series focusing on the grads of the Dalhousie Class of 2020. Visit our Class of 2020 virtual space to share in the excitement with our newest graduates.
Combining her passion for science, technology and health, Lily Barraclough created a unique web application that has the ability to help government and other organizations build more physically active communities in Nova Scotia.
The formula behind ActivScore is based on the idea of the 10-minute neighbourhood, in which all the services that people need to access should be available within 10-minute walking distance of their home.  
"ActivScore is an app that provides a score for every address in Nova Scotia. It measures how conducive the built environment around an address is for physical activity," says the Dalhousie and University of King's College graduate.
The app assigns a score, out of 100, that is derived from 10 indicators of physical activity potential such as bus stops, trail access and bike routes.

This spring, Lily graduates with a Bachelor of Science, with a major in Environmental Science (Honours), minor in the History of Science and Technology and a certificate in Geographic Information Science (GIS).
Leadership in sustainability

The research behind ActivScore is multifaceted. Under the supervision of Daniel Rainham, an associate professor in the Department of Earth and Environmental Sciences, Lily worked to combine research in public health, health promotion, GIS and environmental science.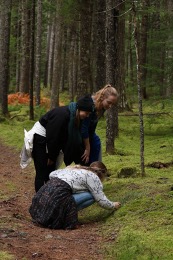 "Lily is one of the most ambitious, conscientious, intelligent and charitable students I've worked with in my career," he says. "She exemplifies the qualities of the kind of change she works so hard to create in the world. She is a true example of leadership in sustainability. She empowers communities to advocate for a sustainable future, yet is modest while visionary and inclusive in her approach to creating change."

Lily chose to study at Dal and King's because of the Foundation Year program, while also having the opportunity to be exposed to the sciences.

"It appealed to me that I could attend a small university like King's and at the same time have the benefits of a large university like Dalhousie," she says.

Born and raised in Toronto, what she didn't know is how much she would love Nova Scotia.

"It was a really amazing way to find a sense of place moving to Nova Scotia, and to experience the beautiful sights that are so present in this province. In my first year I went on a trip to Cape Split, as well as Purcell's Cove, McNabs Island, and the Bluff wilderness trails which helped foster my love of the outdoors and hiking," she says.
An ongoing learning process


In addition to developing an app, she is also active in the university community. For the past three years, she's been a board member with the Nova Scotia Public Interest Research Group (NSPIRG), a soprano in the King's Chorus, a member of Divest Dal and many climate and social justice action initiatives.

What's next? This summer she will complete a NSERC Undergraduate Summer Research Award and in the fall she will begin a Master of Environmental Studies program at Dal. Her research will focus on how art and science come together to create rituals and vocabularies to help individuals and communities process feelings around climate grief.

In reflecting on her undergraduate experience, Lily provides some words of advice to first-year students.

"University is a constant learning process. One of the key things that you'll figure out is that the more you know, the more you don't know and that is okay," she says. "It is also incredibly important to ask questions and listen. Listening is one of the most important skills. Classes and learning from professors are important, and you will learn a lot, but it is also important to learn from each other, to participate in events on campus and in the community and to try new things."