Qendresa Sahiti always considered herself a curious person. She recalls being the annoying little kid that asked a million questions but was never quite satisfied with the responses.

From a young age she knew that she wanted to pursue something in science and even asked for a pocket microscope for Christmas one year. As she got older, she found herself always looking at the big picture, was especially fascinated by brain biology, and wanted to learn more about Alzheimer's disease and early prediction of mental illness.

"I remember growing up that I had pictured an idealized version of the scientific process, where scientists worked on a mysterious vial of liquid for days, and a few rainbow-coloured clouds of smoke later, a scientific discovery was made, which was immediately transferred into use," she remembers.

And although she quickly learned that wasn't the case, she was determined to find out how science was conducted in the real world — launching a journey that, this month, led her to one of Canada's top student honours.

A 3M National Student Fellow

Last week, Qendresa — a fourth-year Neuroscience student originally from Kosovo, who's also completing her Certificate in Science Leadership and Communication — was named one of Canada's 10 3M National Student Fellows for 2020.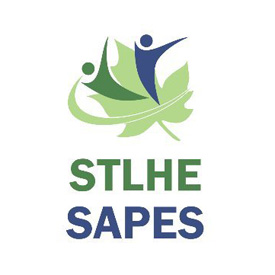 Presented by the Society for Teaching and Learning in Higher Education (STLHE), the 3M National Student Fellowship honours up to 10 full-time diploma and undergraduate students at Canadian post-secondary institutions who have demonstrated outstanding leadership in their lives, and at their post-secondary institution. These students embrace a vision of education that enhances their academic experience and beyond.

Dalhousie has had six student fellows over the past four years.

When asked how she felt about being the successful applicant, she says her brain has not yet fully processed it.

 "It's truly such a gift to be able to connect with others in the STLHE and I know this award will expose me to more opportunities to pursue my passion for higher education and help me develop connections with like-minded people that inspire and motivate me," she says. "I'm looking forward to learning from my fellow peers throughout the next year as we work together on a project aimed at improving the post-secondary experience for students."

Uncovering the world's mysteries

Four years ago, Qendresa received the TD Scholarship for Community Leadership in recognition of her community-building endeavours and environmental initiatives. This allowed her to begin her journey in the Faculty of Sciences at Dalhousie University.

"To me, science presented itself as an opportunity to develop an understanding of so many mysteries in our world that I had always wondered about," she says. "I realized quickly that health is at the root of so many inequities that we see in the world. For example, a substantial portion of individuals experiencing homelessness or incarceration have suffered a brain injury at some point."

Through participation in Dalhousie's Integrated Science Program (DISP), a first-year program which focuses on looking at science through an interdisciplinary lens and developing hands-on scientific experience, she began to understand more about the science and treatment of brain injury, and ways of translating that into equitable health practices and policy, while thinking of ways to improve living conditions for these individuals.

"Being a part of DISP was transformative for me, because it allowed me to correct my pre-conceived notions about the mechanism of science through field trips and a research project. DISP emphasized the value of teamwork and idea-sharing in science, a practice which was not originally reflected in my vision of what science should be," she says.

Leadership in communications

These hands-on learning experiences also got her thinking about ways in which scientists can better communicate their work and take on leadership positions to drive evidence-based change. The role of the scientist as a leader inspired her to pursue the Certificate in Science Leadership and Communication.

"I lived in Kosovo on a family compound, which meant that I was always surrounded and supported by community leaders. After moving to Canada, we found ourselves on a continent with no familiar people and barriers to accessing community supports (language, cultural, financial etc.). Having experienced what it's like to have such a strong sense of community and then to have that abruptly taken away, especially as a child, made me realize how incredibly important it is," she says.

Since then, she has focused on helping others develop a sense of community and has mentored those who may be struggling at different stages of their university career.

She quickly got involved in a number of student organizations, including the Undergraduate Neuroscience Society as an academic advisor, the Dalhousie Campus Medical Response Team, Humans of Dalhousie, the Dalhousie Gazette as a photography contributor, the women's rugby team, and the DSU Market. She became a key player in the Families Overcoming Risks and Building Opportunities for Wellbeing (FORBOW) research team, investigating the causes of mental illness in children and families, and has also worked as a Science Communication Assistant with the Department of Psychology and Neuroscience, making infographics to foster scientific literacy.

Qendresa's favourite role has been as a Teacher's Assistant (TA) in  "Experiential Learning in Science Communication," a class in which students teach and mark introductory psychology and neuroscience labs. As the course' TA, she was able to help these "prefects" refine their own teaching and leadership style in the science classroom.

She remembers feeling especially rewarded after mentoring the amazing science communicators that came out of this class with a practical skillset which she feels will be invaluable to them in their future careers.
The power of mentorship

Qendresa sees a major lack of mentorship opportunities for students as one of the biggest challenges facing post-secondary education in Canada, which is why she's excited to be involved with the 3M Fellows program.  

"This award will allow me to create mentorship opportunities for groups of underrepresented students which would increase diversity in post-secondary institutions by making it easier for students of different backgrounds who may face unique challenges to succeed in university," she says.

She notes how helpful it is to have someone guide you and connect you with opportunities you otherwise would not be able to access as a student and sees how this support can change the trajectory of your entire post-secondary experience and career.

"Mentor relationships can also provide a source of inspiration for mentees who might not see themselves represented in the field they wish to pursue. Aside from inspiration, these relationships can also provide social capital to aid students in their chosen paths. From my personal experiences, I believe it is important to provide immigrants, international students, and first-generation post-secondary students with mentors who could help," she says.

Onwards to medicine

Qendresa is graduating this year, and will be joining Dalhousie's Faculty of Medicine in September where she hopes to create personalized mentorship programs and unique space for underrepresented groups.

"I don't have my sights set on any specific specialties right now, but I know that whatever I do I want to be building long-term relationships with my patients, doing community-based work, and contributing to the education of future health care providers. My ultimate dream would be to be a residency program director or have a leading role in teaching medical students," she says.

"I feel very fortunate to have overcome the challenges I faced as a refugee and as a first-generation immigrant to pursue a degree in a subject I am passionate about, with the help of many mentors along the way. The values of curiosity, collaboration, mentorship, justice, and creativity are what drive me to improve educational experiences for other Canadian post-secondary students. I look forward to continuing to refine my leadership style through new opportunities for learning in science, mentorship, art and beyond."