Priscilla Lee, a third-year Bachelor of Music student studying cello performance in the Fountain School of Performing Arts, has recently won the coveted apprenticeship with Symphony Nova Scotia — at just 18 years old.
"When I first heard I won the apprenticeship, I was absolutely excited!" says Priscilla, the youngest student ever to receive this honour. "To be able to play with such amazing musicians in an orchestra that produces a high-quality level of concerts is such an amazing opportunity."
The Fountain School recommends only one outstanding third or fourth-year student per academic year to audition before a panel of Symphony Nova Scotia members for this apprenticeship. If successful in the audition, the apprentice will play multiple concerts alongside professional musicians over the Symphony's next season.
Before COVID-19 changed how we interact with one another, Priscilla's audition was meant to take place near the end of March in the Dalhousie Arts Centre before a panel of Symphony Nova Scotia (SNS) members.
"When I heard SNS had cancelled the end of their season," she says, "I was anxious to know whether auditions were still going to happen."
Her cello instructor, Shimon Walt, had spent many hours with her preparing for the audition, and they were hoping for the best. "As musicians, we depend on our audience. When gathering restrictions are limited to less than five people, it takes a big toll on us. For me, loving to collaborate, it is hard not to be able to do that in person anymore." 
Priscilla's audition would now be online, adding many new factors to take into account when preparing, such as how online streaming would affect the quality of sound of her cello playing. Accuracy and quality are two major components the panel would be looking and listening for.
"To do that live is difficult in itself," says Priscilla. "To do it online adds a lot more unpredictabilities. Shimon was very encouraging and worked with me to prepare for this audition."   
Keeping connected

Shimon Walt, who teaches cello performance with the Fountain School, is the assistant principal cellist of Symphony Nova Scotia and one of its founding members. He explains that from the minute they found out that they weren't allowed to get together in person, he jumped to supporting his students through other forms of communication and media.
"We used Facebook Messenger, FaceTime, Zoom, every possible thing," adds Shimon. "But that can be difficult when playing live music because the sound and the visuals don't always correspond. Sometimes the sound freezes for a while and then the computer tries to speed it up to catch up to the video. So it can be very, very difficult for performing live." He adds that a positive thing about being at home during this pandemic is it allows him to be completely available for his students to help them with their studies and rehearsals.
For Priscilla's preparations for her audition, she got dressed up in her performance clothes and recorded a video of herself performing the whole Bach suite in her parents' home.


Priscilla auditioned online for the panel on April 6, and it was not without its hiccups. During the audition, the sound cut off partway through for some of the panel members, but the panel was understanding and Priscilla was able to play part of her audition again.
She found out that she won the apprenticeship the following day.
As an apprentice, Priscilla will play in five or six SNS concerts throughout the season, will be coached by the principal cellist, and will gain the invaluable experience of rehearsing and playing with a professional orchestra.
"I am very grateful for all the professors, especially my kind cello teacher Shimon, who has supported and inspired me in countless ways," adds Priscilla. "I cannot ask for a better cello teacher and other professors than the ones I have at Dalhousie."
Shimon says he is so proud of Priscilla and her dedication to her music and performance studies.
"Priscilla is always upbeat. Very helpful and positive. She always makes people feel good and it shows in her playing. What she is feeling comes right out through her music. She is a very special young person."
He adds that the Fountain School music instructors only select a student for this audition that they believe has reached the level of performance and discipline that is appropriate for a professional orchestra. The SNS panel decides whether or not to accept the student based on their audition.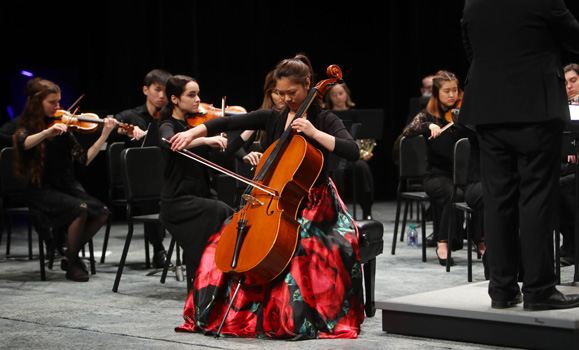 "If we didn't think she quite had a chance, I would not have put her through it because it is actually vigorous, military like preparation. It takes a person with a lot of discipline. And she definitely is very disciplined and has an inner strength to go through it."
Music from the heart and home

The love of and desire to play music began for Priscilla Lee when she was very young in her family home in Brampton, Ontario.
"There was always music in our home, always someone practising," says Priscilla. With seven children, money was tight for the family. Her brother's piano teacher also noticed Priscilla's interest in music and offered her parents a two-for-one price deal – for every two children who took lessons with her, she would teach one for free. And that is how Priscilla started piano lessons at five years old.
After moving to Shilo, Manitoba when her father joined the Canadian Armed Forces Priscilla begged her parents to let her learn to play cello after seeing the joy that playing violin brought to her older brothers.
"I remember spending many hours busking in order to pay for the summer music institutes, extra music programs, a new cello, etc. Looking back, I cannot think of being any more determined to find a way through barriers. Having the passion to learn music and to work hard for it consolidated my interest and desire to pursue music. Though I had doubts about whether or not to pursue post-secondary studies in cello, I always come to the bottom conclusion: there is nothing I love doing more than making music. The overwhelming desire to build up my musical skills drove my enthusiasm to pursue a music degree."
In 2017, Priscilla and her family moved to the East Coast when her father was posted to the navy base in Halifax. She began her studies at Dalhousie that fall at the age of 15 years old.
Priscilla credits her accomplishments to three key factors: not being afraid of hardships, her faith, and her parents.
"Being homeschooled most of my life, my mom taught me to never stop learning and to have a good attitude towards it. Both my parents were immigrants — my mom from Hong Kong, and my dad from Singapore — coming to Canada as international students. Understanding hard work, they were the ones who taught me to have a good attitude in life and encouraged and enabled me to study."