On March 24, campus-based research operations were suspended, leaving grad student researchers to work with their supervisors to find new ways to pursue their studies. They're pushing forward, reordering the sequence of their research, diving into writing and leveraging the wide range of online resources the library offers.  
We spoke to four PhD students to find out how they're meeting the challenge and managing to find happiness in their new normal. Tiffany Gordon is a Philosophy student whose fields of research include social and political philosophy and philosophy of race. Shannon Hall is a Medical Neuroscience student studying how sleep loss affects the brain. Stefan Heinze-Milne is a Pharmacology student whose research seeks to help us live longer, healthier lives. Alyne Teixeira is a Biomedical Engineering student from Brazil studying how to prevent and treat diseases of the immune system.
Visit the Faculty of Graduate Studies' dedicated FAQ page for information on admissions, research, PhD theses defences, scholarships and more during the COVID-19 pandemic.
How have you found the shift to working from home?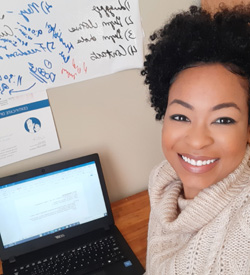 Tiffany Gordon (pictured): I'm at home, but nothing has changed that much. The workload has increased (in the sense that some of my research projects have picked up) and I am doing a lot more conference calls and Zoom/Team meetings. I am more productive because I'm not travelling to school every day. And generally, I'm in good spirits about the state of my program, as my PhD research is not dependent on the school being open. I just need to have a space to read and write (which I do).
Shannon Hall: I'm fortunate to be in the final stages of my PhD studies where I am finishing data analysis and working on thesis writing, so I've been able to continue this during the transition to working from home. The first thing I did was to organize my home workspace to be as comfortable as possible. Making "to-do" lists and taking frequent small breaks has been very useful for helping to stay focused, motivated, and as productive as possible during these uncertain times. Taking it one day at a time!
Stefan Heinze-Milne: To continue with research during these times, we must be innovative. The building I work in has been closed and since then I have been working from home, like so many others. I shifted my focus away from experiments and toward writing. I am lucky, because I have data to write about. I am sorry for those students that do not have data to work with. Nonetheless, now is a great time to read and write.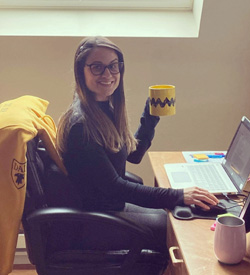 Alyne Teixeira (pictured): This is a stress-inducing situation for all of us, but I recently read an article where the authors suggest seeing, owning, and using stress in your favor. This means that we should acknowledge the stress we are facing, for example, "I am stressed about not staying productive and not finishing my PhD soon." Once you acknowledge your stress, try to change your mindset to a "stress is enhancing" mentality, such as, "I am stressed, but I will come up with a plan to make this downtime more productive." I decided to take free courses online and start writing my thesis, which is something I would not have had time to do during my day-to-day work in my lab. I prefer to believe that social distancing can be an opportunity for personal growth instead of a waste of time. We can still be productive, but in a different way. We can develop other skills that will eventually come in handy when we compete for a job. So, use your time wisely and be kind to yourself.
How have you been staying in touch with your supervisor and fellow researchers?

Tiffany: I have been staying in touch with my supervisor and fellow grad students by email, Facebook and Zoom.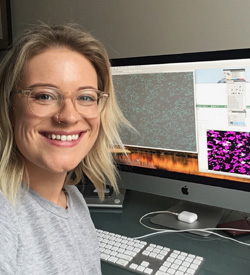 Shannon (pictured): My supervisor hosts a weekly "lab chat" on Zoom so all of our lab members can say hello and keep each other updated on what we are working on. I am also trying to stay active on social media during this time! It's comforting to engage with other researchers on #AcademicTwitter where they are sharing their own experiences and how they're adapting to the changes – it can be a great source of advice, support, and encouragement.
Stefan: My lab has been meeting virtually via Microsoft Teams twice per week. This has been successful in keeping us in touch - it is so nice to see everyone's faces.
Alyne: We used to have weekly meetings in the lab, but now we have virtual meetings via Skype. This is a good way to keep in touch with my supervisor and colleagues, and an opportunity to virtually socialize.
What's making you happy during this time?

Tiffany: What gives me peace is knowing that this will not last forever. I also go for walks quite frequently now (long ones) and stay in touch with friends and family back home. If they're good, and everyone is healthy and safe, then things will be fine. I enjoy cooking so I have been doing a lot of that, too.
Shannon: Sunshine, cooking, cuddles with my kitten, and Animal Crossing have been great distractions. Getting "together" with family and friends on video chat helps me feel like I'm not so far away from them. If you're looking to have a virtual party with friends, check out online party games like Jackbox!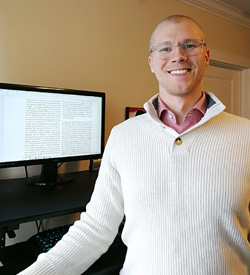 Stefan (pictured): Staying in touch with friends and family using technology has been very important to maintain my happiness. I also try to do home workouts and run most days of the week, which really helps me stay positive.
Alyne: I exercise every day at home and try to eat well and drink lots of water. I also started a paint by numbers kit, with which I can develop my creativity and relax at the same time. It is quite easy and increases your concentration and focus.