Decades before the Internet was invented and Googling became a term synonymous with searching, an international network of libraries formed to share print-based information with the world through interlibrary loans.

Led by the International Federation of Library Associations and Institutions (IFLA), the first guidelines for international resource sharing were developed in 1954. If you wanted a book or an article that your local academic or public library didn't own, your library would go to great lengths to get it for you, no matter the distance. This published material was sent from the library that owned the content to the requesting library through the mail, then by fax, and eventually through systems running on the Internet.

Even in the digital age, this international lending network has remained an important aspect of library service. Most libraries in the world participate in international resource sharing and the Dalhousie Libraries are no exception.

Dalhousie's service, called Document Delivery, regularly responds to both requests from members of the Dalhousie community seeking an article or a book the university doesn't have in its own collections as well as answering calls from institutions around the world for access to articles and materials Dalhousie does own.

"Libraries are the cornerstone of democracy, providing equitable access to information across communities and borders," says Donna Bourne-Tyson, dean of libraries at Dalhousie "Our ability to share and receive materials from other libraries to support learning, teaching, and research both at Dalhousie and beyond is a key piece of what we do. Document Delivery allows us to augment our collections and go further to meet the needs of our community."

Adapting to the challenge

The recent shutdown of most the world's libraries has put a strain on this international lending network unlike anything that's ever been seen, but the
Dal Libraries adapted quickly and continue to provide this essential service.

When the Dal Libraries closed most of their physical spaces on March 18, Joe Wickens and the Document Delivery team were ready to go remote.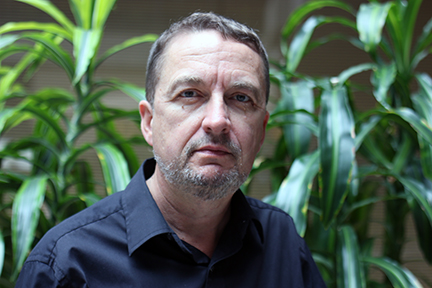 "The five full-time members of our team were set up with laptops and software so they could provide service remotely," says Wickens (pictured), who manages Document Delivery for Dal Libraries. "There are also a number of staff who normally spend as much as half of their time supporting Document Delivery. Since our physical spaces have closed, everyone supporting Document Delivery has been focused on fielding requests from Dalhousie users to access electronic content owned by other institutions and taking requests from other institutions to deliver access to something we have in our electronic collections."

Weeks before the physical libraries were closed, the Academic Technology Services team (ATS) — in-house IT support for the Dalhousie Libraries — anticipated what was coming and provided the Document Delivery team with laptops loaded e software required to request and share resources.
"I can't say enough about Marc Comeau, the director of Academic Technology Services and ATS team member John Mifflen, who made this transition so seamless for us," says Wickens. "And the Document Delivery team has been amazing, very skillfully managing the change to working from home."

Despite that aspect of the transition going well, a big piece of the regular Document Delivery service was missing: providing access to Dalhousie's excellent print collections.

"Not being able to loan physical items from our collections is a huge loss, and so we had to figure out a work-around," said Wickens, a 2010 graduate of Dalhousie's School of Information Management who has been employed with the Dalhousie Libraries since 2001. "We have one of the best collections in Atlantic Canada. It's our obligation to keep providing access to as much information as we can."

From electronic resources to scanning print items

More than a decade ago, the Dal Libraries began transitioning to eResources as the preferred format for information whenever possible. Electronic resources, or eReources, have many advantages over print, including being accessible remotely at all times, with content often available to multiple users simultaneously. eResources are also more accessible for those with print disabilities and have the distinct advantage over print materials in this climate, when access to most of the world's print collections is so limited.

Not everything is available electronically, though. With the current inability to loan physical items, Wickens has been coming in to the Killam and Kellogg Libraries daily to scan portions of print material that are essentially needed and not available in an electronic format. "Following copyright rules, we can provide up to a chapter of a book," says Wickens "Most people usually only need a chapter, or a specific section, so in many cases we're still able to provide access to the most crucial content."

And then, last week, the National Library of Medicine in Maryland stopped scanning from their print collections. "Everyone in North America depends on them for the comprehensiveness of their collection, but due to the COVID-19 restrictions, they can no longer scan from their print collections. Since that happened, the access that we're providing is even more important. For example, our dentistry collection has a lot of material that is rare in Canada and possibly even North America."

Dalhousie is uniquely positioned to provide this service during the pandemic. The Dalhousie Libraries collection is both large enough to have the depth to respond to requests and small enough to fill the requests safely. "The larger library institutions like the British Library have been shutting down the scanned access to their print collections because so many people are needed to search their enormous facilities and with the public health restrictions on social contact, they can't do it safely.

"I can do this aspect of the service on my own at Dal largely because our remote team is covering many of the other processes in our Document Delivery system. When I come in, I'm working safely. In most of our five libraries, we also have a manager and staff members who take turns coming in to empty the book return, and they are also helping me with the scanning of our collections to fill requests both for members of the Dalhousie community and other institutions."

Meeting requests from around the world

Since the physical libraries have closed, Document Delivery is seeing about 20 requests a day from the Dalhousie community seeking access to something from our print collections or content not held by Dal, and about 40 requests a day from outside of Dalhousie, seeking content from our print and electronic collections.

"In this new reality, we are not only supplying libraries across the region with electronic resources, but also with scanned copies of print resources," says Elaine MacInnis, associate dean of library services and head of the MacRae Library in Truro "We are one of the few libraries in the country still running a document delivery service that includes scanning from the print collection, and the only one in Atlantic Canada."

And just how far has Dal's content been going? "We've filled requests in New Zealand and Australia, and quite routinely to Taiwan and Hong Kong," says Wickens. "The other day, I scanned a thesis for a researcher in the US. She was very appreciative of that. If any of us with depth to our collections can stay in the game, it's really a plus. It's good that we're still able to share."