The donations have been arriving in a steady stream: hand sanitizer, surgical face masks and shields, N95 respirators and small pipette filter tips from labs now sitting idle.

The supplies are coming in as part of a university-wide initiative at Dalhousie to gather up items not immediately needed at the school but which could be useful to health-care workers in the midst of the COVID-19 pandemic.

The effort began after the Nova Scotia Health Authority issued a broad call for donations of personal protective equipment, or PPE. The Environmental Health and Safety Office at Dal then asked staff and faculty if they had items and other supplies in their labs that could be contributed since research activity had largely come to a stop.

The response has exceeded even what the organizers expected.

Hundreds upon hundreds of items

"It's really heartwarming what we've seen," says Jerry Aguinaga, director of the Environmental Health and Safety Office. "I'm very proud of how Dalhousie has risen to this challenge and by the generosity shown with these donations.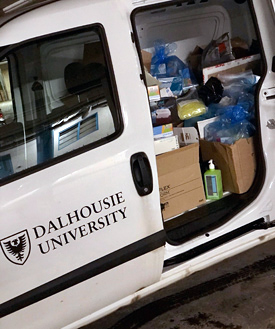 "I love the way it connects Dal personally with the crisis and how we are helping the first-line medical providers — I'm proud to be involved with this!"

So far, his group has collected roughly 300 boxes of rubber gloves, each containing 100 gloves; 2,000 N95 respirators; 250 packages of pipette filter tips; and, dozens of containers of hand sanitizer, amongst other supplies.

For about three weeks, Aguinaga and his team have been picking up the materials at a designated parking area at the McCain building on campus. The space was designed so that people could drop off the goods and not have to come in close contact with those collecting them. He then loads the donations into a van and delivers them to officials at the health authority to be distributed.

Some have been sourced from unlikely spots and others have arrived with personal messages.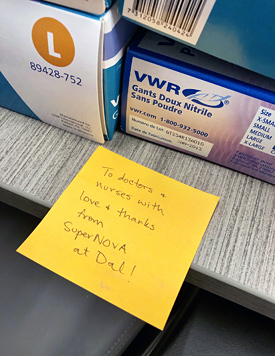 "One woman (affiliated with Dal) had N95 respirators in her church and she brought them in to be donated," he says.

"Someone else donated boxes of gloves with a note attached that read: 'To doctors + nurses, with love + thanks from SuperNOVA at Dal.'"

From Halifax to Truro

Aquinaga has also worked with David Gray, dean of Dal's Agricultural Campus in Truro, which has provided everything from critically needed N95 respirators to bottles of sanitizer. They have been delivered to the health authority in the community.

"In recent years we have unfortunately seen situations where the AC has needed the support of our community," says Dr. Gray, in reference to events like the 2018 Cox Institute fire, "and they have always stepped up, without hesitation, to offer their help and support. We are incredibly grateful for that.

"This is our time to step up and do what we can to help and support our community and those on the frontline of this COVID-19 situation."

The campus is also expecting a delivery of hundreds of masks from colleagues at the Fujian Agricultural and Forestry University in China. They reached out to Dean Gray, concerned for the health and safety of their colleagues on the Dal campus, and have sent 700 masks to them.


"We are also very thankful that our colleagues at the Fujian university have sent us face masks to help keep their friends in Canada safe. We are all in this together," says Dr. Gray.

Support for our community

The contributions come as hospitals around the world contend with widespread shortages of PPE, most notably N95 masks which help protect against airborne particles and liquids.

Blaine Morry, the senior clinical procurement consultant with NSHA, says the contributions are greatly appreciated and will be distributed to hospitals throughout the province. The items, though, have to undergo their own quarantine-like period and remain isolated for about two weeks before being handed out to make sure they do not spread the virus.

"We are currently in good shape to have enough masks for the foreseeable future. We're not at risk of running out, but we do have to hustle to make sure that we are in good shape," he says.

"This is a community effort and the generosity is both massively appreciated and is helping to solve a critical health crisis, so we would like to thank people throughout Nova Scotia who are contributing to this effort. The response has been pretty overwhelming."