The authors of a new scientific paper say that immediate action could reverse much of the damage done to marine life within 30 years, while preserving vital ocean services, such as global fisheries, tourism and climate regulation.

Researchers from around the world collaborated on the innovative study, which was published in Nature on April 1, 2020. Boris Worm and Heike Lotze, both professors in Dalhousie's Department of Biology, contributed to the paper and say past examples of marine life recovery provide reason to be optimistic.

"All the co-authors of this paper have spent a lot of time chronicling the decline of the ocean. We are not optimists by experience or by nature. But based on the evidence, we can't help but feel hopeful for what can be done," said Dr. Worm.

The researchers outline actions needed to rebuild marine life in diverse environments, as well as the groups that should be involved. Dr. Worm and his colleagues concede that there is no silver bullet to restoring the ocean environment, explaining that it will require sustained effort and financial support of roughly $10 billion to $20 billion per year.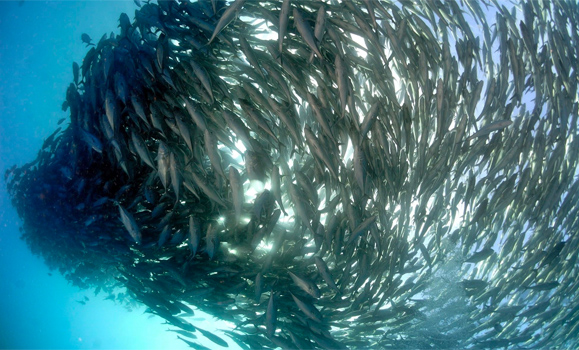 Fishing below an ocean's maximum yield allows faster recovery of fish stocks.
But Dr. Worm says the money — which would go toward such things as rebuilding fish stocks, protecting important ocean habitats and reducing greenhouse gas emissions — is a strategic investment.

"Every dollar is well invested because it builds ocean resilience and abundance. We have the evidence that this works."

A critical moment for the future of ocean resources

The study describes how society is at a critical moment in time ± global populations are becoming increasingly dependent on ocean resources, while the marine life that provides these important services declines due to human pressures.

"We have a narrow window of opportunity to deliver a healthy ocean to our grandchild's generation, and we have the knowledge and tools to do so. Failing to embrace this challenge, and in so doing condemning our grandchildren to a broken ocean unable to support high-quality livelihoods is not an option," says co-author Carlos Duarte, a professor of Marine Science at King Abdullah University of Science and Technology.

The team also looked at success stories — cases where effective decisions led to a rebound in marine life. The researchers found that certain measures, such as international agreements, the creation of marine protected areas and habitat restoration initiatives, have allowed marine life in some areas to recover partially, substantially or even fully.

As an example, the paper cites marine mammals named on the Red List of Threatened Species. It is produced and managed by the International Union for Conservation of Nature and is known as the world's most comprehensive catalog of the current conservation status of living species.

Dr. Worm says 47 per cent of those populations have increased significantly over the past decades following international protections and a global moratorium on commercial whaling.

"When there's decisive action to restore or protect or manage responsibly, we see rapid recovery in a large majority of cases. Substantial recovery of marine life is not a pipe dream," said Dr. Worm.

Now is the time to act

Although dependent on many factors, such as the extent of environmental damage or growth rates of animals in the area, the study suggests that diverse marine ecosystems around the world could mostly recover. But he says that in order to avoid irreversible tipping points, the time to act is now.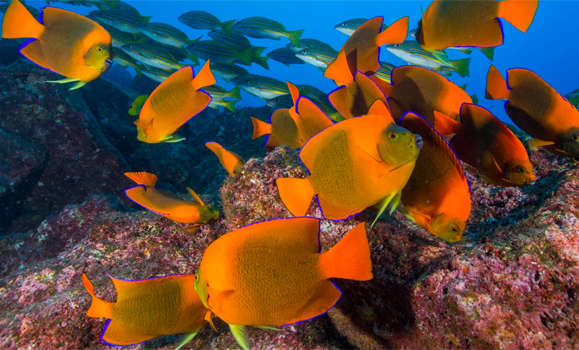 The integrity of reef fish communities adds resilience to coral reefs and facilitates their recovery once pressures are removed.
"If you want to get from 'A' to 'B', you need a roadmap. And rebuilding marine life can be done for a moderate amount of money in a short time. We have evidence for the actions needed, now we just have to go ahead and do it."

The study also identifies potential roadblocks along the way. Chief among them? Climate change.

"Climate change is the critical backdrop against which all future rebuilding efforts will play out," the paper states. In other words, the road to recovery depends heavily on keeping greenhouse gas emissions in line with the Paris Agreement targets.

An achievable Grand Challenge for humanity

The authors highlight the massive and sustained financial, social and political investments required to rebuild marine life. Governments, industry and civil society all need to buy-in together, and there must be alignment and co-operation at all levels of decision-making, from the local to the international level.

But if successful, the benefits are expected to be enormous. Economic returns are estimated to be $10 for every $1 invested, with more than a million jobs created. Moreover, Dr. Worm says there is an opportunity to create a paradigm shift in how global populations interact with the ocean. For this reason, Dr. Worm and his team refer to the opportunity to rebuild marine life within a generation as an achievable "Grand Challenge" for humanity.

"People are motivated by two things: fear and vision. We've worked a lot in the past motivated by fear. Now we are trying to turn that around with a positive, achievable vision."