In June 2019, an Air Canada flight from Vancouver to Anchorage had to make an emergency landing after one of its engines failed mid-flight. The plane returned safely to Vancouver due to the skill and training of the pilots.
"Aircraft are designed to fly on one engine and our pilots are trained for such situations," the airline said in a prepared statement.
Understandably, pilots don't receive this training by flying planes with one engine and on a wing and a prayer. Since the 1970's pilots have relied on high-fidelity simulation training to learn life saving techniques in a low-risk setting.
Medical education, for a myriad of reasons, has been slower on the uptake.
Dr. Stephen Miller, the Faculty of Medicine's recently appointed director of simulation, plans on bringing simulation to the forefront of the medical education continuum in the Maritimes. From undergraduate medical education to continuing professional development, he sees a clear need.
"Medicine is a high stakes environment," says Dr. Miller. "The era of 'see one, do one, teach one', which has been the standard, is over. People are not on board with that level of patient care anymore. "
HALO events

Physicians are expected to know how to perform dozens of medical procedures. But when a patient is rushed into hospital with a chest injury requiring an emergency thoracotomy, simulation training can mean the difference between life and death.
"You may not have done one before," says Dr. Miller, "but you will know what to do and how to do it."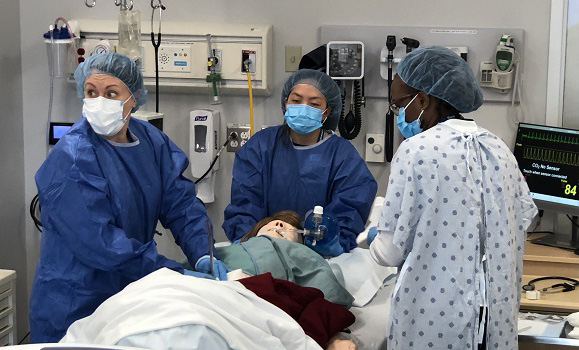 In the medical world these situations are known as High Acuity Low Occurrence events — or "HALO" — and simulation training provides a safe environment for learning where making mistakes is a valuable part of the process. Most importantly, patients aren't put at risk.
Collaboration is key

When simulation in medical education is discussed, the first image that likely comes to mind is a mannequin being intubated or administering an IV into a fake arm, known as a task trainer. While those methods are vital, Dr. Miller sees simulation as a valuable tool for interprofessional education.
Research has shown that patients receive better care when health providers from multiple health professions work closely together. In the past, medical students have been asked to role-play as nurses or paramedics, but as curriculums now incorporate multiple professions that would work together for clinical care, those natural teams are being included in simulations.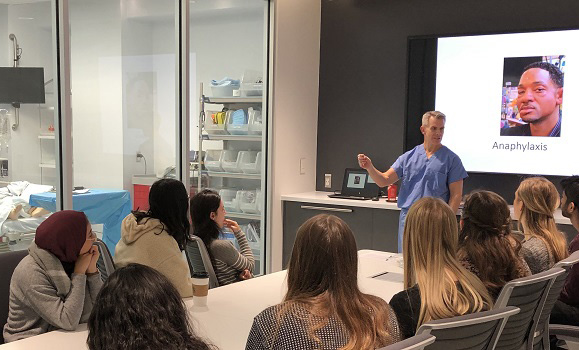 "Sometimes when you're playing those roles, you're propagating or perpetuating stereotypes around other professions," says Dr Miller. "These professions need to be involved in developing these scenarios and learning sessions from the beginning."
Identifying a need

While completing his Master's in Education at Acadia University in 2012, Dr. Miller was asked to find an interesting topic that needed attention in his area of work. What he found is that while simulation education was taking place, there was little oversight or training for instructors.
"People really underestimated the importance of knowing how to deliver simulation-based education," says Dr. Miller. "There's a great deal of information on how to properly debrief a simulation session and make the sessions a place where learners can feel free to ask questions and make mistakes. That's when the real learning occurs."
Together with pediatric emergency physician, Dr. Vered Gazit, Dr. Miller has now trained over 200 faculty members across the Maritimes through the Simulation Leaders Interprofessional Instructors Course (SLIIC) and is the current co-chair of the SimEd Network Collaborative Partner's Committee - working to maximize the simulation resources in Nova Scotia.
Dr. Miller's clinical duties have reduced since accepting this appointment, but he welcomes the challenge of building a program that will ensure Dalhousie Medical School's undergraduate and post graduate learners are equipped to function in interprofessional teams and tackle acute events when they occur.
Although he's never done it before, he knows what to do.