An up-and-coming researcher at Dal is catching national and international attention for demonstrating the positive effects of plain cigarette packaging — Canadian-style.
 
The breakthrough work has earned Dr. Mohammed Al-Hamdani the Mitacs Award for Outstanding Innovation–Postdoctoral.

The award is presented by Mitacs, a not-for-profit organization that fosters growth and innovation in Canada for business and academia. It's awarded to a postdoctoral fellow who has made a significant achievement in research and development innovation during their Mitacs-funded research. Dr. Al-Hamdani is one of eight Mitacs award winners nationally, chosen from thousands of researchers who take part in Mitacs programs each year. The remaining seven recipients were recognized for outstanding innovation, exceptional leadership or commercialization in other areas of research.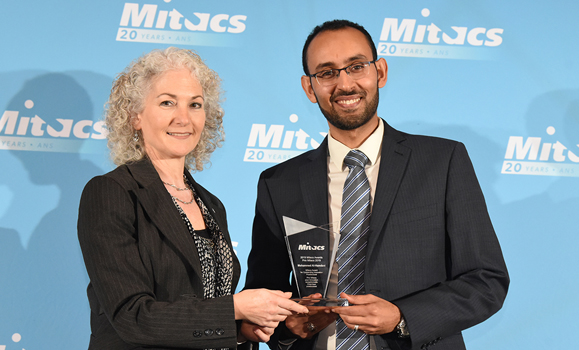 Dr. Al-Hamdani receives his award from Bonnie Schmidt, founder and president of Let's Talk Science. (Mitacs photo)

Dr. Al-Hamdani — who worked under the supervision of world-renowned Professor Sherry Stewart in the Departments of Psychiatry, Psychology and Neuroscience and Community Health and Epidemiology, and Robert MacDonald, CEO of the Lung Association of Nova Scotia — is the first to show that Health Canada's format for plain cigarette packaging not only increases attention to health warnings for all smokers, but is also an effective deterrent for those smokers who are already predisposed to a fear of illness.

A global first

The study applied a novel method for testing smoking behaviour that took place in a controlled smoking lab and accurately measured how motivated smokers were to take their first puff of a cigarette and then to continue puffing when exposed to plain versus branded packages.
 
"We are the only study in the world to find an objective effect for plain packaging versus branded packaging in a lab environment," said Dr. Al-Hamdani, who now serves as director of health initiatives for The Lung Association of Nova Scotia. "We extend current evidence on the effectiveness of plain packaging as a preventative measure by showing that it can also have cessation effects, at least for a specific group of smokers who are worried about the health-related consequences of smoking. Keeping in mind that most smokers in our sample were daily smokers, this has huge implications."
 
The study involved 50 adult smokers who were carefully vetted and screened. First, they completed an eye-tracking task to determine whether plain packaging increased their attention to health warnings. Next, they took part in two randomized sessions where they were provided with plain and branded cigarette packages, and were free to smoke as little or as much as they wanted. Smokers who were predisposed to fear of illness actually smoked less when presented with plain packaging.
 
Dr. Al-Hamdani explained his findings are significant because they can be used by Health Canada to defend the implementation of plain packaging policy, should court challenges arise.

"We're providing research evidence to show that plain packaging works," said Dr. Al-Hamdani, who was inspired to perform policy-based research tobacco control after watching his beloved grandfather smoke two packs a day.

"My grandfather lived to be 93 and people say to me: 'It didn't kill your grandpa.' That's simply not true — he could have lived at least 10 years longer if he did not smoke, that's based on hard evidence on the link between tobacco use and life expectancy."

A collaborative framework

In addition to his main project on plain packaging during his Mitacs research fellowship, Dr. Al-Hamdani was actively engaged in federal and provincial stakeholder consultations, published peer-reviewed studies, spearheaded province-wide initiatives and generated more than $250,000 in knowledge translation, research and sponsorship funding for multiple projects. He credits these accomplishments to the unique collaborative framework that Mitacs programs offer, explaining that "the fellowships bridge the gap between research and practice.
 
"Innovation in Canada continues to be inspired by the groundbreaking work of up-and-coming researchers that touch all industry sectors and help to fuel the economy," said Jennifer Wilkie, Mitacs interim CEO. "Their achievements are truly remarkable and Mitacs is honoured to support them, and broker important connections between industry, post-secondary institutions and government that make their leading-edge work possible."     
 
"Research and innovation are vital to our country's economic future," says The Honourable Labi Kousoulis, Nova Scotia Minister of Labour and Advanced Education.  "As a province, we see tremendous value in investing in Mitacs internships — for our province, for post-secondary institutions, for businesses, for Mitacs interns and for Nova Scotians. I'd like to congratulate Dr. Mohammed Al-Hamdani on this remarkable achievement, for being recognized on a national stage, and for making a true difference in the health sector."

The award — which comes just weeks after Health Canada's new cigarette packaging regulations came into effect on November 9 — was presented at a ceremony in Ottawa on November 26.
 
For more information about the Mitacs awards and a full list of winners, visit mitacs.ca.