A smartphone tone sounds in the atrium at the Black Cultural Centre in Cherry Brook, followed by a voice calling out for students to move on to the next activity. Jayden, a teen from a local junior high school, grabs his ball of red modelling clay and moves on to take a set at a table nearby littered with piles of colourful wooden popsicle sticks.

His first move is to grab some matching red sticks, which he quickly uses to form a triangle. Rather than using the glue sitting out to connect the sticks, Jayden tears off a chunk of the plasticine he's brought over from the previous table and sticks it in between the wood pieces.

Although the clay doesn't provide a strong enough hold for Jayden to complete his pyramid structure, his experimentation with the material doesn't go unnoticed.

"Oh, that's so smart. It's innovative," says Celina Abba, a Master of Architecture student from Dal facilitating the wood-based building exercise on this rainy morning in mid-November.
Diversifying architecture

About 40 African Nova Scotian teens turned up this past Monday to take part in the pilot of this new architecture outreach program, developed in partnership by the Nova Scotia Association of Architects, Dalhousie, the Honourable Tony Ince (Minister of African Nova Scotian Affairs), and others in the community.

Abba is one of several Dal students, faculty and alumni helping lead the teens in a series of activities representing different aspects of the architectural process. Assistant professor James Forren and Isi Mafiana, another master's student, are also on hand to help run different stations.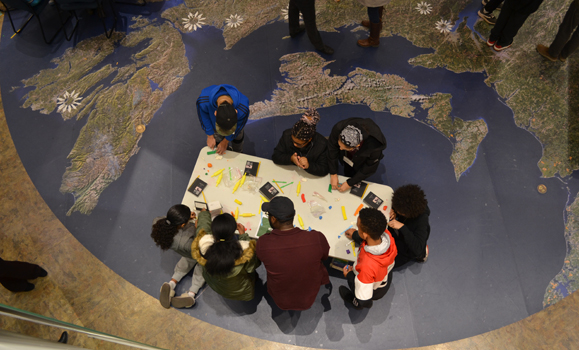 Students take part in a sculpting activity
The hands-on activities are a way to get the creative juices flowing, while at the same time conveying a bit more about the profession — one that currently lacks diversity in Nova Scotia.

"One of the things we notice is that within our membership, there aren't many African Nova Scotians present," says Margo Dauphinee, Executive Director of the Nova Scotia Association of Architects, from the sidelines at the event. "We wanted to reach out to an underrepresented population."

Dauphinee says part of the problem is that some youth have been told that if they lack skills in math and science, then they can forget about architecture as a career option. The ethos of this event and others like it, such as the summer architecture building camp Dal hosts in partnership with the Black Business Initiative's Business is Jammin' program, are helpful in that they engage the teens in the creative side of the profession, which can provide a pathway to unlocking a clearer picture later.
It starts with a sketch

Just a few paces away in the atrium, John Crace and Andy Lynch, two local architectural luminaries and grads of what is now Dal's School of Architecture, lead another group of students in a sketching circle.

"For 50 years, I drew buildings started in books like this," says Lynch, referring to the pocket-sized sketch books the students are busy drawing in. "There's a dozen buildings on the Halifax Waterfront that started with a sketch and became buildings that you live in, go to restaurants in. It all starts with a sketch."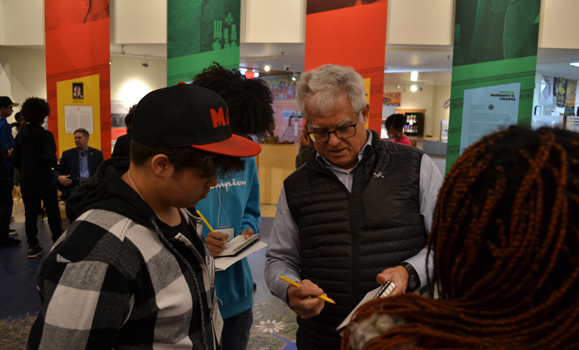 John Crace giving pointers

One teen, Gary, is sketching a small bridge with curved arches over a stream, while another is getting pointers from Crace on adding perspective to the house she is drawing. Others still are drawing faces and objects seemingly unrelated to architecture. That's okay, too, says Crace.

"The important thing is to just start, to draw."

Elsewhere, students are learning about SketchUp from architect Craig Mosher. SketchUp is a 3D modeling computer program used for various drawing applications such as architectural design, civil and mechanical engineering, and even film and video game design.

Mosher, a principal at national architecture firm Architecture49, knows the value of engaging young people in the profession as he made clear during opening remarks about a local Cherry Brook teen who he's helped mentor over the past couple of years. That student has had a chance to engage with practicing architects in sketching, 3D modeling and even in a new project that will revive an aging community centre — all because the teen expressed an interest to someone who was able to make the connection.

"If there's a moral to this story, I would say it is if you think you want to be an architect, say something about that. Mention it to somebody. Mention if to your teacher, to your parents, somebody," says Mosher. "When that happens, these connections will start to form."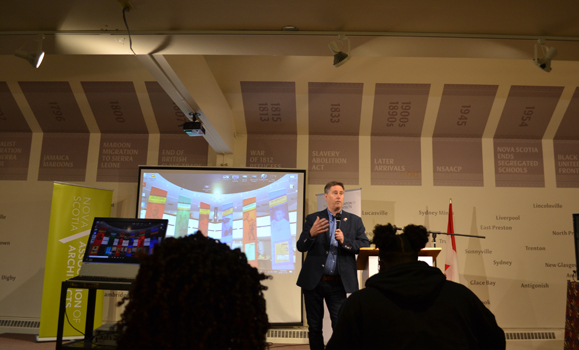 Craig Mosher