A group of high-school students from Sacred Heart School of Halifax recently had the opportunity to visit the Emera ideaHUB and learn how an idea can be transformed into a marketable product.
The Emera ideaHUB, located on Dal's Sexton Campus, helps build technology companies and is home to a community of engineering students, faculty members and companies who are focused on developing and building innovative physical products. It officially opened in the spring of 2019.
Read more: Where ideas come to life (April 2019 article)
"At Dalhousie's Emera ideaHUB we want to inspire the next generation of innovators and entrepreneurs. It was fantastic to have such an engaged group of SHSH high school girls come through the space and ask really insightful questions," says Margaret Palmeter, manager of the Emera ideaHUB.
"It was even better to see them engaging with our female founders and development leads. You could tell right away the impact of role models like the women leading some of the startups here at the HUB."
The idea to tour the space stemmed from a partnership between Creative Destruction Lab (CDL) Atlantic and the Halifax-based private school.  The students, who are young women in grades 11 and 12, have been attending events hosted by CDL Atlantic, but were interested in seeing what happens at an earlier stage of the innovation cycle.
"As an alumnus of SHSH myself, I know how much it means to see other women in leadership roles, especially in the technology field and even more so to see women leading technology businesses," says Palmeter.
CDL is a seed-stage program for massively scalable, science and engineering-based companies, which was founded at the University of Toronto's Rotman School of Management and now has expanded internationally. The initiative at Dalhousie capitalizes on the university's world-class research expertise at the intersection of sustainability and technology in oceans, energy and food.
Into the sandbox

The tour began with a visit to the heavy prototyping lab and the Idea Sandbox. The students were then able to meet some of the start-up companies currently residing in the Emera ideaHUB, learn about their product, and hear how long the process has taken from development to anticipated completion.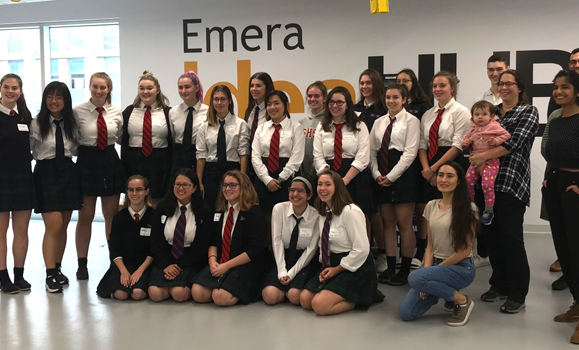 The companies involved in the tour included:
Prosaris Solutions, who has developed an ultrasonic device that supports airborne ultrasonic identification, evaluation and analysis. Their product provides users with fast detection and location of gas phase leaks, accurately quantifying the gas leak at the source.
Coloursmith Labs, who is developing the world's first direct-to-consumer lenses that help colourblind people see the world in full colour. Through innovative changes to existing colour blind technologies and state-of-the-art polymer formulations, Coloursmith contact lenses are being developed to be the first practical, effective and transparent way to mitigate the effects of colour blindness.
Novaresp Technologies Inc. who is taking a novel approach to personalized health care for patients suffering from sleep apnea. The company has developed a respiratory monitoring device and algorithm and is focused on making airway management self-learning and proactively adaptive to patient's needs;

Aurea Technologies is creating sustainable technologies for consumer and commercial applications. The company's first product, Shine, is the world's first smart, portable, mini wind turbine that creates and stores energy for USB devices to cater to the expanding multi-day off-grid market, including backpackers and infantry.
"During the Emera ideaHUB tour the female students from Sacred Heart were able to speak to the resident companies like CDL-Atlantic graduate, Coloursmith Labs, and hear about technology being developed right here in Halifax," says Kelsie Johnston, project coordinator for CDL Atlantic.
After the tour was finished, students had the opportunity to have some lunch and hear more about CDL Atlantic.
"It was incredible to see the passion and enthusiasm that the girls exuded throughout the tour," says Johnston. "The biggest impact of the day was having female founders like Gabrielle Masone (Coloursmith Labs) speak to the girls. Her example opened the students' eyes to a future for themselves in STEM and innovation."