Millions of people are suffering from malnutrition despite having some of the most nutritious fish species in the world caught just off their shores, according to a new study by researchers from the U.K., the United States and Dalhousie University.

The report, published Wednesday in the journal Nature, found that children in many tropical areas are particularly vulnerable and could see significant health improvements if just a fraction of the fish caught near their homes made its way to their plates.

The significant finding came after the research team, led by Lancaster University in the U.K., collected data on seven nutrients in more than 350 species of fish to determine their nutrient value.

Aaron MacNeil, an associate professor and Canada Research Chair in Fisheries Ecology in the Biology Department at Dalhousie, developed a statistical model that can predict the nutrient composition of thousands of fish species that had never been nutritionally analysed before.

"The big message here is that we have untapped resources to tackle major areas of global malnutrition in coastal areas and that we can do this sustainably," Dr. MacNeil said.

"Global food policies focus on fish as protein – if they consider fish at all – and these results demonstrate that fish is far more important for tackling micronutrient deficiencies than for providing protein to people.

"As such, it represents a major shift in terms of national and international fisheries policy."
Fishing more not the answer

The new research suggests enough nutrients are already being harvested to substantially reduce malnutrition globally. And at a time when the world is being asked to think carefully about where and how food is produced, the authors say that fishing more may not be the answer.

"Nearly half the global population lives within 10 kilometres of the coast. Half of those countries have moderate to severe deficiency risks, yet our research shows that the nutrients currently fished out of their waters exceeds the dietary requirements for all children under five years old within their coastal band," says lead author, Prof. Christina Hicks of Lancaster University's Environment Centre.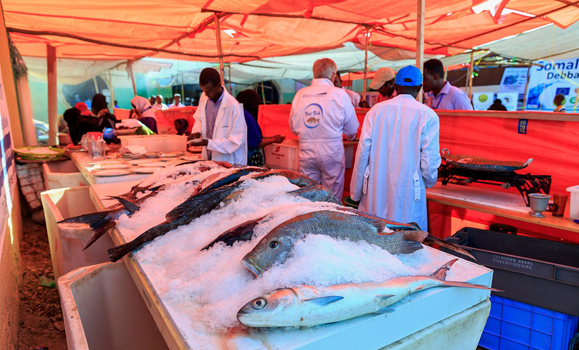 "If these catches were more accessible locally, they could have a huge impact on global food security and combat malnutrition-related disease in millions of people."

For example, the amount of fish currently caught off the West African coast --where people suffer from high deficiencies of zinc, iron and vitamin A -- was sufficient to meet the nutritional needs of the people living within 100 kilometres of the sea.

Areas of Asia, the Pacific and the Caribbean also showed a similar pattern of high malnutrition despite sufficient fish nutrients in local catches.
Working together to combat malnutrition

Along with Omega-3 fatty acids, fish can provide a wide range of micronutrients, such as iron, zinc and calcium. Yet, the authors say more than two billion people worldwide suffer from micronutrient deficiencies, which are linked to one million premature deaths annually, stunted growth and pre-eclampsia.

The deficiencies also take an economic toll. For some nations in Africa, they are estimated to reduce GDP by up to 11 per cent.

The researchers say that a complex web of international and illegal fishing, trade in seafood and cultural practices stands in the way of malnourished people getting adequate fish nutrients caught on their doorstep.

"This global research shows how interdisciplinary marine science can be used to directly address threats to human health at local scales," Dr. MacNeil says.

"The ability for local people to solve local problems using local resources is huge, and we could not have done it without such a diverse team of researchers working together."