It was only six school days into the new academic year when close to 300 Dalhousie business students and 120 employer partners representing 40 different organizations came together for an epic evening of networking on campus.

Hosted by Management Career Services, Rowe Networking Night is an annual event that offers students from the Bachelor of Commerce, Bachelor of Management, and Corporate Residency MBA programs the opportunity to form valuable connections with recruiters and business professionals.

Held on September 11 in the McInnis Room of the Dalhousie Student Union building, this year's event welcomed more attendees than ever before, breaking last year's overall attendance record by 32%, increasing the number of employer sponsors fourfold, and nearly doubling the number of companies for students to interact with.

Employer attendees - some of whom travelled to Halifax specifically to attend the event - came from a range of industry sectors, and are among the large group of organizations that actively hire Dalhousie students for work terms and recruit grads for full-time jobs.
Sharing insights

For some employers (over 15 per cent), Rowe Networking Night was a chance to return to their alma mater and share some insights with students from an alumni perspective. Michael Fraser, who graduated from the Commerce Co-op program in 2018 and now works as an Experienced Associate, Assurance, with Rowe Networking Night sponsor PwC, was one of them. He commented on how great it was to return to campus and chat with students who are just beginning their academic and career journeys about the fond memories he has of his time at Dal.

"As a Dal alumnus, it was great to share my experiences with the students about working at PwC, applying for co-ops, and going through the Commerce program. I found that almost every time I mentioned that I went to Dal, there was that instant connection."

Michael was one of many employer guests who remarked on the high number of first-year students who engaged with him during Rowe Networking Night, especially given that, for many of them, this would have been their first-ever exposure to a professional networking environment.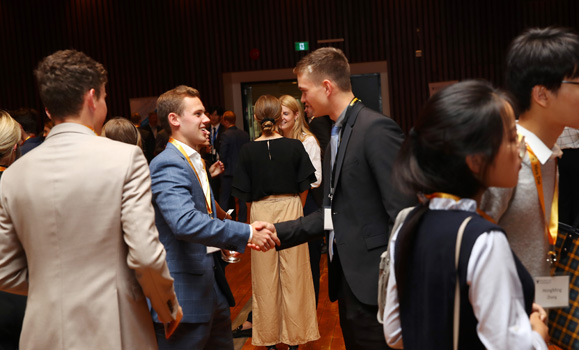 "I was impressed with the number of first-year business students who attended. I know I did not go to any of these events in my first year. I think it's great for first-year students to come to these events and be introduced to the different industries and types of jobs that are available for co-op work terms," said Fraser.
Do's and don'ts

The quantity and quality of first-year students mingling in the room was no coincidence. Only a few days prior, in the tutorials for the Business in a Global Context course taught by Dr. Carolan McLarney, first-year Commerce students were being taught the do's and don'ts of networking and practicing their skills in anticipation of the big event.

In her class that week, Dr. McLarney stressed the importance of networking in order to secure a job for a co-op job and after graduation.

"As budding business professionals it is paramount that they learn the art of networking so as to be able to take full advantage of all career opportunities."

That same message was underscored by the course's Teaching Assistants, all of whom are Corporate Residency MBA students who have learned impression management skills and refined their networking and pitching techniques through the program's Personal and Professional Effectiveness curriculum.   

"We discussed the purpose of networking, doing meaningful research prior to, how to approach employers, what not to do and how to follow up with employers," says TA Tim Peus, who recently completed his 8-month Corporate Residency with RBC Financial Group.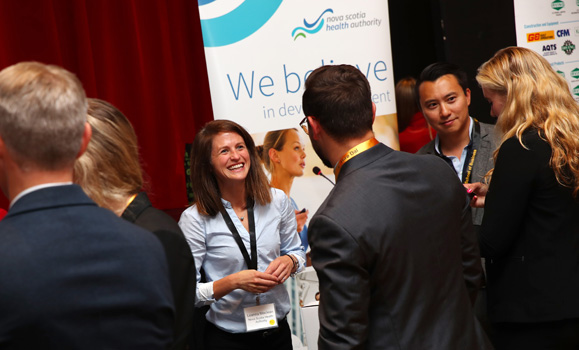 TA Keira Lum, whose work term was spent in the Improvement Project Management Office of St. Michael's Hospital, explains how the MBA program helped her become uniquely qualified to share what she's learned about networking with the students in her tutorial group.

"Through the MBA program, it was emphasized that the majority of jobs come through networking as opposed to posted applications on a company website. I stressed to my students that learning about different industries by talking to current employees is important. It will help them hone their interpersonal skills and build their own brand. These are life skills, and the earlier students are able to learn them, the better equipped they will be in navigating their future careers."
Building confidence

With a "crash course" in networking to teach them what they would need to succeed at Rowe Networking Night, first-year students like Matthew Jezerinac felt ready to meet and greet prospective future employers.  Management Career Services staff were also on hand to make introductions and offer on-the-spot networking tips and guidance to students as they worked the room.

"The valuable information that my TA provided helped me build my confidence in communicating with employers. I also realized how my skills and accomplishments can be used in networking conversations. I liked having a platform to show my skill set and see the wide variety of opportunities that the Networking Night presented."

Matthew was in good company that night, as his fellow first-year Commerce students made up an incredible 44% of the students in attendance.

With plenty of other employer-student networking and engagement opportunities being offered through Management Career Services for the academic year ahead, this group of business students will have a solid introductory experience under their belt to boost their confidence and establish some new professional connections, thanks to the support and encouragement of faculty, staff, and employers. A strong first step on a career path emerging from their Dalhousie student experience.