Two high school graduates from the Halifax region are this year's Dal recipients of the Schulich Leader award, one of Canada's most coveted undergraduate scholarships.
Maxwell Bauer, 17, of Porters Lake, and Ethan Eastwood, 16, of Williamswood are among 50 incoming undergrads recognized at universities across the country this year as recipients of the Canadian Schulich Leader Scholarships.
Launched in 2012, the Schulich Leader program funds scholarships for the most promising incoming science, technology, engineering and math (STEM) students at top universities across the country annually. At Dal, it provides $100,000 to one incoming engineering student and $80,000 to one student entering a science, technology, or math program.
Getting a head start

Maxwell might be new to Dal as a student this fall, but the 17-year-old recipient of this year's engineering award is no stranger to the university.
For the past four years, the robotics enthusiast has lent an expert hand at Dal through workshops and demonstrations with different youth STEM education groups such as SuperNOVA and SHAD Canada.
And this summer, Maxwell's university career launched into orbit early when he was accepted onto a Dal research group participating in a real satellite space mission — all before he'd even set foot in a classroom.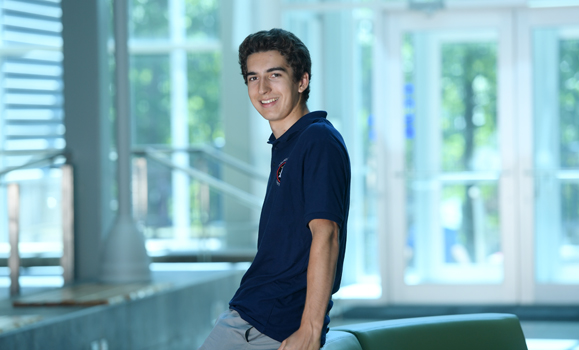 "I emailed the director of the group and they let me on to one of the teams," he says. "I love space. All my life, I've always been into satellites and always wanted to just get involved."
As part of the Canadian Space Agency funded CubeSat team, a group in Dal's Space Systems Lab, Maxwell has been involved in work helping to identify and control the position of a miniature satellite.
"It's just been such an awesome opportunity," he says.
This early exposure to the research environment at Dal has given Maxwell a taste of what's to come. It's also given Dal a taste of what it can expect from the incoming student: plenty of initiative and ambition.
In high school, Maxwell channeled his love of hands-on learning by co-founding a makerspace complete with 3D printers, virtual reality and sewing machines. He also served as head of the underwater robotics club at Prince Andrew High.
"I got to help others be hands on and engage in physics, math and chemistry," he says.
Maxwell's enthusiasm and creative spirit have spilled over into his non-scientific pursuits as well. For the past 12 years or so, he has been a fixture at the Halifax Farmer's Market with his fiddle — busking to raise money for different causes. He raised more than $10,000 for the IWK Children's Hospital and close to $5,000 for prostate cancer research as part of Movember.
"It's a really great experience and opportunity because I connect and share my music with other people," says the talented multi-instrumentalist, who also plays piano, trombone, ukulele, and guitar.Maxwell says he'd like to join a band at Dalhousie and perhaps even a sports team, if time permits. Having the Schulich Leader award should help out on that front. "It'll allow me to focus more on my passions," he says.
Maxwell credits his mother, an avid volunteer in schools and with Engineers Nova Scotia and STEM-related outreach groups, for encouraging him to give back and follow his passions.
And as he starts engineering studies this fall, his mother won't be far away: she's currently enrolled as a PhD candidate in Mechanical Engineering at Dal.
"She's always been interested in mechanical engineering and before she had me, she did work as a mechanical engineer," he says, adding his dad is also an engineer. "Going back to get her PhD is a personal challenge. But the way she says it is, 'I just want to impress my son.'"
It seems to have worked already.
"She's very inspiring," he says. "She's probably my main role model."
A plethora of passions

Starting university is one of life's big moments. Imagine doing so at 16 years old, two years before most people do.
"Usually people can't believe it and they are like, 'How?'" says Ethan, who enters Dal's Integrated Science program this fall.
For Ethan, the answer is quite simple.
"I was homeschooled, which allowed me to learn at my own pace," he says. "I learned so much faster than I would have been able to in public school."
Ethan did eventually transition to public school for grades 11 and 12 at JL Ilsley High School in Spryfield, having skipped two grades in the process.
Most of Ethan's homeschooling was handled by his mom, with his father — a graphic designer and potter — chipping in as well. Social events and activities were a big part of Ethan's homeschooling, which shines through bright and clear in his attitude as he starts post-secondary studies.
"I'm looking to meet people who have the same interests as me and who are passionate about what they are learning," he says.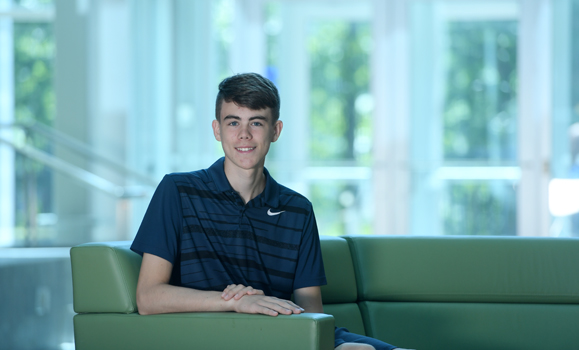 For Ethan, that runs the gamut from physics to math to chemistry and many other subjects in between. These varied interests played a big part in Ethan's decision to choose the Integrated Science program, which provides students with interdisciplinary perspectives and research opportunities all in their first year.
"I don't really know what I'm going to do yet, so I just thought I'll take Integrated Science and give it another year so I can try everything out," he says.
Judging by Ethan's past achievements and activities, he could excel in any number of these disciplines. For the past eight years, he has been an active participant in the Nova Scotia Math Circles program, a mathematics outreach initiative based out of Dal's Department of Mathematics and Statistics. And this year, he was accepted into the physics summer school program at the Perimeter Institute — an independent research centre in theoretical physics launched by former BlackBerry CEO and founder Mike Lazaridis.
Getting the Schulich Leader award provides a comfortable foundation for this exploration, says Ethan, noting it will take the financial pressure off as he studies. He recalled the excitement he felt upon learning he was a recipient.
"The registrars came to my school, called me into the office and surprised me with it. I didn't know what to think. I was overwhelmed," he says.
When he's not studying, Ethan says he is interested in putting his knowledge and skills to work as a mentor as well, potentially helping out with the Math Challenge Club that engages young high school students in open-ended math problems.
And he's excited to get involved in other aspects of campus life, too, such as the Christian Fellowship Club and intramural sports.
"I'm just looking forward to it all."