For many Canadians, being asked if you've been "down south" means have you visited the United States, Mexico or the Caribbean. But for Suupie Idlout, it means something entirely different.

"I've been to Yellowknife, Whitehorse and somewhere in Northern British Columbia," says the 18-year-old when asked about her past southbound travels.

Suupie's differing perspective shifts into sharper focus when you consider that her hometown of Resolute, Nunavut is the second-most northern community in Canada. The tiny hamlet of 198 people sits so far north that it serves as a base and access point for research in the High Arctic and the North Pole.

This summer, Suupie made a leap nearly 3700 kilometres south when she spent a month in Halifax on a work placement with Dal's Indigenous Student Centre (ISC). She was here as part of the Northern Youth Abroad (NYA) Canadian Program, which places up to 40 Inuit youth between the ages 15-20 in communities across Southern Canada each summer. Started in 1998, the program also offers participants a chance to later take a course at Algonquin College in Ottawa and eventually travel internationally to a southern partner community abroad.
A powerful opportunity

Not only does the program provide individuals such as Suupie with unique cultural learning opportunities, it also offers them practical work experience and other benefits for the future.

"It's more impact than just going down south," she says. "I get high school credits, and it looks good on a resume."

Suupie, who finished up her work term last week, had a chance to contribute to ISC in many ways, such as tending the community garden, making items for and packing welcome bags for incoming students, and making vests in collaboration with the Costume Studies program.  

"It's been amazing. I love it," she says.

Michele Graveline, Dal's Indigenous student advisor (pictured below right with Suupie), says this summer was the first time the centre has hosted a student as part of the NYA program and that it's been a rewarding experience all around.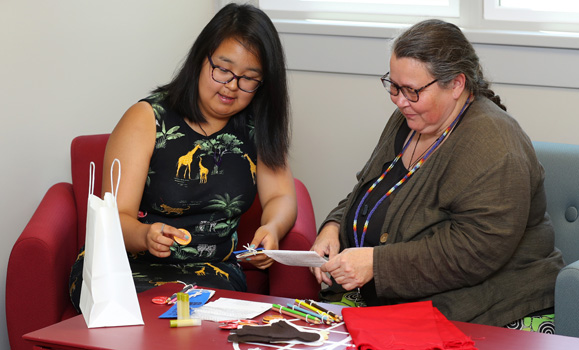 "We've loved it. It's worked out really well. We love Suupie, she's been a great help," she says.
Adapting to differences


Of course, living down south has meant Suupie has had to adapt to differences as well, such as darkness at night in the summer ("I was like, 'why is it dark? It's not cold'"), packing a lunch ("Now, I'm used to it"), and riding the bus ("The first time going alone, I was terrified I would get lost").

But the NYA program pairs each youngster with a host family and a fellow student, known as a host buddy, to help ease the transition to life in a new place.

"If we go somewhere, we go together so we don't get lost," says Suupie of her host buddy for the month, who was from Sanikiluaq, Nunavut.

And Suupie and her buddy's host family, a single woman with four cats, provided them with a summer Maritime adventure she'll always remember.

"She has kept us busy a lot. She brought us to the [Royal Nova Scotia International] Tattoo, and we've gone to PEI and Cape Breton," says Suupie. "She is amazing."

As she prepared last week to head back north to her home, where she lives with her grandparents (who she calls her parents) and her four dogs, Suupie reflected on how her month down south has changed her perspective.

"Before I came here, I had an idea just to stay home all the time. But after coming here, a lot of things changed in my mind," she says. "I don't know how, but I do want to eventually come back here."