There's no time of the university year quite like Convocation — and now that celebratory spirit is making its way downtown.

Starting with Fall Convocation ceremonies in October, and continuing during construction at the Dalhousie Arts Centre, Dal's Halifax Convocation ceremonies will be held at the recently-opened Halifax Convention Centre on Argyle Street in the city's downtown.

The change is necessary as the expansion and renovations planned for the Dalhousie Arts Centre are expected to make the Rebecca Cohn Auditorium — Convocation's home since 1971 — unavailable for extended periods of time, including during Spring Convocation ceremonies.

"We know how much Convocation means to our community and our students — it's a time when we come together to celebrate the achievements of our graduates and welcome them to our global community of alumni." says Adam Robertson, university registrar, whose team in the Registrar's Office oversees Dal's Convocation ceremonies. "We're excited to bring this same spirit of celebration to a new venue."

Based on a robust analysis of several on- and off-campus options, the Halifax Convention Centre was selected by a Convocation Steering Committee, with an eye to accessibility, flexibility and capacity.

"We hope to create an outstanding experience for our graduates and their families and friends – one that is warm and personal, inclusive and accessible, celebratory and inspiring," says Robertson.

Trialing an off-campus Convocation

Looking at the challenge posed by the Arts Centre renovations as an opportunity, Robertson says his team is treating this as a chance to explore what an off-site Convocation would look like for Dalhousie, allowing them to thoroughly consider this option for the future.

Though the Rebecca Cohn Auditorium is a famed and beloved campus venue, the limitations of hosting Convocation there have become more apparent in recent years, particularly as Dal's student population grows.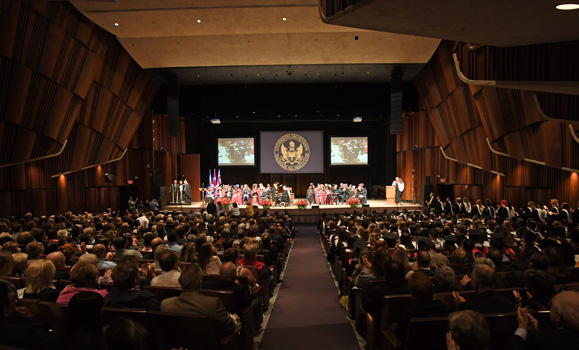 "Rising enrolment and, in turn, growing numbers of graduates from across most faculties has meant high numbers of ceremonies," says Robertson. "We're beginning to exceed the number of students and guests that can be safely and effectively accommodated in the Rebecca Cohn Auditorium for our Halifax events."

With three times as many students attending Dal than there were when the Cohn opened nearly 50 years ago, Dal hosted 20 ceremonies in Halifax last year (16 of them in the Spring alone). This brings with it a host of resource and logistical challenges. Additionally, there have been a growing number of accommodation requests at Convocation, particularly with regards to accessibility; while the Cohn is accessible from a spectator perspective, the stage itself poses physical challenges for some graduates.

"In a way, the timing is right for Dalhousie to try something different with our Convocation ceremonies," says Robertson. "Doing this now, with the Arts Centre renovations requiring us to do so, will give us lots of applied knowledge in how an off-campus Convocation works for Dalhousie. When renovations are complete, whether we return to the Rebecca Cohn or not, we can make an informed decision about how best to celebrate our graduates in the future."

Ensuring a great experience

Robertson says that the Convocation planning team is still working out all the details of how ceremonies will operate at the Halifax Convention Centre, but the Dal community can expect them to take full advantage of the state-of-the-art facility to deliver a great Convocation experience.

They can also expect fewer ceremonies, but not by an exceptional amount — something more like 11-13 ceremonies between Spring and Fall Convocations instead of 20. (For this upcoming Fall Convocation, two ceremonies are planned, down from four last year.)

Campus will still be a big part of the Convocation experience, from the Faculty-specific events that are expected to still take place there, to families making time for photos with that familiar campus backdrop. Robertson says shuttle buses are currently in the plans as an option for people to travel between the Halifax campuses and the convention centre.

Making memories

Robertson knows that, after nearly 50 years of holding Convocation at the Cohn, there are generations of Dal alumni who have fond memories of their experience there. But he is hopeful that the future of Convocation — both the immediate future in the Halifax Convention Centre and whatever the future holds beyond that — will make memories every bit as strong.

"It's all about the people," he says. "It's about the graduates, and their moment to reflect on and celebrate where their journey has taken them. It's about their families and friends there to cheer them on. And it's about us, as a university community, getting the honour of putting on a ceremony that shows how much our students' achievements mean to us. That's what makes Convocation special, and no matter where it takes place, that won't change."