From Halifax and Iceland to Mars and the moons of Jupiter — in the 15 years since graduating from Dal in Earth Sciences, Christopher Hamilton (BSc'04) has carved out a career path that has seen him apply his knowledge of the Earth's volcanic structures to better understanding the volcanic history of and activity on other worlds.

It's work that is helping NASA develop missions to understand the potential habitability of other moons and planets in our solar system. And in 2018, it garnered Dr. Hamilton an early career award in the division of mineralogy, geochemistry, petrology and volcanology from the Geological Society of America (GSA) and landed him a spot on Science News Magazine's top 10 researchers list.

"Every terrestrial body in the solar system, the moon-size or above, has a volcanic history," says Dr. Hamilton.

He and other planetary volcanologists seek to examine and understand the Earth's volcanoes and then compare that activity to what they can see happening on other planets.

Considering the red planet

For instance, in researching Mars, Dr. Hamilton and the team he works with are trying to understand that planet's volcanic history and its potential to host habitable environments.

"We have the opportunity to look at places on Earth that are similar in characteristics to Mars, such as Iceland, seeing first-hand different volcanic eruptions and what the life cycle is in terms of landscape evolution and habitability."

That's just one aspect of the work he is doing in partnership with NASA. (He spent three years as a post-doctoral fellow with NASA's Goddard Space Flight Centre before joining the University of Alberta.) "The projects with NASA span looking at Earth, Mars and even the outer solar system."

Lighting a fuse abroad

Dr. Hamilton's passion for exploring volcanoes was sparked in his second-to-last year at Dalhousie, when he had the opportunity to spend a year abroad at the University of Iceland.

His experiences in Reykjavik helped shape his career and solidify his interests in volcanology. "Before studying in Iceland, there were many aspects of Earth Sciences that I felt were interesting, but when I had the opportunity to see a volcano and a glacier for the first time and to explore how they interact with one another, it was an otherworldly experience."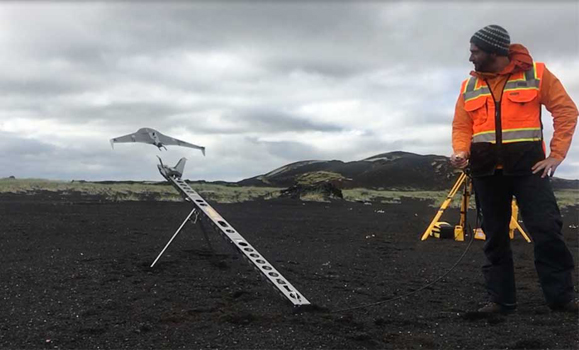 Dr. Hamilton at the site of a drone deployment at the Laki lava flow-field in Iceland.

When he returned to Dal, he and faculty member DBarrie Clarke used the data Dr. Hamilton had collected to develop his senior thesis, for which he was awarded the Léopold Gélinas Medal from the Geological Association of Canada for the best undergraduate thesis in Canada relating to volcanology and igneous petrology.

Today, Dr. Hamilton continues to apply his knowledge of Earth's volcanoes to Mars, Earth's moon and Io, one of Jupiter's moons.

"If you look at Earth's moon, the dark regions are actually lava flows," says Dr. Hamilton. "So anytime you look up at night, you can see evidence of volcanic history."