Marianne Stanford had a full-circle moment this year when she dropped by her son's after-school program and saw volunteers from Dal's Let's Talk Science group in the room.

It wasn't just that she was pleased her son was so engaged in the activities. It was an opportunity for the Halifax-based biotech executive to reminisce about her own role in bringing the national science outreach group to Dal two decades prior, when she was a PhD student.

"That was such a cool moment for me," says Dr. Stanford. "To see it so engrained in the programs here in Nova Scotia was really exciting."

First introduced to Let's Talk Science as a master's student at Memorial University in Newfoundland, Dr. Stanford says she was surprised to learn Dal didn't have its own chapter when she arrived on campus doctoral student in the fall of 1999. She and three fellow graduate students decided to start one.

Keeping kids engaged

Let's Talk Science was first created in 1991 by Bonnie Schmidt, then a PhD student in physiology at the University of Western Ontario. Its foundation was a unique outreach model that enlisted university student volunteers to bring science education and skills development to youth in high schools through engaging programs and activities.

Soon, other universities wanted to open chapters and by 1993 there was enough interest to establish it as a national charitable organization. Now, Let's Talk Science has 50 universities and colleges in its partnership network, with an average of about 4,000 volunteers every year going out to schools (Early Years to Grade 12) and community settings (e.g. libraries, youth groups).

"It's even more important now than ever before," says Dr. Schmidt, who still leads the organization as its president. "As the pace of change continues to accelerate, we need even more kids comfortable, confident and developing STEM skills."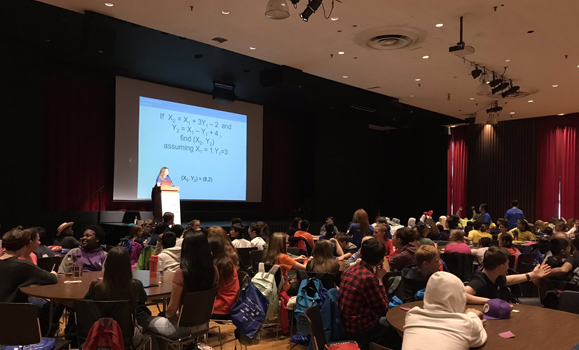 Attendees at a 2015 Let's Talk Science event at Dal.

She cites evidence that half of high-school students across Canada leave science, technology, engineering and mathematics (STEM) disciplines without a senior-level course, which is causing problems for them once they get to university or college.

And having strong role models is now known to be a key factor in helping keep students engaged.  

"If kids can see and meet people who they look up to, they are much more likely to aspire to follow pathways," she says.

Sparking inspiration

While engaging children and youth in STEM is the group's primary purpose, Let's Talk Science also serves to benefit the many volunteers who serve as its educational ambassadors.

Dr. Stanford says getting involved in the group "triggered a spark" in her and taught her early on in graduate school that science offered more than just the academic path.

"It opened my mind to the idea that scientists weren't just solitary people working in the lab and that communicating your science was as important as doing it," she says.

It's a skill she took with her and values now more than ever in her role as vice-president, research and development at IMV Inc., a clinical stage company transforming the way human immunity is used to address complex diseases.

"A huge percentage of what I do is communicating the science that we are doing in the company to a lay audience. You have to be really comfortable in your science and communicating to do that well, and I think the work I did with Let's Talk Science laid the groundwork for being good at that," she says.

Let's Talk Science's national staff provide support to volunteers in a variety of ways through training programs and some operating funds, which are often supplemented by the host institutions. And the organization also encourages volunteers from different chapters across the country to connect with each other, creating lasting networks and friendships.

Bringing the community in

As Dal's chapter heads into its 20th year, the group's current co-coordinators are using the special milestone as a prompt to think big about the future of the group at Dal.

While the group will continue to focus primarily on classroom outreach, there will also be a move to host more events on Dal campus.

"What I really want to see is bringing the community in to Dalhousie campus," says third-year neuroscience student Alex Oprea, one of the group's co-cordinators.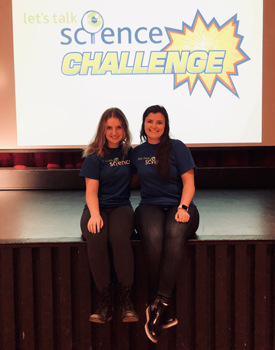 She said nearly 200 students from Grades 6 through 8 came from upwards of four hours away to the most recent Let's Talk Science Challenge, an indication there's demand for this sort of on-campus activity. She and fellow co-coordinator, Melina Markotjohn (both pictured), are hoping to do events around science literacy week in September, a symposium on medical and life sciences for high schoolers, and an event in February on the International Day of Women and Girls in Science.

"I would love to see girls and their parents coming in to see 'wow, there are so many opportunities in science that ( didn't know existed,'" she says.
Another focus is on extending the group's rural outreach, building on the work that saw the group connect with 600 youth in 18 different rural communities last year. In particular, they are seeking to do more outreach in Indigenous communities around the province — something they've been given training to do at a recent Let's Talk Science national conference.

"We feel really equipped to do that now and how to go about it," says Oprea.
Learn more: Let's Talk Science Dalhousie website

And, of course, she says they'll also be looking to do some volunteer recognition events to celebrate all the hard work and enthusiasm of the Dal students who inspire the younger generations each year.

While the proliferation of STEM-focused outreach and educational groups has surged dramatically since Dal's Let's Talk Science chapter launched two decades ago, Dr. Stanford says its role is more important than ever in a world of social media saturation and questionable facts.

"Now, science outreach is really about creating a scientifically literate population so that they can critically analyze what they see," she says. "At this point, you can Google anything and find 'facts.' So really that critical thinking needs to be taught at a really young age so that we can live in a world of information and be able to critically analyze it."

Let's Talk Science is currently seeking another coordinator to join its team and five to eight students to join the volunteer committee. Contact the group at lts@dal.ca for more information.