Flags are statements of identity, of community — and of pride.
That was certainly the case Thursday afternoon (July 18) as members of the Dal community in Halifax gathered to mark the start of Dal Pride activities with an official flag raising on the Studley Quad.
Dal Pride coincides with Halifax Pride, and features a number of community events over the next week, including the university's participation in the Halifax Pride Parade on Saturday, July 20. It follows Pride activities in Truro the previous week, including a flag raising at the Ag Campus amphitheatre and participation in the Truro Pride Parade.
Dal Pride full list of events: dal.ca/showyourpride
"These kinds of events are incredibly important to show everybody around us how much we care about the issues we face, and an important way to reflect and look back on how far we've come," said Teri Balser, currently serving as interim president of the university. She noted her status as the first woman and first 2SLGBTQ+ individual to serve in the president's role at Dalhousie.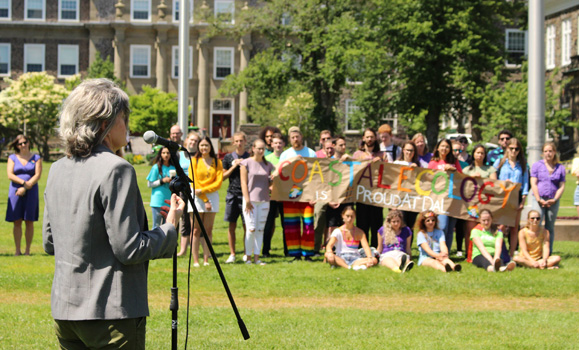 Teri Balser speaks at the flag raising ceremony in Halifax.
"I really want to say to everyone here how important it is that you are here and that you raise your signs and voices and thoughts to the whole community," she added.
Fourth-year student and Dal After Dark events assistant Faiza Nauman spoke about Pride's history, noting the importance of prioritizing two-spirit and Indigenous LGBTQ+ individuals and communities as well as People of Colour whose contributions to Pride have underrepresented over the years. (Accordingly, the flag flown on Studley campus is a variant, popularized after its use in Philadelphia in 2017, that features brown and black stripes in addition to the more traditional rainbow colours.)
"Pride is where two-spirited, lesbian, gay, bisexual, trans, queer and more individuals part of the community celebrate and promote their visibility, their dignity and their equality," said Nauman. "Pride is, and always has been political. It's not just a party."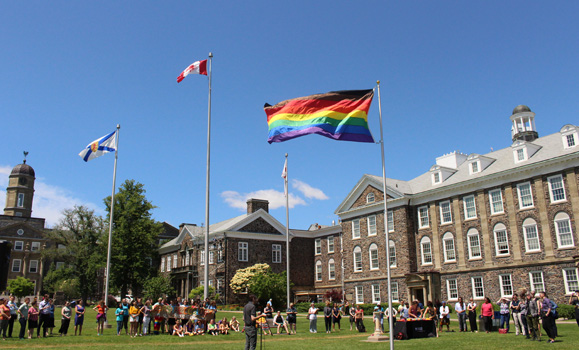 Flags flying over Studley Campus.

Jasmine Walsh, Dal's assistant vice-president of human resources and co-lead of the university's strategic initiative on diversity and inclusiveness, spoke about flags as symbols — how they reflect what a community feels, believes and aspires.
"We aspire to be a community where everybody belongs," she said. "We don't always get that right but we're doing lots of great work in that direction and I think it's important when we see this flag on our quad over the next week that we reflect on that as an aspiration we hold at Dalhousie."
Dal Pride
After beginning last week in Truro, This year, Pride at Dalhousie University continues from July 18-28 on the Halifax Campuses, with multiple organizations and on-campus groups working hard to create accessible and inclusive programming that supports our 2SLGBTQ+ communities, educates allies and creates opportunities for visibility.
Learn more at dal.ca/showyourpride