Life was challenging for Mohammed Alqassab when he first arrived at Dalhousie in 2014. Homesick for his wife and three children who were still in Saudi Arabia, he also faced the daunting challenge of entering engineering studies a decade after graduating from high school.

With math class a distant memory, Mohammed enrolled in the accelerated pre-calculus course through Dal's College of Continuing Education (CCE) to prepare.

"I cried. I literally cried. It was frustrating," says Mohammed, remembering the first time he sat down to do his math homework that fall with his family far away.

As stressful as the situation was at first, Mohammed worked hard and finished the university preparatory (UPrep) course with a fantastic grade.  It was just the confidence boost he needed to feel ready.

"I was looking for something that would prepare me for university, and the pre-calculus course I took was very helpful for that transition," he says. He also brushed up on his language skills during that period, taking two English for Academic Purposes (EAP) courses through CCE.

Mohammed's family, who joined him in Halifax about 10 months after he arrived, were there alongside him this spring when he proudly completed his degree in chemical engineering as a Sexton Scholar — the special designation for Faculty of Engineering grads who achieve a GPA of 3.85 or higher and maintain a full course load in one or more academic terms during the calendar year.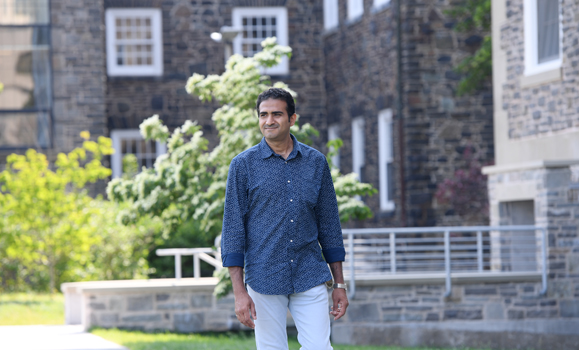 Nothing is impossible

Mohammed's decision to jump into university and engineering came after 10 years of working as an operator at an oil refinery back home. Working closely with chemical engineers, he developed an interest in engineering processes but lacked the credentials to take on a more advanced role at the plant.

"I got motivation from my family," he says. "They believed in me and said, 'yes, you can do engineering."

Having helped his sister move to Canada to study at the University of Guelph a few years prior to starting his degree, Mohammed had learned a lot about Canada and decided to come to Dal when he saw the combined strength of its preparatory courses and engineering programs.

Once here, Mohammed's wife, Fatimah Alsadiq, also began taking UPrep and EAP courses. She is now in her second year of Dal's Health Promotion program.

Mohammed's interests have shifted slightly while at Dal from the energy sector to pharmaceuticals, where he would like to find a job in process safety or a similar engineering role. The couple hopes to stay in Nova Scotia.

Completing a degree while raising three small children, now 8, 6 and 5 years old, hasn't been easy, but Mohammed says the experience has been well worth it. And the support of his family has been key.

"Nothing seems to be impossible, not even going to engineering school in the morning and taking care of the kids after," says Mohammed. "Thanks to my lovely and ever-supporting wife, who has always shared each moment of struggle and success along this journey."