When you visit Cape & Cowl Comics & Collectibles in Lower Sackville, you can see the pride on Theatre alum Jay Aaron Roy's (BAH '07) face.

That pride extends from Roy, Cape & Cowl's owner and sole proprietor, to the store itself. Prominently displayed outside is a large sign stating Cape & Cowl is a trans-owned business. Inside are signs affirming it's a bully-free zone, too.

Roy opened the comic book store five years ago with dreams of doing more than sharing his geek pride: he also wanted to create a safe space for youth in the community.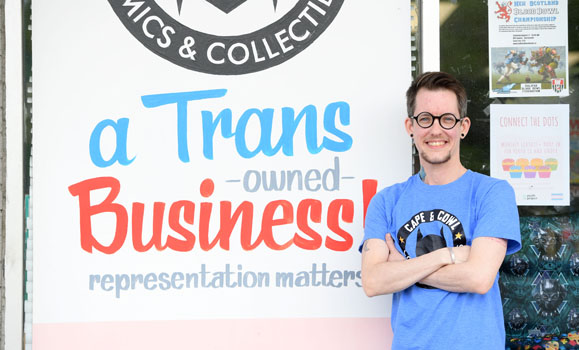 Jay Aaron Roy, pictured outside Cape & Cowl
"To me Cape & Cowl is like the Field of Dreams," he says, referring to the classic baseball movie, "and really that phrase, 'if you build it, they will come' was in my head when I was creating the store. And because I am such an impatient doer, if I see something that needs to be changed, I just kind of do it."

Located inside Cape & Cowl is the Leighann Wichman Safe Space, named after the co-founder of the Halifax Youth Project. Roy renovated the space into a youth-focused drop-in centre shortly after he opened the store after benefitting from an initiative from a local bank. He runs services and events there such as Autism Nova Scotia's Dungeons & Dragons Club, birthday parties, gaming meet ups, craft fairs and much more, all with local youth volunteers.

"I grew up as a youth who could have used a space like this," says Roy. "And as a queer person myself and having worked with initiatives such as the Youth Project in the past, I know a lot of the particular needs of rainbow youth.

"I often tell people that all of these comics and toys are just a front for my youth centre… This is a space that I wanted to create where I'm the bodyguard and the bodyguard says that everybody's gender expression has to be respected."

A journey of discovery

Roy's path towards opening Cape & Cowl came through Dalhousie, where after a year of general arts — with thoughts of being a teacher — he decided to take an introductory acting course from instructors Jennifer Overton and Susan Leblanc to improve his public speaking.

"That class in particular really changed my whole viewpoint of what I wanted to do," says Roy. "I tried out for the acting program and was graciously not admitted, but [then] I learned my talent for directing and my ability to befriend people – to meet people where they are and find different ways to incorporate everyone's creative ideas into one vision, whether that was a play or a project."

He credits the Theatre program with showing him a path forward in life. "I learned more about my passions than I thought I would."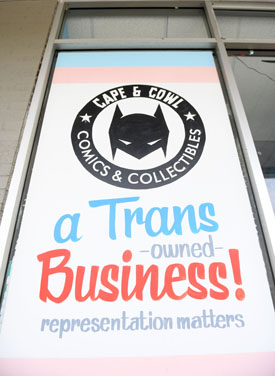 Those passions included working with people — and his love of geek and nerd culture. Roy had the idea of owning and operating his own space since he was very young. The full vision of Cape & Cowl came to him after graduating from Dalhousie.

"It was born out of necessity of finding work, but not wanting to go through the trauma that can happen while being a trans person going to job interviews," he explains.

"When someone misgenders a trans person, there can be a very powerful horrible feeling – dysphoria – that hits you like a train at full speed. Avoiding that feeling was near the top of my list, and then I realized that another reason for Cape & Cowl to exist would be to create a community hub where I could help other people meet and shop and hopefully, not ever have to deal with that horrible feeling while in my space."

This understanding, along with the management skills Roy had from studying directing, combined with his experience working with youth, created a perfect opportunity to serve the local community.

Owning a business is not without its challenges, nor is creating and managing programming and volunteers for a community space. "I can tell you that I'm stressed these days, but I've always had to manage stress in my life. It feels better to be creatively in control of what I want to do and how I want to showcase my business and myself."

Pride on display

Whether on his own or his work through organizations like the Youth Project, Roy has been a devoted advocate for the 2SLGBTQIA+ community. This includes fighting to ensure some gender-affirming surgeries became fully-funded within the province, and helping lobby the government to remove proof of gender reassignment surgery as a requirement in order to change the gender displayed on government identification.

That core idea — that a person should be allowed to present themselves as their own gender — is incredibly important to Roy. It's why he kept his Dalhousie degree hidden for a long time.

"When I was coming out as transgender and changing my name and my pronouns, it was painful for me to see my old name hanging on the wall. So it came down and it went in the closet for many years."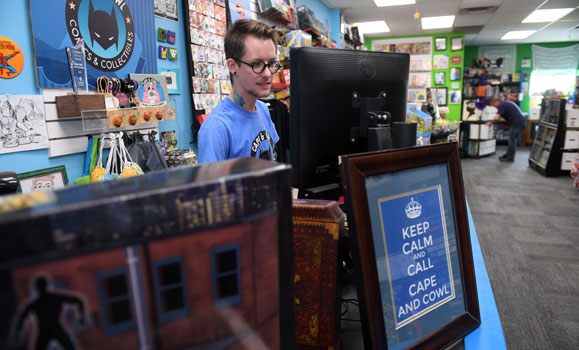 At work behind the Cape & Cowl front desk.
What Roy didn't know was that Dalhousie has a process for graduates who have transitioned to have their Dalhousie degree reissued in their true name.
Genevieve MacIntyre, who works for Dalhousie's Faculty of Arts and Social Sciences, is a friend of Jay and the partner of Jay's brother. "When I learned that Jay had been storing his Dal degree in his closet, it made me sad," she says. "For someone to have worked so hard to complete a degree, they should feel proud to display it."

She contacted the Registrar's Office to help reissue the degree, and was able to give it to Roy on his birthday. "It gave me the warm fuzzy feelings to see how happy this made him. And now his degree is once again proudly mounted on his wall!"

"I came out of the closet, so my degree deserved to, too," says Roy with a smile.

Pulling back the curtain

For Roy, being able to express that pride in his Dal experience is important.
"My grandfather on my mother's side went to Dalhousie and my mother went to Dalhousie and my nephew is going to Dalhousie," he says. "It's a proud tradition we have and I love it and to have that degree meant a lot to me.
"To have it now with my proper name and proudly being able to show it," he says, becoming emotional, "you could tell it means a lot to me."

Roy's degree is just one of many accomplishments. The skills he developed studying Theatre have stayed with him and he's built on them. Now, he gets to bring the magic of theatre to his shop every day.

"When I open Cape & Cowl every morning, it's like pulling up the curtain to me," he says. "I get to see what it's like behind the curtain and then everyone else gets to see what I've created when I open the doors and turn the 'open' sign on. And it's quite a show."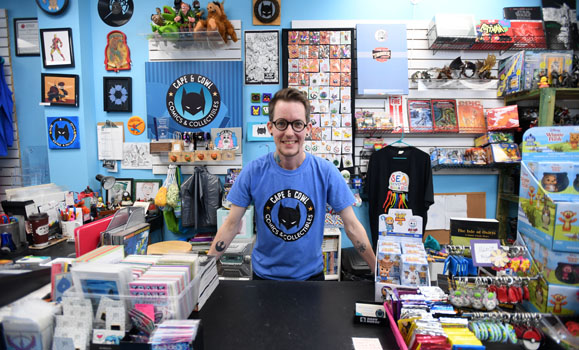 UPDATING YOUR DEGREE

Alumni who have transitioned and would like their parchments reissued can request a replacement parchment through the Registrar's Office at Dalhousie.

If your degree was under a previous name and you have legally changed your name, the Registrar's Office requires proof of a legal name change and the original parchment returned to them in order to reissue the document. There is a $50.00 replacement parchment fee for this service. Replacement parchments have the signatures of the current President, Chair of Senate and Dean and are dated the day they are reprinted. For questions regarding this process, please e-mail convocation@dal.ca

Parchments can be sent to:
By mail
Registrar's Office, Dalhousie University
PO Box 15000
Halifax, NS B3H 4R2

By courier
Registrar's Office, Dalhousie University
125 - 6299 South Street
Halifax, NS B3H 4R2