Technology's impact on the world of business was in full focus at the Black Business Initiative (BBI) Summit last month, with Dalhousie providing support as a keynote sponsor.
Teri Balser, Dal's provost currently serving as interim president, delivered remarks at the opening of the evening gala and dinner, emphasizing the importance of embracing technology for change not only in business but in higher education as well.
"Like so many of the businesses represented here today, we are also grappling with some of the accompanying risks and challenges that such fast-paced change can bring about. But as an institution of higher learning, we are open and committed to embracing change, as we've seen time and time again the progress that often follows," said Dr. Balser (pictured).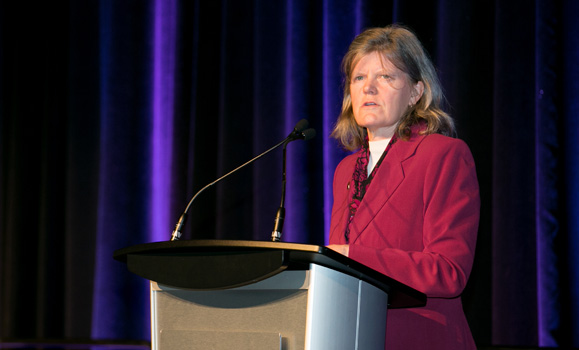 She noted Dal's deepening relationship with BBI in recent years, particularly through its Business Is Jammin' youth program that has partnered to bring African Nova Scotian high school students to campus for a day of experiential learning as part of the Experiences in Architecture and Planning program and through the RBC iCode+ program that teaches coding to youth.
"We have a lot in common. Like BBI, Dalhousie believes deeply in skills development, innovation, business creation and empowering youth with career opportunities," said Dr. Balser.
Forging connections

Dr. Balser was one of several members of the Dal community to participate in the summit on July 14 at the Nova Centre downtown.
Earlier in the day, Kevin Hewitt, Physics professor and chair of Dalhousie Senate, hosted the opening plenary session that tackled the question of how to differentiate from the competition in an age of digital disruption.
And in the afternoon, Duane Jones, manager of records and information at Dal MedIT and founder and creative director of Art Pays Me, hosted The Pitch — a competition where Black entrepreneurs had the chance to pitch their businesses to a panel of judges in a large public forum.
Leaving a legacy

Imhotep's Legacy Academy, the Dal-based organization that helps steer more youth of African heritage into science, technology, engineering and mathematics (STEM) fields through engaging activities and meaningful mentorship, played a big part in this year's summit.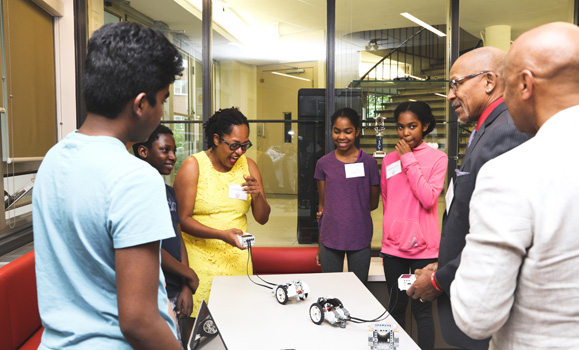 The group hosted a pre-summit reception Thursday night (July 13) in its new space on Dal's Sexton Campus, inviting summit-goers and others to check out some of the engaging, interactive activities ILA offers through its programming.
Eve Wedderburn, an Oxford Junior High student and ILA participant, had the honour of introducing keynote summit speaker international marketing star Bozoma (Boz) Saint John, who sat down for a lunch-time Q&A with Cassandra Dorrington who sits on Dal's Board of Governors.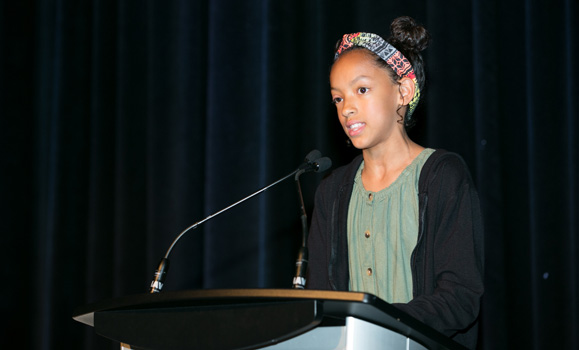 "I think my favourite quote from her is support my shine or be blinded by it," said Eve (pictured) in her introductory remarks for Saint John — an international marketing guru and advisor who has worked with the likes of Uber, Apple Music, Beats, Pepsi, Spike Lee and Beyonce.
"That's a life philosophy, and I'm just learning how to embrace myself because to be happy and successful we can't be anything but our authentic, unapologetic selves. That's what she does so well."
Introducing Saint John seemed to be an impactful moment for the teen.
"As a young black girl looking towards my future, when I see myself reflected in powerful women like Boz I feel like I can do anything," she said. "It's a really great feeling because I know it hasn't always been that way for women, especially black women."