Lawrence Stordy (known as Larry to most) has had many defining moments during his five years as chair of Dalhousie University's Board of Governors.

His was a tenure during which the Board played a supporting role in the renewal of Sexton Campus and the establishing of the emerging innovation district and helped launch successful megaprojects like the Ocean Frontier Institute and the Ocean Supercluster. Stordy was on the search committee that hired Richard Florizone just before his tenure as Chair started, and then chaired the hiring committee that selected Deep Saini as Dal's next president and vice-chancellor this year. Stordy also dealt with issues like divestment, tuition fees and the Dal Dentistry incident which all intersected with the Board and its governance.

But for Stordy — by day, a partner in the law firm Stewart McKelvey — sometimes the big moments were actually the small moments, like the interactions he had with Dal alumni across Canada as part of the Dal 200 Coast-to-Coast tour last year.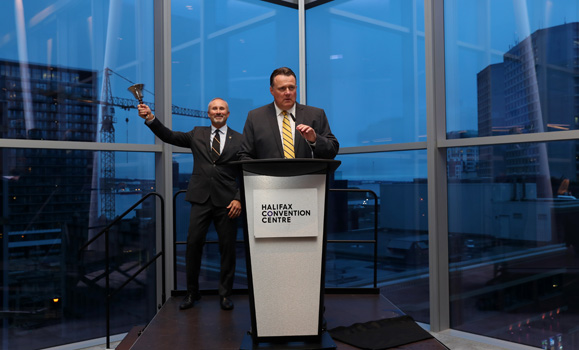 Stordy helps ring guests to attention at the Ignite Dal 200 dinner as Mayor Mike Savage takes the podium.

"You see how excited people are to be connected to Dal," he says. "It brings that impact to life. That's the payoff, for me."

The power of education

At the end of June, Stordy's time as Board chair comes to an end, with his Stewart McKelvey colleague Candace Thomas taking over as chair as of July 1.

Tuesday's meeting of the Board was also Stordy's final meeting as a member. Having spent 12 years as part of Dal's senior administrative governing body, Stordy has been on the Board for longer than any other current member.

"You have to have law partners who are supportive, so I have to give a lot of credit to Stewart McKelvey," says Stordy, who estimates that , on average, he spent 200-300 hours on Board business as chair. "They've always encouraged and supported me, and now they will do the same  for Candace, in our choosing to volunteer our time to help Dalhousie."

For Stordy, the Dalhousie cause is a personal one as much as it is a professional one.

"I became the person I am today because of Dalhousie," says the Dal Law/MBA graduate who grew up in a small P.E.I. village. "When you grow up in a small rural community, education can create the opportunity for personal growth and opportunity. I understand the transformative power of higher education: it happened to me."

Creating space, building process

Stordy says he learned many lessons as Board chair including the vital importance of building a strong relationship with the university president and being a sounding board to assist in decision making when necessary.  

"The rest of it is about managing the board, which is a very diverse group and, in its own way, a very challenging group since they're all such high achievers," he adds. "You look at the appointees we have, be they students, community members, alumni or faculty — they're all talented, hard-working, successful people. And the chair's role is to create space for them to make good decisions and be good stewards."

"This university has been here for 200 years, and part of our job as a Board is to make sure it's here for another 200 years. We feel the pressure and the weight in trying to strike the right balance of priorities — bringing our experience to bear, listening to everybody and distilling that into a process that everyone feels is fair and leads to the right outcome."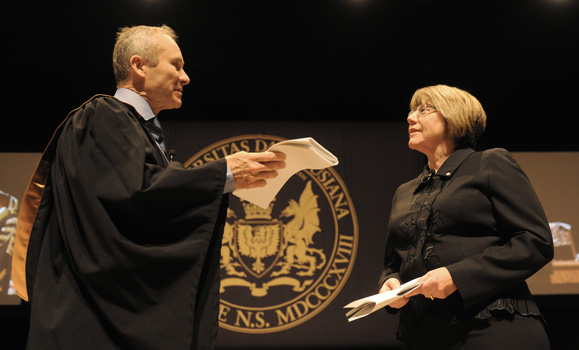 Stordy helping install the Honourable Anne McLellan as chancellor in 2015.

Stordy's time as chair saw student groups, in particular, take a greater interest in Board business, mobilizing to attend meetings in growing numbers around issues such as tuition fees and divestment from fossil fuels. Stordy says the Board, under his leadership, was always interested in how to channel that enthusiasm into action that balanced student interest and the long-term interest of the university, citing divestment as a good example.

"We saw it as a learning experience for everyone — the Board and the students — and I think we came out with a process and outcomes that moved things forward in a way everyone was happy with," he says, referring to the adoption of a report earlier this year that included measures to strengthen language around Dal's commitment to ESG investment principles.

A bright future

Stordy leaves the Board excited by the trajectory Dal is on and what lies ahead for the university. He says incoming President-Elect Saini is an ideal leader for the launch of Dal's third century, and that the university's deepening connections in Atlantic Canada — from the arts to economic development — bode well for its future.

"I think it's fantastic what Dalhousie is doing now, with its focus on experiential learning and innovation and sandbox spaces. It's creating an ecosystem where people can learn and connect and create new opportunities across disciplines.
"I really think Dal's firing on all cylinders."